CLAY B. SMITH, Ed.D.
Assistant Director of Educator Preparation and Lab Schools | 919-843-2095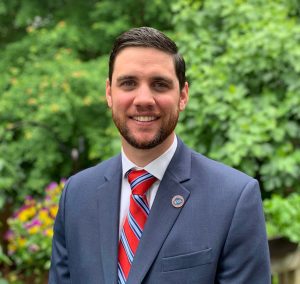 Dr. Clay Smith provides supportive leadership and resources to the UNC System's Educator Preparation Programs and network of Laboratory Schools.
Prior to joining the UNC System Office, Smith worked for 10 years at his alma mater, East Carolina University, serving in multiple roles within the College of Education. He served as a Regional Coordinator of ECU's Partnership Teach degree completion model housed at Wayne Community College (Goldsboro) and serving the 10-county South Central consortium. He then led statewide service efforts in leadership and facilitation of the NCTeach lateral entry licensure clearance model and Teach For America (TFA) residency licensure clearance partnership. Additionally, Smith assisted with service planning including new student events, recruitment and retention initiatives, and transfer advisory work. Smith earned both his bachelor of science and master of arts in history education at East Carolina University. He earned his doctorate of educational leadership from the University of North Carolina Wilmington. Smith has received national recognition for his service research focused on military-affiliated students in higher education spaces, specifically their beliefs about the role of academic units in the cultivation of identity and sense of belonging.