UNC System Military Affairs
The University of North Carolina System is proud to support our military and is committed to the mission of educating members of the U.S. Armed Forces, veterans, and their families. The Military Affairs team provides System-level coordination and strategy for all UNC System institutions while also providing a single point of contact for our external partners.
In July 2018, the UNC Board of Governors established the Special Committee on Military and Veterans Affairs which is committed to increasing enrollment, retention, graduation, and post-graduation success for all UNC System military-affiliated students. Additionally, the Special Committee on Military and Veterans Affairs and UNC System staff are committed to growing North Carolina's economy, supporting the missions of military base leaders, and ensuring that service members, veterans, and their families living in North Carolina have a high quality of life. Furthermore, the UNC System is committed to ensuring we offer military supportive policies, flexible online degree programs, as well as growing our external partnerships with national and statewide stakeholders, and awarding academic credit for military training.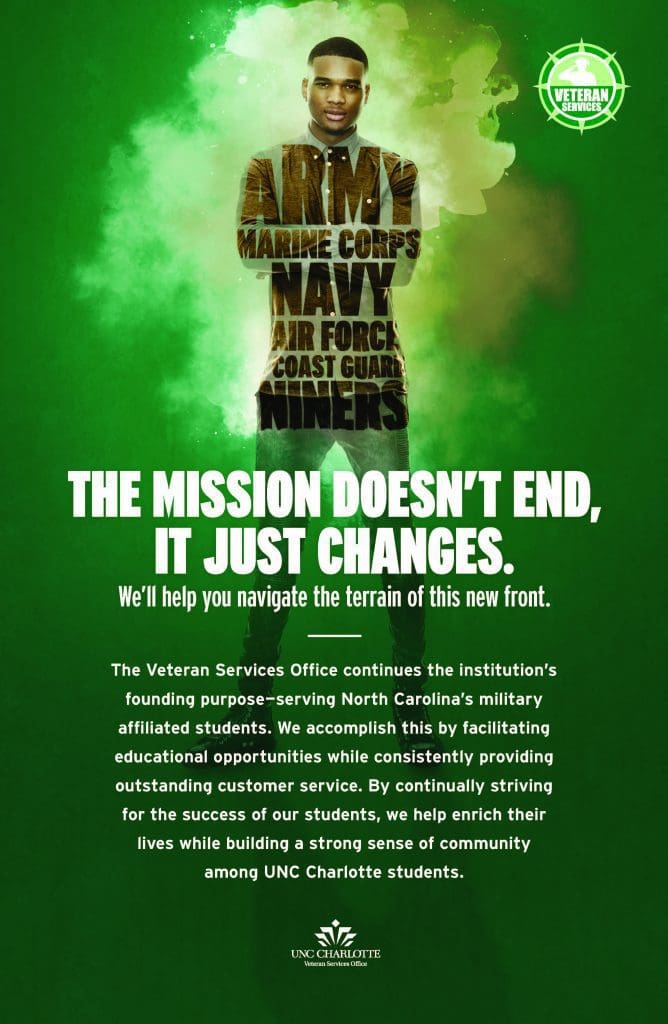 Information for Prospective Military-Affiliated Students
The UNC System offers a variety of resources to support military student success.
Each of our 16 institutions hosts a website that is specifically tailored to military-affiliated prospective and current students. Prospective and current students may learn more about the institutions and how to apply through this UNC System portal.
| | | | | | | |
| --- | --- | --- | --- | --- | --- | --- |
| Institution | Centralized Website for Veterans | Student Veteran Center | Student Veteran Organization | VA Work Study | Ranked in Military Times | ROTC Program |
| Appalachian State | Yes | Yes | Yes | Yes | Yes | Yes |
| East Carolina | Yes | Yes | Yes | Yes | Yes | Yes |
| Elizabeth City State | Yes | Yes | | Yes | Yes | Yes |
| Fayetteville State | Yes | Yes | Yes | Yes | | Yes |
| N.C. A&T State | Yes | Yes | Yes | Yes | | Yes |
| NC Central | Yes | Yes | Yes | Yes | | Yes |
| NC State | Yes | Yes | Yes | Yes | Yes | Yes |
| UNC Asheville | Yes | Yes | Yes | Yes | | |
| UNC-Chapel Hill | Yes | Yes | Yes | Yes | | Yes |
| UNC Charlotte | Yes | Yes | Yes | Yes | | Yes |
| UNC Greensboro | Yes | Yes | Yes | Yes | Yes | Yes |
| UNC Pembroke | Yes | Yes | Yes | Yes | Yes | Yes |
| UNC School of the Arts | Yes | | | | | |
| UNC Wilmington | Yes | Yes | Yes | Yes | Yes | |
| Western Carolina | Yes | Yes | Yes | Yes | Yes | |
| Winston-Salem State | Yes | | Yes | Yes | | Yes |
Examples of Military-Affiliated News from UNC System Institutions
Read recent news from UNC System institutions related to military initiatives.
Supporting Those Who Serve (UNC-Chapel Hill and the Bank of America Military Families Scholarship)
NCCU and UNC-Chapel Hill Partner to Revive Veterans Clinic
Future soldiers sworn-in from space at WSSU
Coast Guard, ECSU Strengthen Relationship with Memorandum of Agreement
Fayetteville State University and the Brian Hamilton Foundation Launch Innovative Veteran Entrepreneur Partnership
Student Veterans Organization Creates Scholarship for Military Spouses
ECU brings together stakeholders to discuss aerospace industry
Information for Partners
The UNC System invests in military-affiliated students.
Military students have a strong desire to pursue post-secondary education. The U.S. Department of Labor estimates that nearly 50% of all service members transitioning from active duty enroll in an institution of higher learning.
Military students are high performers in the classroom and offer leadership and diversity of thought and experience to our universities.
Military students often pursue and complete high-demand programs like STEM, business, and health.
Many military students have the technical skills needed to fill critical workforce gaps in North Carolina like cyber defense and IT.
North Carolina has one of the nation's largest military footprint (nearly 1 million active, veteran and reserve) and a defense sector that contributes over $66 billion dollars annually to the state.
Current Partnerships

The UNC System has partnered with the PsychArmor Institute, which is a national non-profit that provides military cultural competency training, developed and delivered by subject matter experts from various industries. This partnership provides a shared service that will facilitate rapid scale up across the System of best practices that can promote military cultural education among all UNC System faculty and staff. This avoids duplication of effort, ensures consistency of quality training, and provides a flexible and convenient delivery platform, which will attract more faculty, staff, and students who might not otherwise be able to participate in on-campus training because of time constraints or scheduling conflicts. Explore available courses for faculty and staff.
The UNC System Office has partnered with Bunker Labs to increase veteran and military-spouse owned businesses in the state of North Carolina. Bunker Labs is a national non-profit that helps grow military entrepreneurship. This partnership provides UNC System military-affiliated students with access to premier trainings, professional development, and networking opportunities to support their entrepreneurial goals.
The UNC System signed a partnership agreement with the Defense Alliance of NC to support growth of our state's military economy.
The UNC System Office was awarded a five-year contract of $6 million dollars from the U.S. Army to fund a range of research and development projects supporting US Special Operations Forces (SOF).
The UNC System has an Educational Partnership Agreement with the US Army Research Laboratory (ARL) to support UNC System STEM education and research.
The UNC System Office has partnered with the U.S. Chamber of Commerce Foundation's Hiring Our Heroes program. This partnership enhances visibility and recruitment opportunities at the national level for UNC System institutions, while also creating post-graduation employment opportunities for our MA students. In addition to broadening outreach to prospective MA students, this partnership provides the UNC System direct access to executives of corporations with major national initiatives who can hire qualified veterans and military spouses.
Current Initiatives
The UNC System and the North Carolina Community College System have established a joint initiative to focus on the granting of academic credit based on relevant military training and experience. This is a statewide effort that (1) respects and recognizes the validity of American Council on Education (ACE) credit recommendations for military formal training and occupational experience and (2) supports a faculty-driven process for decisions regarding award of academic credit.
UNC System Military Affairs Working Group meets monthly and is comprised of military affairs directors, military student support specialists, registrars, VA Certifying Officials, and other staff serving military-affiliated students from each of our 16 universities and meets monthly to share best practices and reduce barriers for UNC System military-affiliated students.
The UNC System continuously engages in external outreach with North Carolina Congressional Delegation.
The UNC System hosts a variety of training opportunities to faculty and staff to increase military cultural awareness and military student success.
Contact
If you would like to support one of these initiatives, contact Kathie B. Sidner or Bradley Wrenn.