The National Standard in Student Success
Keeping North Carolina supplied with skilled talent and leadership requires more effort than just growing college enrollment. The UNC System is just as committed to helping its students succeed in the classroom and graduate in a timely fashion.
System-wide efforts to focus on student success have increased the percentage of students who graduate on time. Our students enter the workforce more quickly, equipped with the skills they need to make meaningful contributions to North Carolina.
Today, more than 70 percent of undergraduate students who enter the UNC System graduate within five years. This far outpaces the national average and establishes the UNC System as a national standard bearer for student success.
Our students don't just earn degrees. Through innovative academic and experiential learning opportunities, our students develop marketable talent and acquire valuable skills. They graduate prepared to be more than just productive members of the workforce; they graduate ready to be responsible citizens and lifelong learners in a global environment.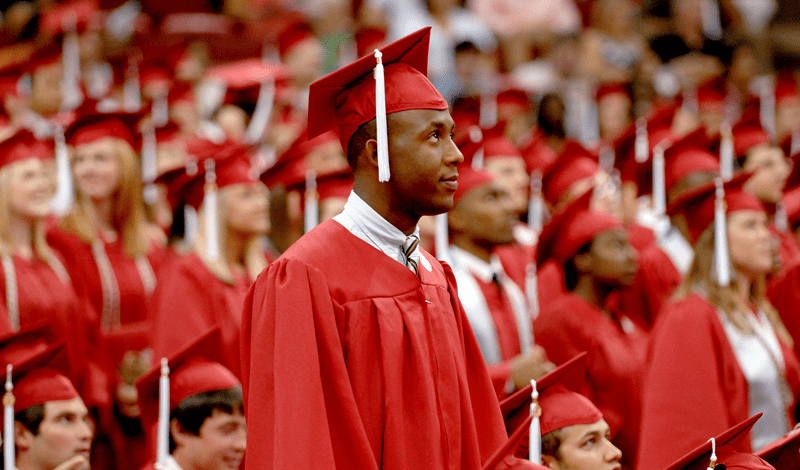 Graduating Students … On Time
The UNC System prioritizes maximizing graduation rates. Given its historical mission to serve all North Carolinians, the University places particular emphasis on helping first generation, rural, economically disadvantaged, and other student groups overcome disproportionate achievement gaps.
Innovative strategies for staging academic and financial interventions help prevent students from faltering. The UNC System's Student Success Innovation Lab funds, evaluates, and disseminates programs with the potential to improve student performance and retention.
In addition, collaborative initiatives throughout the year promote behavioral health, support for military-affiliated students, security and safety, and campus free speech.
All of this work ensures that each institution provides students and faculty alike with a supportive learning environment.