Economic Impact Analysis Study
North Carolina's institutions of higher education deliver a solid return on investment for their students and the state, according to the first-ever statewide analysis of higher education's impact on the state's economy conducted in 2015.
Benefits generated by NC colleges and universities reach students, society, and taxpayers, creating jobs, and driving innovation and entrepreneurship.
In 2015, the University of North Carolina System, the North Carolina Community College System, and North Carolina Independent Colleges and Universities commissioned a report to measure the value and impact of North Carolina's 100 higher education institutions. The report presents an over-arching analysis, as well as a detailed study of each sector's value locally, regionally and statewide.
Download the full reports, summaries, and fact sheets to learn more.
All of North Carolina's Higher Education Institutions are working more collaboratively than ever to leverage their collective expertise and scarce resources for the benefit of the people of the state.
NC's Higher Education Institutions created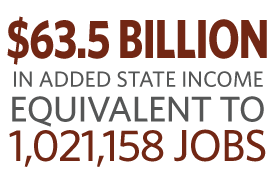 The University's value, measured in jobs, spending and other economic indicators shows an active and effective university system positively impacting people and communities all across North Carolina.
The University of North Carolina System created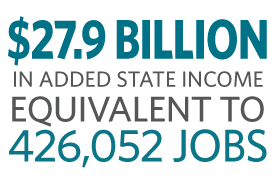 NC Higher Education Institutions
NCHE Institutions Full Report
Demonstrating the collective value of NC Higher Education.
UNC System
UNC System Full Report
Demonstrating the collective value of the UNC System.