Higher Expectations
The University of North Carolina System, with its 17 institutions, is a cornerstone of our state's success, ensuring access to affordable, world-class higher education for all qualified North Carolinians. No public university system in the country promotes access, success, and excellence as effectively as the UNC System.
The UNC System's 2017-22 Strategic Plan built on this strong foundation by setting measurable goals under five broad categories:
Access
Student success
Affordability and efficiency
Economic impact and community engagement
Excellent and diverse institutions
The plan called for the System to enroll and graduate more low-income students, raise five-year graduation rates, and graduate more students from programs that are aligned with critical workforce needs. The System set ambitious targets and regularly reported institutional progress. Since 2017, UNC System institutions surpassed the Strategic Plan's economic impact and student success goals while highlighting the need for continued progress in other areas.
---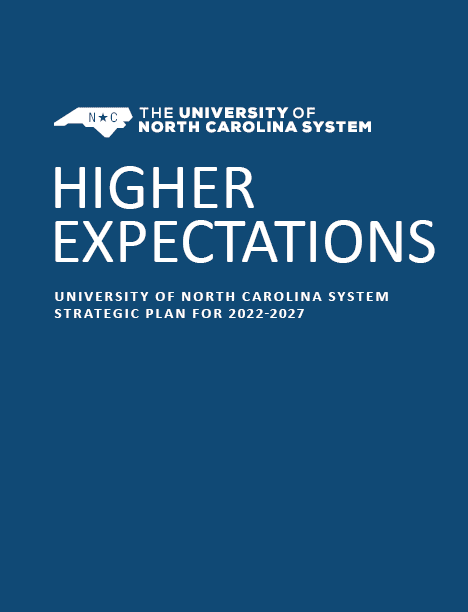 ---
We must do more. The world has changed dramatically over the past five years, and our universities must change with it. After seeing decades of national and state growth in the overall number of high school graduates, changing demographics foreshadow a lasting slowdown in college enrollment. Simply put, the pool of traditional college students in North Carolina is getting smaller, and that has major implications for our universities. Meanwhile, concerns about student debt and uncertain job prospects have led increasing numbers of prospective students to question the value of higher education. The COVID-19 pandemic accelerated these trends while also showing what is possible when universities think creatively about their mission and model.
The goals and metrics outlined in the Strategic Plan reflect the long-term vision and priorities of the Board of Governors of the University of North Carolina System, including the core metrics selected by the Presidential Assessment Committee to shape presidential and chancellor compensation and the performance component of the university's funding formula in the years to come.
The goals also reflect input from a range of constituencies across the university, including faculty, staff, students, and other leaders. We heard that our five themes are more relevant than ever. We still need to improve access to our institutions and ensure students make it to the finish line. We still need to increase the contribution of UNC institutions in solving the challenges facing communities throughout the state. So, the themes are the same in this plan, but we have developed new goals to reflect our changing environment.
Each goal includes a target goal and a stretch goal. While our target goals are ambitious, we believe that if we work together, we can reach or exceed our stretch goals. Progress toward the goals will be reported on an annual basis with updates every spring.
---