UNC System Literacy Framework Development Initiative
G.S. 115C-83.1 sets the student expectation for reading proficiency such that students can read, comprehend, integrate and apply complex texts by the end of third grade. North Carolina's federal Every Student Succeeds Act (ESSA) plan establishes goals for increasing reading proficiency on state assessments.
G.S. 115C-269.20 requires teacher preparation programs to provide training to elementary and special education general curriculum teachers that includes instruction in the teaching of reading to include significant understanding of reading as a process involving oral language, phonological and phonemic awareness, phonics, fluency, vocabulary, and comprehension. Rigorous research has identified these concepts as essential components of reading instruction.
The UNC System's Educator Preparation Programs (EPPs), in alignment with the recently released Leandro Action Plan, are responsible for ensuring that teaching candidates are well-prepared through rigorous coursework and accompanying field experiences such that they may positively impact student reading growth and achievement.
Literacy Fellows Developed a Comprehensive Framework
The UNC System Office selected eight UNC System faculty who served as Literacy Fellows within the UNC System Literacy Framework Initiative per the requirements of the UNC Board of Governors Resolution on Teacher Preparation.
The individuals were selected as Literacy Fellows from a robust pool of applicants that included many strong candidates from across the UNC System representing a wealth of experience, research, and knowledge of evidence-based literacy practice.
Literacy Fellows collaborated with other literacy experts from within and outside the state, as well as UNC System Office staff, to develop a comprehensive literacy framework that reflects rigorous research on the essential components of reading and aligns with statutory requirements and other statewide literacy initiatives.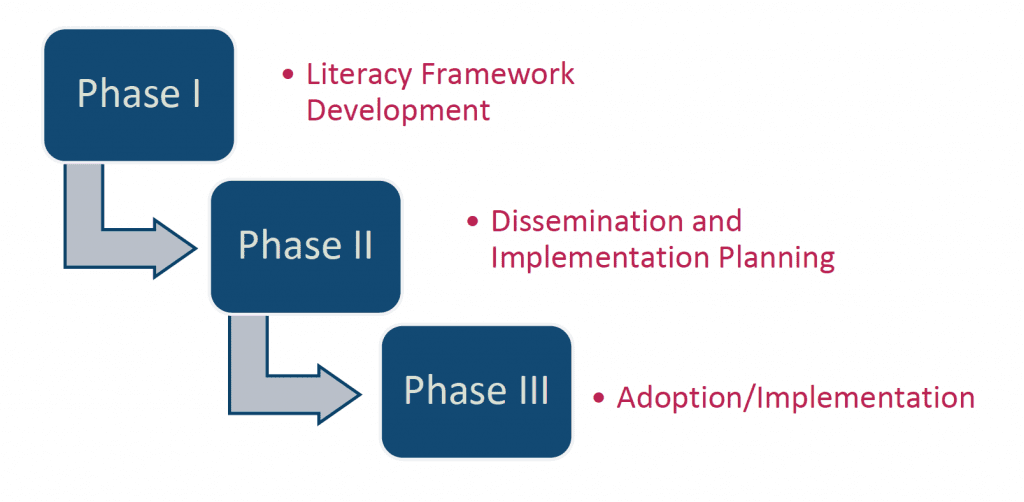 Fellows developed a self-study tool for educator preparation programs based on the developed framework, as well as provide suggestions for future program-level implementation.
Literacy Fellows
Kimberly L. Anderson
East Carolina University, Associate Professor of Reading Education
Dr. Anderson is an Associate Professor in the Department of Literacy Studies, English Education, and History Education in the ECU College of Education. She is a former school psychologist and reading intervention specialist. She completed her PhD at the University at Albany, State University of New York, where she also worked for several years as a research associate and director of professional development for the Child Research and Study Center. At ECU, Dr. Anderson is currently completing work on two research projects, one focused on the long-term impacts of shared book reading in the preschool years, and the other focused on the impact of professional development for kindergarten teachers on their students' literacy learning. She is a co-author of a textbook, Early Intervention for Reading Difficulties: The Interactive Strategies Approach, and several book chapters. Dr. Anderson has also published in journals such as Literacy Research and Instruction, Preventing School Failure, and Early Childhood Development and Care, with articles in press for Reading Research Quarterly and The Reading Teacher.
It is my belief that getting children off to a strong start in literacy is one of education's greatest responsibilities, and I have been focused on improving literacy outcomes for primary grade students throughout my career. The opportunity to work with similarly dedicated literacy experts from across the UNC system is an honor and a privilege, and I look forward to what we will accomplish together.
Christie Cavanaugh
University of North Carolina Greensboro, Clinical Associate Professor
Dr. Cavanaugh is a Clinical Associate Professor at the University of North Carolina Greensboro in the Department of Specialized Education Services. She teaches undergraduate courses for elementary and special education students, as well as graduate courses in the special education master's and doctoral programs. She has extensive experience teaching (always with a strong focus on language and literacy) in a variety of early childhood and elementary settings, and higher education at the University of Florida and UNCG. Dr. Cavanaugh has consulted with schools, districts, and state departments to improve reading outcomes for students and support efforts to implement effective, evidence-based practices. She has developed and revised statewide professional development programs and materials for elementary and special education teachers and administrators to enhance reading instruction and intervention for all students. Dr. Cavanaugh presents nationally and internationally, and serves as a contributing author to the first and second editions of Fundamentals of Literacy Instruction and Assessment, Pre-K–6 (2020). A recent accomplishment was approval to add, develop, and teach an additional reading course (Language and Emergent Literacy: Foundational Skills for Teaching Reading) as part of the undergraduate special education program at UNCG. Dr. Cavanaugh also serves as the edTPA Coordinator for all initial licensure programs and was recently appointed as the co-chair for the Collaborative for Educator Preparation at UNCG. Christie earned her Ph.D. from The University of Texas at Austin in Special Education with concentrations in early childhood and reading; her master's degree from George Peabody College of Vanderbilt University in Special Education (early childhood and language); and a bachelor's degree in elementary and special education from Tusculum College.
When I realize that there are still elementary-aged children in North Carolina who have not yet learned to read proficiently and would benefit greatly from effective reading instruction, I know we still have important, yet hard work to do. While the work should be approached from many levels, we have an incredible opportunity and enormous responsibility as a team of faculty representing great institutions in our state: To contribute our collective knowledge, expertise, and energy to improve how we prepare teachers to teach reading during the critical years when children are learning the foundation to develop literacy for life. All children need knowledgeable and skilled teachers if they are going to learn to read during early elementary grades and receive appropriate support when it's not so easy for them. We can help make this happen and I am honored and committed to playing a meaningful role.
Dennis S. Davis
North Carolina State University, Associate Professor of Literacy Education
Dr. Davis is an associate professor in the Department of Teacher Education and Learning Sciences in the NCSU College of Education, where he serves as program coordinator for the M.Ed. in New Literacies and Global Learning. He is a former upper-elementary teacher. He received his PhD in Teaching, Learning, and Diversity from Vanderbilt University. He began his academic career at The University of Texas at San Antonio where he was awarded the UT System Regents' Outstanding Teaching Award. Dr. Davis' research and professional development activities focus on reading comprehension and intervention for students when they have difficulties in reading. His current research includes a project funded by the Institute of Education Sciences (IES) to develop and test a reading comprehension intervention for English learners. Dr. Davis has published his work in numerous journals, including The Reading Teacher, Reading Research Quarterly, Literacy Research and Instruction, and Reading and Writing Quarterly. He served as co-editor of Journal of Literacy Research from 2015-2018.
The UNC System has incredible expertise in teacher education and early reading development. I am excited to be part of an effort to use this expertise to develop a framework for teacher preparation. The work we accomplish together can inform and inspire other institutions. And more importantly, it will make a direct impact on the quality of education for teachers and young readers in our state.
Rebecca Lee Payne Jordan
Appalachian State University, Assistant Professor of Reading Education
Dr. Jordan is an Assistant Professor of Reading Education at Appalachian State University. She received her Doctorate in Early Childhood, Special Education, and Literacy from UNC-Chapel Hill, and her Master's degree in Curriculum and Instruction specializing in Reading Education from UNC Greensboro. In addition to her general education and reading education licenses, she also holds an English as a Second Language K-12 license. She has taught most of the elementary grades, but considers herself a first grade teacher at heart. Dr. Jordan's most exciting current project is working with teachers at the AppState Academy at Middle Fork (UNC System Laboratory School) modeling evidence-based instruction for teachers to see firsthand how they can support continued literacy development. Her research agenda has a dual focus on both teachers and students. She seeks to better understand the literacy knowledge, skills, and beliefs of pre-service and in-service teachers and how those are engendered and transformed. Simultaneously, Dr. Jordan continues to explore the ways reading and writing develop in children, particularly students with developmental disabilities, and the ways instruction can capitalize on existing funds of knowledge.  Her work has been published in top-tier journals, including Literacy Research and Instruction, Learning Disabilities Research and Practice, and Teaching and Teacher Education.
This work is an important opportunity for local experts who know both the content and the community, and are themselves stakeholders in the effectiveness of the PK-12 education system, to create a set of guiding principles for North Carolina educator preparation programs that reflect the current literacy evidence base. The development of these common guiding principles will help us graduate more highly qualified teachers who are able and willing to provide differentiated, evidence-based instruction that meets each students' needs.
Kim Doggett Pemberton
Winston-Salem State University Associate Professor of Elementary Education
Kim D. Pemberton, PhD is an Associate Professor of Elementary Education, and the edTPA Coordinator, in the Department of Education at Winston-Salem State University (WSSU). Pemberton graduated from WSSU with a BS in Early Childhood Education; NC Agricultural & Technical State University with her MS in Elementary Education; and the UNC Greensboro, with a Ph.D. in Teacher Education. Her dissertation focus was Parental Involvement of Low Socioeconomic Families with Struggling Primary Readers. She is certified in the areas of Elementary Education, Birth-Kindergarten Education, and is Nationally Board Certified in the area of Early Generalist, which gives emphasis to children from birth-eight years of age. She is also the Program Director of the I-RISE (Initiative of Reading Improvement of Students Everywhere) Literacy Academy, designed to positively impact literacy among developing readers and strategically involve parents in their school lives; while enhancing the literacy instruction and parental communication skills of pre-service teachers.
Literacy is an essential foundation of all that we do in our daily lives. Children who struggle with literacy often become frustrated with school and the act of learning; however, our society cannot afford to lose such a powerful commodity. Our children are our future, and this project is important, as it will assist NC teachers to collectively bridge the literacy gap for the sake of the children and the future of our state.
Paola Pilonieta
University of North Carolina at Charlotte, Associate Professor, Director of the Reading Education Minor
Dr. Paola Pilonieta is an Associate Professor and Program Director of the Reading Education Minor at the University of North Carolina at Charlotte. She received her Doctorate and Master's degrees in Reading from the University of Miami. Prior to her current position, she was a first-grade teacher. Dr. Pilonieta's research agenda focuses on emergent and early literacy, diversity, and teacher education. She is particularly interested in exploring how young children construct meaning during read alouds and partner reading, and how comprehension strategies can be used to facilitate text-based conversations. Dr. Pilonieta has authored over 30 publications, has delivered more than 35 conference presentations and workshops, and has served as Co-Editor of Literacy Research and Instruction, a highly regarded peer-reviewed journal in the field of literacy.
This project is an opportunity for experts across the state to develop a set of guiding principles for teacher preparation programs that reflect the most up to date research on literacy development and instruction. This collective effort will help us graduate highly qualified teachers, who are ready to make a meaningful impact in our elementary schools.
Roya Qualls Scales
Western Carolina University, Professor of Literacy Education
Roya Q. Scales, Ph.D., is a professor of Literacy Education at Western Carolina University. An educator for more than 20 years (11 as a K–2 classroom teacher), she is noted for her research on thoughtfully adaptive teaching, enactment of teachers' visions, literacy teacher education, and effective teaching of literacy. Dr. Scales published two books in 2020: Becoming a Metacognitive Teacher: A Guide for Early and Preservice Teachers and Teaching Reading and Writing PreK-3: A Practical Approach. Other publications include 30 journal articles, three book chapters, and three yearbook chapters. She is currently Associate Editor for Reading & Writing Quarterly: Overcoming Learning Difficulties. Recent awards include the 2019 American Educational Research Association Review of Research Award, 2019 Organization of Teacher Educators in Literacy Outstanding Research Article Award, Action in Teacher Education Editor's Choice Award for a 2019 article, and the 2019 Association of Literacy Educators and Researchers Teacher Education Research Grant.
Collaborating with literacy experts across NC to guide how teacher candidates learn to teach reading and writing is an exciting opportunity.
Kellee D. Watkins
North Carolina Agricultural and Technical State University, Assistant Professor and MAT Coordinator for Elementary Education
Kellee D. Watkins, Ph.D. is an Assistant Professor of Reading and the Coordinator of the Master of Arts in Teaching Elementary Education Program at NC A&T State University. Watkins earned her B.A. in Elementary Education from Livingstone College, M.Ed. in Reading, Language, and Literacy K-12 from the University of North Carolina at Charlotte. She received her Ph.D. in Educational Studies from the University of North Carolina at Greensboro. Watkins is National Board Certified (Middle Childhood Generalist), and a licensed school administrator. Dr. Watkins was an elementary school teacher and academic coach for over 15 years. Her research interests include Reading Education, Curriculum Standards, Teacher Professional Development and Coaching, and Equity Education. She has presented at state and national conferences, including the Literacy Research Association, American Educational Research Association, American Association of Colleges for Teacher Education, International Literacy Association, and North Carolina Reading Association.
Reading achievement has continued to be a great concern for the students of North Carolina. This project will provide literacy experts the opportunity to create guidelines for teacher preparation programs training future teachers to implement explicit, systematic, and scaffolded evidence-based reading instruction through coursework and clinical experiences. The goal is to support teacher preparation programs with developing highly effective teacher candidates capable of contributing to the reading achievement of students who most need reading support.
UNc system literacy framework