At its December 17, 2020 meeting, the UNC Board of Governors approved the following amendment to UNC Policy 400.1.5 Policy on Fostering Undergraduate Student Success:
The UNC System Office shall, in consultation with faculty and staff from the constituent institutions, establish and maintain a common course numbering system for undergraduate lower division courses, which shall be mapped to the unique course numbers used at each respective institution of higher education. The president shall approve regulations to describe and implement this common undergraduate course numbering system, which shall be established and operational by the 2022-23 academic year.
In collaboration with institutional faculty, staff, and administration, the UNC System Office has begun the work of identifying and developing a set of course equivalencies for commonly taught, lower-division courses. Many equivalencies already exist, particularly for those courses designated in the Comprehensive Articulation Agreement (CAA) that governs transfer from NC community colleges. This work will also be focused on transfer credit among UNC universities.
The project will culminate in several tools and services made available to students, advisors, registrars, etc., that clearly indicate accepted transfer courses. To meet the intent of the policy, we will initially develop a searchable database that will be housed on the UNC System website and available to institutional websites. Eventually, migration into the Student Information System on each campus will enable automated assignment of transfer.
To guide this work, content experts from across the UNC System and chancellor-appointed points of contact are meeting regularly to identify the path forward that will establish a system of course equivalencies to improve awarding of transfer credit and overall transfer student success.
Regular updates will be made available here and to leadership across the UNC System.
---
Policy and REGULATION
Operations Manual
Updates
---
UNC-CNS TIMELINE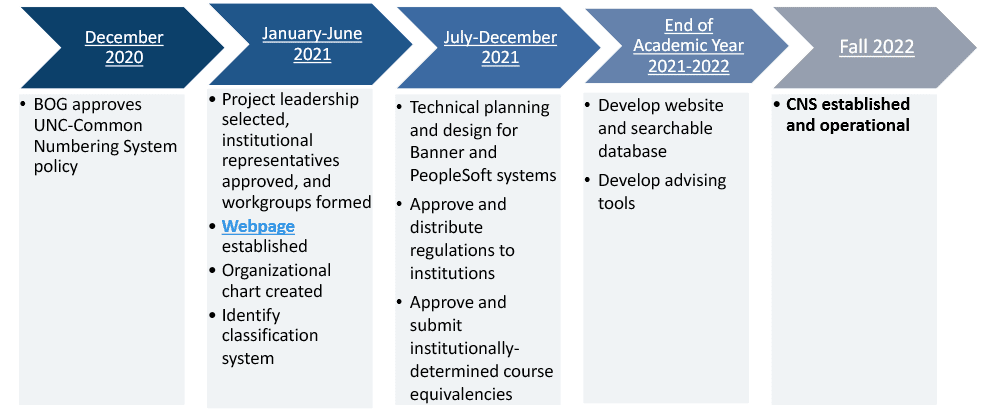 ---
UNC-CNS ORGANIZATION CHART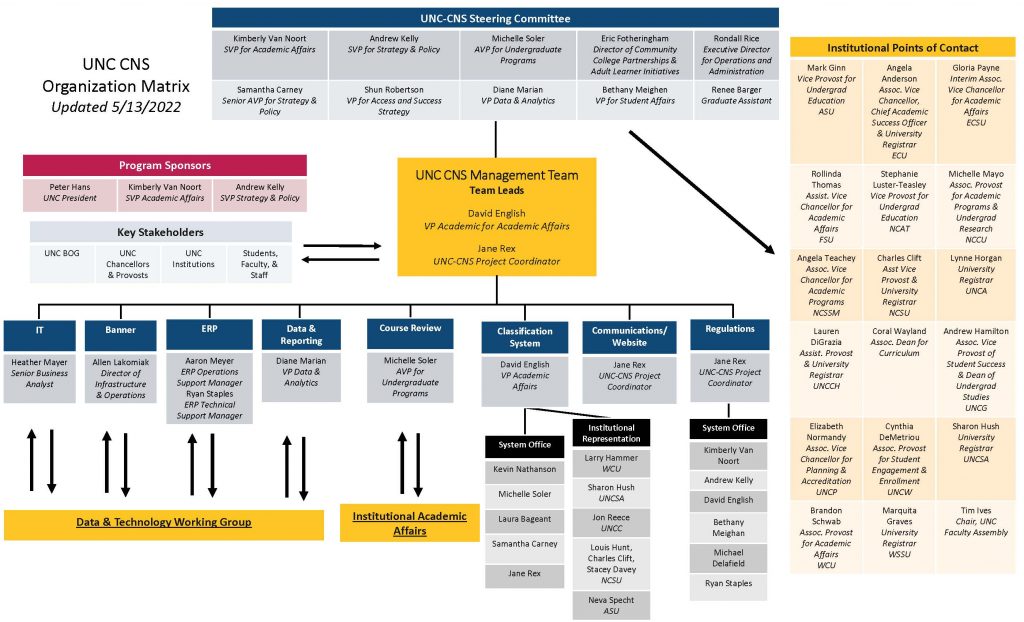 ---
CAMPUS POINT OF CONTACTS
---
UNC System Common Numbering System Frequently Asked Questions
CNS FAQ'S
CNS FAQ'S
What is the Common Numbering System (CNS)?
In December of 2020, the UNC Board of Governors approved the Common Numbering System (CNS) as an amendment to UNC Policy 400.1.5 Policy on Fostering Undergraduate Student Success to establish and maintain a common numbering system specifically identifying lower division courses most often used in transfer between the UNC institutions of higher education. The CNS is a special group of courses assigned a common number that have direct equivalency at all UNC System institutions that offer the course. 
Why is CNS Important?
The CNS will allow for more seamless transfer of course credit between UNC institutions and limit the number of excess credits that transfer students earn, saving time and money.
How were courses selected to be included in the CNS List?
The most often transferred lower division courses between UNC System institutions were chosen to be included in Phase 1 of the CNS project. These courses were reviewed, revised and approved by faculty at each institution for bi-directional transfer.
Where can I see the CNS equivalencies?
A searchable database was developed (eq.northcarolina.edu) for public access and the full list of CNS courses is downloadable from the UNC CNS website (cns.northcarolina.edu) beginning Fall 2022.
Will non-CNS courses transfer?
Yes, the Course Equivalency Search (eq.northcarolina.edu) was developed to provide a resource to view transfer credit between UNC institutions and the North Carolina Community Colleges. The North Carolina School of Science and Math course equivalencies will be available Fall 2023.
Are general electives included in the CNS?
Only courses that transfer as direct equivalents are included in the CNS. Depending on a student's major and institution some CNS courses may be considered electives.
Will colleges and universities have to change their course catalog numbering?
No, the advantage of the UNC CNS is that institutions will retain their course prefixes, numbers, and titles. Institutional courses will be mapped to an overarching UNC System numbering system, which will help to identify how a course transfers. 
When will the UNC CNS be available?
Fall 2022
Updated 3/1/2022
---