UNC System Laboratory Schools
The UNC System Lab School initiative aims to provide enhanced educational programming to students in low-performing schools and to plan demonstration sites for the preparation of future teachers and school administrators.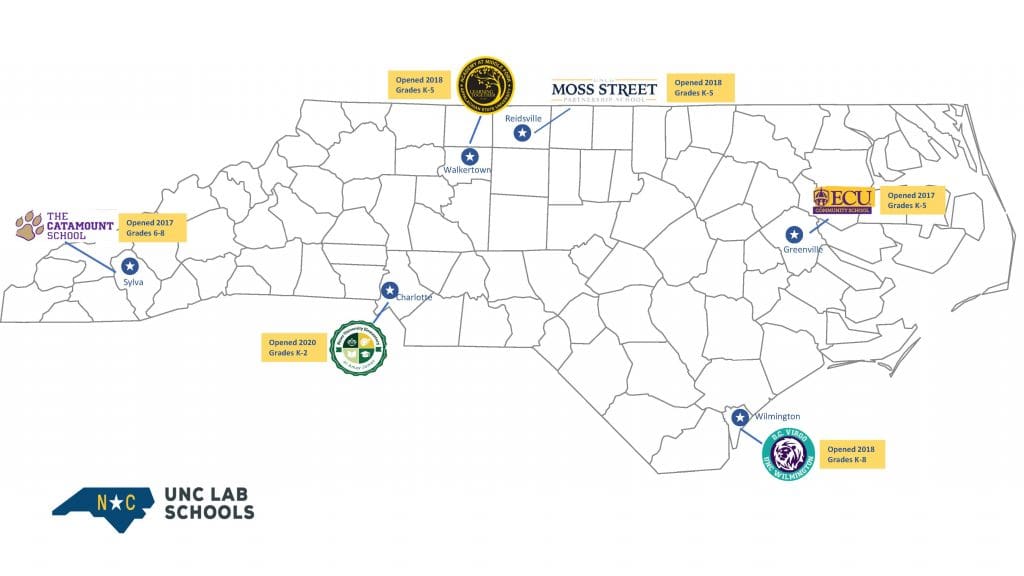 In 2016, the N.C. General Assembly law passed requiring the UNC Board of Governors to establish eight lab schools aimed at improving student performance in low-performing schools. The legislation was modified in 2017 to require the creation of nine lab schools rather than eight. The System has 15 institutions that offer educator-preparation programs.
The establishment of the UNC System laboratory schools provides the opportunity to redefine and strengthen university partnerships with public schools, improve student outcomes, and provide high quality teacher and principal training. The UNC System Office selects universities that will utilize their Colleges of Education to establish and operate lab schools. The lab schools will then partner directly with local school districts to promote evidence-based teaching and school leadership, while offering real-world experience to the next generation of teachers and principals. UNC System Lab Schools will serve every part of the UNC System mission — teaching, research, and public service.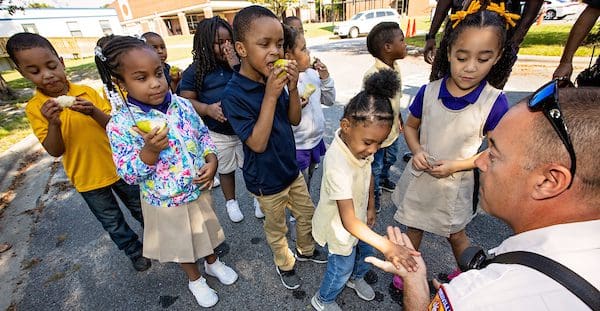 Operating Lab Schools
Appalachian State University
The Academy at Elkin
The Academy at Elkin, a partnership between Appalachian State University and Elkin City Schools, plans to launch in August 2022 as a co-located school on the campus of Elkin Elementary. The Academy at Elkin will serve approximately 90 students in grades 2, 3 and 4 with an emphasis on exploratory learning. The mini-Mountaineers will grow as learners using a QUEST model of instructional practice (Question, Understand, Explore, Share, Try). The Academy at Elkin will serve as a clinical experience site for pre-service educators from the local community college and the Appalachian Reich College of Education.
The Academy at Middle Fork
The Mini Mountaineers explain Middle Fork pledge and the definition of a Mountaineer
Academy at Middle Fork with partner Winston-Salem/Forsyth County Schools
Middle Fork Pledge & Mountaineer Definition
East Carolina University
Hear from Tracy Cole, Principal of the ECU Community School
East Carolina University Laboratory School with partner Pitt County Schools
North Carolina A&T State University
North Carolina A&T, in partnership with Guilford County Schools, will open the Aggie Academy laboratory school and welcome over 80 students in August of 2022. Aggie Academy will have a STEAM focus (Science, Technology, Engineering, Agriculture, Arts and Math) and provide unique opportunities through their designation as a Freedom School in partnership with the Children's Defense Fund. Young Aggies will have the chance for an additional 5-6 weeks of summer learning as well as a variety of after-school learning opportunities. Aggie Academy will serve students in grades 3, 4 and 5.
UNC Charlotte
Niner University Elementary at Amay James with partner Charlotte-Mecklenburg Schools
UNC-Chapel Hill
Carolina Community Academy (CCA) is UNC-Chapel Hill's new lab school opening in collaboration with Person County Schools. This co-located school will start by serving a new class of young Tar Heel kindergarteners in August 2022 and will add a grade level each year, eventually serving students in grades K-3. With a whole child approach to student learning, CCA will have an integrated curriculum with intentional focus on student well being, social emotional supports for learning, and engagement of families and the community. CCA will be a clinical experience site for a variety of university degree programs, from MAT students to pre-service public health and library science majors.
UNC Greensboro
UNCG-RCS Partnership School at Moss Street Elementary in Reidsville with partner Rockingham County Schools
UNC Wilmington
D.C. Virgo Preparatory Academy with partner New Hanover County Schools
Western Carolina University
Catamount School for Grades 6, 7, and 8 with partner Jackson County Public Schools
MEDIA COVERAGE
Appalachian Academy at Middle Fork
ASU starts Middle Fork lab school in Winston-Salem
Watauga Democrat by Kayla Lasure
September 20, 2018
D.C. Virgo Preparatory Academy
D.C. Virgo ready for new students under UNCW partnership
WECT
July 17, 2018
ECU Community School
Holiday Hustle raises $2K for Community School
ECU College of Education
March 25, 2021

SCULPTING EXPERIENCES Honors College builds ECU Community School partnership through art, service
ECU News
February 18, 2021
ECU Community School reopens for new academic year with safety procedures
ECU News
September 3, 2020
Moss Street Partnership School
Moss Street Honors 2020 Graduates
UNCG News
June 4, 2020
No longer part of Rockingham County Schools, how's Moss Street Partnership School doing? So far, so good.
Greensboro News & Record by Jennifer Atkins Brown
January 13, 2019
UNCG partnership with Moss Street School works to improve quality of education
Fox 8
November 21, 2018
Niner University Elementary at Amay Jones
Elementary school opens during Coronavirus Pandemic
Spectrum News
May 31, 2021
UNC Charlotte to open Niner University Elementary in August 2020
WBTV
January 27, 2020
Niner University Elementary Introduces Charlotte to a New Type Of Public School
WFAE
December 16, 2019
The Catamount School at WCU
Passion for middle grades teaching leads to national award for Holly Pinter
Western Carolina News
October 29, 2020
No longer part of Rockingham County Schools, how's Moss Street Partnership School doing? So far, so good.
Greensboro News & Record by Jennifer Atkins Brown
January 13, 2019
Running toward her goals: Catamount student succeeds with Heart & Sole program
Smoky Mountain News by Jessi Stone
January 9, 2019
FAQs
What is the purpose of the UNC System Lab Schools?
According to the legislation, the purpose of the lab schools is to "improve student performance in local school administrative units with low-performing schools by providing an enhanced education program for students residing in those units and to provide exposure and training for teachers and principals to successfully address challenges existing in high needs school settings." N.C.G.S. § 116-239.5(b)
Nine universities with educator preparation programs located across North Carolina must design and operate lab schools in eligible school districts where at least 25 percent of schools have been classified as low-performing, based on student achievement data. Three of the nine laboratory schools may operate in non-qualifying school districts if the district elects to be included in the initiative in partnership with a participating university. The legislation governing the laboratory schools project focuses on three broad goals: (1) to improve the performance of students in local school administrative units with low-performing schools; (2) to provide exposure and training for teachers; and (3) to provide exposure and training for principals.
What do the UNC System Lab Schools have in common?
Each is committed to do the following:
Deliver high expectations to prepare students for college and life
Ensure students learn to read and communicate effectively
Address the academic, social, and emotional needs of all students
Harness the benefits of partnerships to strengthen learning, teaching, and school leadership
How were the universities selected to participate?
Two primary factors were considered in determining which institutions would participate in the initiative: geography and the capacity of the institutions' schools of education and educator preparation programs. In considering the capacity of the educator preparation programs, the UNC System considered the number of undergraduate teacher candidates, the size of the education school faculty, and the amount of research money available to the schools.
For more information please contact: Dr. Laura Bilbro-Berry