Member

All Members
Kellie Hunt Blue
Kellie Hunt Blue, of Pembroke, NC, was appointed by the North Carolina General Assembly in 2017 to serve on the Board of Governors of the University of North Carolina System. Her term will end in 2025.

In her role, Blue is committed to ensuring that the citizens of North Carolina have an opportunity to pursue higher education. One of her goals as a Board member is to promote access and affordability to all students throughout the state.

She is currently the county manager for Robeson County and is responsible for overseeing the business operations of the county government's various departments. Over the course of her career, she has exemplified high standards of service, performance, and integrity, and she has worked to refine processes, reduce spending, and enhance customer service. She joined the county government in 1997 and has held several positions, including finance director and assistant finance director. Under her leadership, she supervised fiscal operations, accounting records, and compliance with local, state, and federal laws and ordinances.

Prior to her work in Robeson County government, Blue had worked in financial departments in both the private and public sector. She served as the fiscal specialist and program evaluator for the Lumber River Council of Governments and as the internal auditor for Southern National Corporation. She is experienced in budgeting, fiscal responsibility, and strategic planning.

Blue also serves on the Local Government Federal Credit Union Board of Directors, Governmental Finance Officers Association (national and state), and the UNC School of Government Foundation Board. She is the former chair of the University of North Carolina at Pembroke Board of Trustees.

She has received the Governmental Finance Officers Association's Excellence in Financial Reporting award for the past 10 fiscal years and the Outstanding Alumnus Award from UNCP, where she had earned her bachelor's degree in accounting.

She and her husband, Jonathan Alan Blue, have one son, Jonathan Christopher.

Her advice to today's college students:

"Really think about what you want to do in life, and then lay out your path. Explore your options and think about the long term. Choose a career that you are passionate about. It will be a lot easier to be successful in it. If you are not willing to learn, no one can help you. If you are determined to learn, no one can stop you. Embrace change and welcome challenges."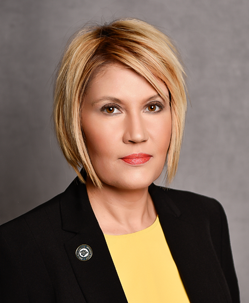 Committees
Secretary, Committee on Historically Minority-Serving Institutions