Member

All Members
Randy Ramsey
Randy Ramsey, of Beaufort, NC, was appointed by the North Carolina General Assembly in 2017 to serve on the Board of Governors of the University of North Carolina System. His term will end in 2025.

Ramsey serves as the chair of the Board of Governors, overseeing the 24-voting member board and supporting the overall progress of its committees and working groups.

As Board chair, Ramsey is focused on working towards outcomes that reduce student debt, grow four-year graduation rates, and provide higher education access to all citizens of the state. He is also very passionate about helping young people find resources to make their pathways to an education easier.

Ramsey is the founder of Jarrett Bay Boatworks, a company that specializes in the construction of custom sport fishing boats and the repair of all types of marine craft. Since its inception in 1986, the company has built more than 95 unique sport fishing boats up to 90' in length. Jarrett Bay Boatworks was named the ABBRA Outstanding National boat yard in 2011 and the NC Manufacturer of the year 2015. Jarrett Bay was recently acquired by Safe Harbor Marinas, and he serves as Vice President of Operations for Safe Harbor Jarrett Bay.

He is also a partner and board member of Bluewater Yacht Sales. This company, based in Beaufort, NC, has more than 400 brokerage listings and is a dealer for Viking, Princess, Back Cove, Sabre, Regulator, and Jupiter. The company operates nine locations in four states and is the third largest boats sales organization in the United States.

Prior to this, Ramsey worked as a marine surveyor for various underwriters, providing condition and valuation reports for all types of watercraft and at Harris Boat Works of Marshallberg, a builder of sport fishing boats designed for the NC charter industry.

Ramsey's story is quite extraordinary and is a testament to his success as a business owner and a person who is committed to living his dreams. While he did not attend a four-year college, his work within the System has certainly earned him the right to consider himself an alumnus. He credits his involvement with the University to his long-held belief in higher education. Hooked on athletics most of his life, he keenly found a way to bring the two things he loved together. When Ramsey was appointed to serve on the Board of Trustees at North Carolina State University, the experience helped him learn more about the System and allowed him to share his business, entrepreneurial, and manufacturing skills with the University.

Ramsey's service to other organizations has expanded over the years. He has served on a variety of boards, including, the Big Rock Blue Marlin Tournament, the West Town/Sound Bank, the NC State Student Aid Association, the American Boat Builders and Repairers Association, the Hatteras Marlin Club, Core Sound Waterfowl Museum and Heritage Center, the NC Chamber of Commerce, and the Centennial Authority, among others.

He also holds memberships in several organizations, including the NC State Alumni Association, NC State Student Aid Association, The State Club, the NC State R. Stanhope Pullen Society, Giving Society, and the NC State University Board of Trustees (emeritus). He is the recipient of an NC Governor's Cup Billfish Conservation Series award, and the NC State University Walter Hines Page Award in 2017.

The Kinston native graduated with honors from Carteret Community College after studying Marine Diesel Mechanics. He holds a USCG Master license, a DOT private helicopter pilot certification, and a Florida yacht broker's license.

Ramsey is married to his wife, Tiffany. He has one son.

His advice to today's college students:

"Follow your dreams and be passionate about it. If you want to pursue a degree in medicine or start your own plumbing business, you can do it. We all are talented and put on this Earth to do a special thing. Put forth the effort and there's no way you won't be successful."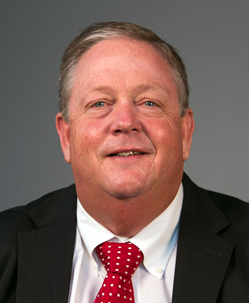 Chair