Member

All Members
Dr. Lee Barnes
Dr. Lee Barnes, of Durham, NC, was appointed by the NC General Assembly in 2022 to serve on the Board of Governors of the University of North Carolina System. His term will end in 2025.

Barnes graduated in 1990 with a bachelor's degree in business administration from Appalachian State University. In 1995, he received a master's degree in business administration from Duke University's Fuqua School of Business. He later attended Fielding Graduate University, completing a master of arts in human development in 2014, and a Ph.D. in human and organizational systems in 2017.

Barnes is passionate about building real-world experience for students through entrepreneurial programs and other forms of experiential learning.

For example, beginning in 2015, Barnes spearheaded and then facilitated the completion of an Endowed Entrepreneurship Program Fund at North Carolina Agricultural & Technical State University, Winston-Salem State University and Fayetteville State University, that after committed Title III funding will exceed six figures at all three universities. After the successful completion of these endowments, Barnes launched a similar Endowed Entrepreneurship Program Fund at North Carolina Central University, adding to his previous philanthropic support of his hometown UNC System university. In 2018, Lee also helped to kick off the Elizabeth City State University "Chancellors Ambassadors" team at its inception with an initial funding round.

Most recently, Barnes engaged with Western Carolina University's Center for the Study of Free Enterprise. A gift from Dr. Barnes to WCU will enhance several experiences, including a new special topics course, "Liberty over Lunch," and an ethics in capitalism course to encourage human flourishing through voluntary exchange. The gift also supports a one-and-a-half-day weekend seminar on the "Economics of Liberty," and undergraduate research projects that will be published in academic journals and presented at academic conferences such as the Association for Private Enterprise Education.

Dr. Barnes' goal is to serve the UNC System by putting the best interests of its constituents at the center of every policy decision while preserving the long held academic tradition of creating new knowledge through original research, and, most particularly, the eternal search for truth.

Since 2006, Barnes has worked as president and director of Durham-based M.M. Fowler, Inc. As part of that job, he has facilitated a continuing education program through a partnership with Durham Technical Community College (as a part time faculty member) and Fayetteville Technical Community College, resulting in continuing education credit for thousands of adult learners.

He previously worked as the company's senior vice president, and as a sales development representative for Shell Oil Company's marketing division in New York.

"My adult life has been consistently focused on improving systems from a holistic perspective," Barnes said. "In a volunteer capacity, my time has been dedicated to education from the beginning, at many levels, but most particularly in higher education. For this reason, serving on the Board of Governors is the highest honor to me, and I will humbly serve to the best of my ability."

Barnes was a member of Appalachian's Board of Trustees from 2013 to 2021, chairing several committees during that period. He also served as the BOT's representative to the Appalachian Academy at Middle Fork - a public laboratory school for grades K-5 - promoting literacy initiatives.

Barnes also served on the NCCU Business School Visitors Board from 2001 to 2010, sponsoring the NCCU Professional Development Series and mentoring students. He sat on the North Carolina State Board of Community Colleges from 2021 to 2022, chairing the board's finance committee and overseeing a budget of $1.5 billion.

His volunteer work extends beyond higher education and into his community. Barnes formerly served on the Durham Academy Board of Trustees and is currently a member of the Downtown Durham Rotary Club. He is a member of several philanthropic societies at Duke University and is the recipient of awards for both business and volunteer service, including the Durham Jaycees distinguished service award.

In 2008, Barnes and his wife, Christy, founded the Duane D. Daggett Endowed Professorship in Appalachian's Walker College of Business. The professorship is awarded to an outstanding faculty member in the college's department of management. In 2012, Barnes founded the Lee Barnes Scholars Program at Appalachian, a program to support students who have financial need and whose high school record demonstrates significant accomplishment and academic achievement.

Barnes and his wife have been married for 25 years and have three adult sons: Trey, Matthew, and Michael. His proudest accomplishment, he says, is "observing and learning from my wife as she raised three boys into productive, well-adjusted, kind, accomplished, and humble young men."

Outside his career and volunteer work, Barnes enjoys swimming, biking, running, paddling, reading, and finds fun in "an occasional North Carolina-based sprint triathlon." Barnes and his wife also value the opportunity to bring the family together for "a good meal, a special view, reminiscing about treasured times of our past, and dreaming realistically about the future."

He has straightforward, powerful advice for high school and college students:

"Don't hide in a safe space. Run, walk, roll, or rock to a challenging place."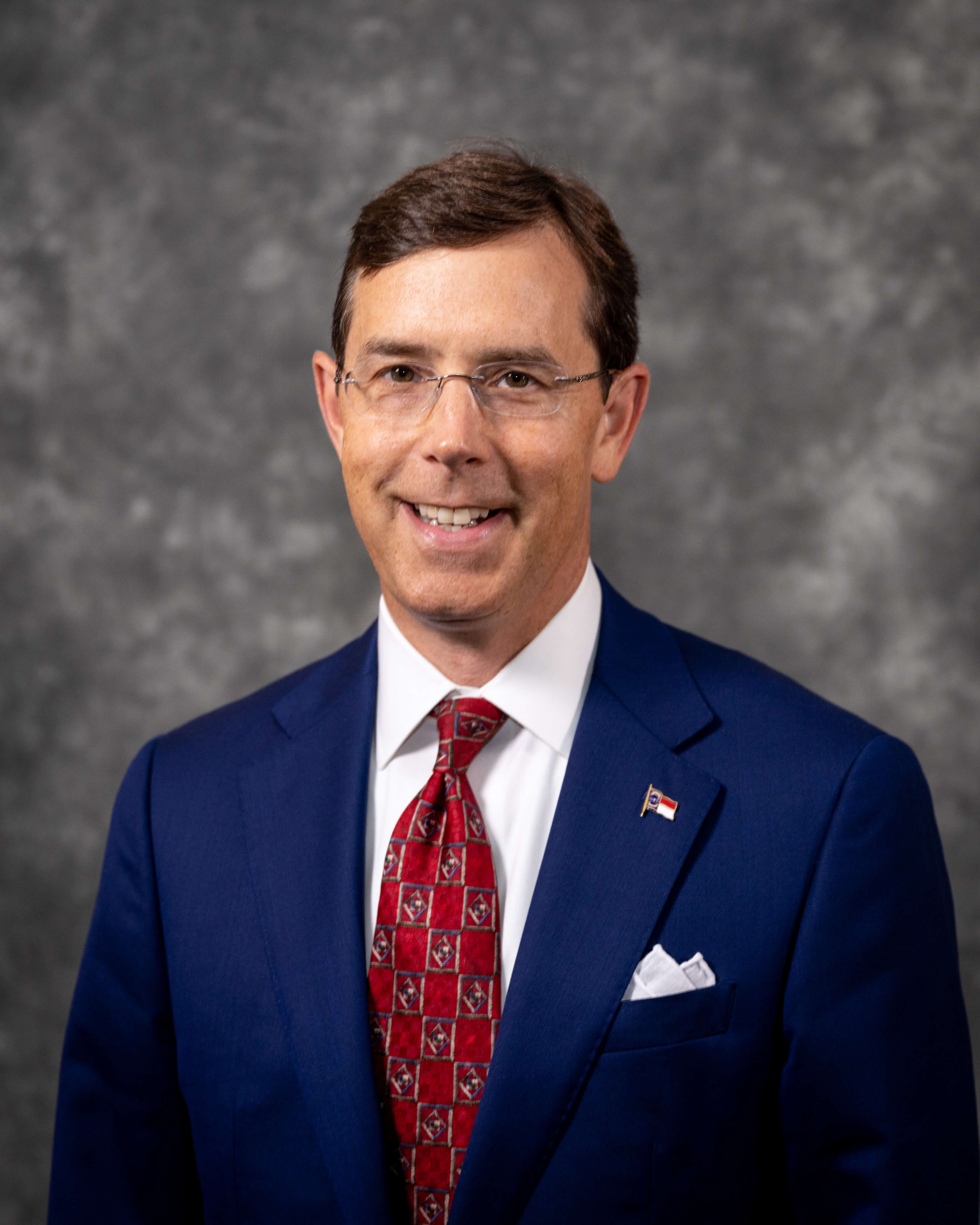 Committees
Committee on Historically Minority-Serving Institutions