Member
All Members
Reginald Ronald Holley
Reginald Ronald Holley, of Southport, NC, was appointed by the North Carolina General Assembly in October 2019 to fulfill the remaining term of a vacancy on the Board of Governors of the University of North Carolina System. His term will end in 2025.

Holley serves as chair of the Historically Minority-Serving Institutions Committee, vice chair of the Personnel and Tenure Committee, and secretary of the Laboratory Schools Subcommittee. He is also chair of the UNC System Racial Equity Task Force.

He has an abiding belief that higher education is the best vehicle for personal growth and advancement. He says that his own experience attending one of the UNC System's constituent institutions as a first-generation student helped change the trajectory of his life. As a Board of Governors member, he wants to extend that same opportunity to citizens across the state.

Holley is currently the president and founder of The Longmire Group, a firm dedicated to successful business and governmental strategies. He has 18 years of experience in local, state, and federal government.

He joins the Board with an extensive history in public policy and has a solid track record in providing leadership on legislative issues and policy formation. He has worked throughout his career with a range of constituents from distressed citizens, to corporate and political leaders.

Holley served as a senior aide and deputy state director for U.S. Sen. Elizabeth Dole, whom he credits for inspiring his work in the public sector. During his tenure, he served as a liaison between Dole and other members of Congress and their respective staffs, as well as state legislators and other elected officials.

In addition, Holley is the former director of the State Youth Council for the NC Department of Administration. In this role, he developed policies and procedures for promoting youth involvement in leadership roles in government, civic affairs, and local communities.

He is passionate about North Carolina's ability to continue to drive an economy that benefits all citizens through the important work of the University. He is interested in supporting and advancing the critical role of our HBCUs within the context of the UNC System as well.

Holley is a graduate of the University of North Carolina at Chapel Hill, where he earned a bachelor's degree in political science. He is a member of the Order of the Old Well and is a former UNC-Chapel Hill Student Body vice-president.

He holds or has held memberships on the Board of Visitors for the School of Environment at UNC-Chapel Hill (chair, 2016-2019; chair emeritus, 2019-present); United States Commission on Civil Rights, North Carolina State Advisory Council; Judicial Performance Evaluation Committee for the NC Bar Association; UNC Dialectic and Philanthropic Societies; North Carolina Freedom Park Board; and the Johnston County Education Summit.

His advice to today's students:

"We are blessed to live in a state that truly believes that higher education should be 'free as far as practicable' as established in our state Constitution. Take advantage of this opportunity to learn and grow. Do it now, while you are young, and continue taking advantage of these learning opportunities throughout your life. Whether you want to start a new career, learn a new language, or learn a bit more about the rich history of our great state, turn to our UNC System and enrich your life through learning."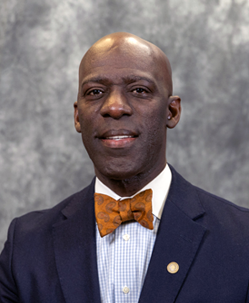 Committees
Chair, Committee on Historically Minority-Serving Institutions