Adam Schmidt
Adam Schmidt was appointed to serve on the Board of Governors of the University of North Carolina System as an ex-officio member. His term will end in May 2020.

Schmidt will serve on the Educational Planning, Polices, and Programs Committee.

Schmidt, a native of Winterville, NC, is a senior at North Carolina State University, majoring in civil engineering and minoring in Chinese studies. Schmidt currently serves as an undergraduate research assistant in the Department of Civil, Construction, and Environmental Engineering at NC State, where he is a part of team that investigates the economic impact of transportation improvements.

Schmidt's passion for student government began in high school, when he was elected the student senate president at the NC School of Science and Mathematics. This experience sparked an interest in public service that has continued throughout his college career. In his junior year at NC State, he served as the student senate president. He was later elected as the president of the UNC Association of Student Governments in March 2019. UNCASG serves as an advocacy organization for students within the UNC System and is made up of student body presidents and other delegates from each of the 17 constituent institutions.

Schmidt cites some of his formative leadership experiences as participating in the Caldwell Fellows Program at NC State, and as a leadership fellow at George Washington's Mount Vernon. As ASG president, Schmidt looks forward to using his platform to represent the needs of students throughout the System. In his new role as a Board member, he wants to learn more about the UNC System and highlight student issues, such as fair and equitable policies, student safety and success, affordability, and institutional sustainability.

After graduation, Schmidt plans to earn a master's in civil engineering at NC State. In his free time, he enjoys exercising, photography, baking, and getting creative with clay at the NC State Crafts Center.
His advice to today's student:
"Don't be afraid to ask for help. Others challenge and support us in ways that make us better people."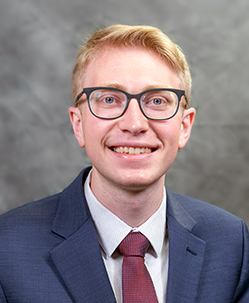 Committees
Committee on Strategic Initiatives
Current Term
2019 - 2020