Bettylenah Njaramba
Bettylenah Njaramba was appointed to serve on the Board of Governors of the University of North Carolina System as an ex-officio member. Her term will end in May 2019.

Njaramba will serve on the Strategic Initiatives Committee and the Education Planning, Policies and Programs Committee.

A senior at North Carolina Central University, Njaramba was elected president of the University of North Carolina Association of Student Governments in March 2018. Established in 1971, UNCASG serves as an advocacy organization for the now more than 230,000 students within the UNC System. Driven by the participation of student body presidents and other delegates selected from each of the 17 constituent institutions, UNCASG champions the concerns of students and works collaboratively to increase awareness of issues affecting students throughout the UNC System.

Njaramba, a native of Kenya, was raised in Raleigh and is majoring in elementary education with a concentration in literacy. Her service in a variety of organizations at NCCU, including the Student Government Association, the Student Activities Board, and the Association of Students for a Better Africa, has demonstrated her leadership skills and her passion for students.

As the first female African-American president of UNCASG, Njaramba hopes to develop resources, opportunities, and connections that will empower student leaders to tackle the tough challenges on campuses, including financial literacy, mental health, sexual assault, and diversity and inclusion.

Njaramba's advice to her fellow students:

"Be kind, because everyone you meet is fighting a battle you know nothing about. Be genuine, because an original is worth far more than a copy. Be unstoppable, because our greatest glory is not in never falling, but in rising every time we fall."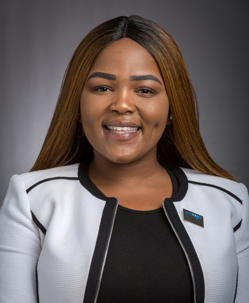 Committees
Committee on Strategic Initiatives
Current Term
2015 - 2019