Walter Davenport
Walter Davenport, of Raleigh, NC, was appointed by the North Carolina General Assembly in 2015 to serve on the Board of Governors of the University of North Carolina System. His term will end in 2019.

Davenport is the secretary of the Committee on Historically Minority-Serving Institutions and serves on the Committee on Educational Planning, Policies, and Programs.

He is currently the chief financial officer and vice president for Business and Finance at Saint Augustine's University in Raleigh. He is a retired audit partner for Cherry, Bekaert & Holland and was engaged in financial and business consulting for not-for-profit entities and responsible for firm-wide not-for-profit operations as director of the firm's Not-for-Profit Industry Group. He was the second African-American elected to lead the National Association of State Boards of Accountancy, which is charged with preserving the public trust through the regulation of the accounting profession across the 55 US jurisdictions. Prior to serving as chair of NASBA's Board of Directors in 2014-15, he served as the vice chair, director-at-large, and Middle Atlantic regional director.

He is also a former chair of the Board of Trustees at Elizabeth City State University. Davenport is a past president of the North Carolina State Board of CPA Examiners. He also served as a member of the American Institute of Certified Public Accountants (AICPA) Board of Examiners from 1999-2005. A graduate of Morehouse College, Davenport began his career in public accounting in 1970 with Arthur Andersen & Company in Atlanta, GA. He retired from Cherry, Bekaert & Holland in April 2008. In 2014, he was appointed interim vice chancellor of Administration and Finance at North Carolina Central University.

He is the recipient of The Order of the Long Leaf Pine, the state's highest honor awarded by the Governor of the State of North Carolina.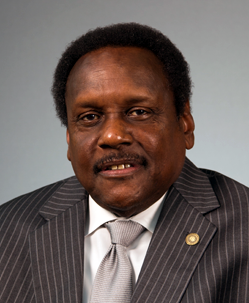 Committees
Secretary, Committee on Historically Minority-Serving Institutions
Current Term
2015 - 2019