Joe Knott
Joe Knott, of Raleigh, NC, was appointed by the North Carolina General Assembly in 2015 to serve on the Board of Governors of the University of North Carolina System. His term will end in 2019.

Knott is the secretary of the Committee on Public Affairs and serves on the Committee on Educational Planning, Policies, and Programs. He is an outspoken supporter of education and the UNC System. His focus as a Board member is to establish, achieve, and maintain excellence in education.

Knott is a partner with Knott & Boyle Law Firm. He began his legal career as a lawyer in the United States Department of Justice under President Ronald Reagan. There he gained experience defending the US against federal tort claims involving personal injury and medical malpractice. With more than 40 years in private practice, he has tried dozens of jury cases, including medical malpractice, personal injury, and first-degree murder cases.

In addition to trying cases and practicing law, Knott is passionate about his work with the educational, political, and religious communities. He has been an active member of the board at St. David's School in Raleigh for more than 20 years. He is also involved in state politics and was nominated by the Republican Party to be its candidate for Attorney General of North Carolina in 2004. He addressed the North Carolina Legislature in 2012 on behalf of injured people and in favor of the preservation of the jury system. He has also served in 2012 as chairman of the American Foundations Committee, a political action committee active in the 13th District Congressional campaign, and serves on the Executive Committee of the Southern Baptist Convention.

He is a member of the North Carolina Bar Association, the 10th Judicial District Bar, the North Carolina Advocates for Justice, and the Eastern, Middle, Western Federal District Courts of NC, and the Fourth Circuit Federal Court of Appeals.

Knott taught a 500-member Bible study fellowship class in Raleigh for 25 years and was chairman of the committee to fund Christ Baptist Church. He currently serves on its Board of Elders and has taught Sunday School there now for more than 30 years.

He received his undergraduate degree and law degree from the University of North Carolina at Chapel Hill. He is also a graduate of Trinity Evangelical Divinity School in Chicago, IL, and holds a master of divinity degree.

He and his wife Sarah have been married for 34 years and have six children.

His advice to today's college students:

"In law, you see the importance of education. It takes some training to develop your reasonable ability to discern between what's right and what's wrong. Your job is to pursue the truth and to recognize the wisdom. So, my advice to students is to learn how to do your best in whatever you do. Getting by is not the goal. Excellence should always be your goal."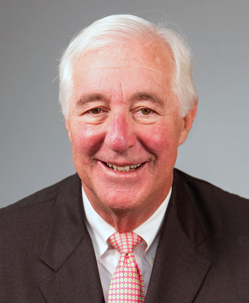 Committees
Current Term
2015 - 2019