Member
All Members
David Powers
David Powers, of Raleigh, NC, was appointed by the North Carolina General Assembly in 2011 and reappointed in 2015 and 2019 to serve on the Board of Governors of the University of North Carolina System. His term will end in 2023.

Powers serves as the chair of the Committee on University Governance, and as a member of the Committee on Strategic Initiatives.

In his role as a Board member, Powers is focused on the University's function as a driver of the state's economy.

Powers is the managing principal of Powers Strategies LLC, a full-service government relations firm in Raleigh, NC. He has been involved in the political arena and at the highest levels of corporate government affairs. He spent over 20 years managing public affairs for Reynolds American, eight at the helm of the company's state government relations efforts.

At Reynolds American, Powers was responsible for the strategic direction of the nation-wide state government relations operation of America's second largest manufacturer of tobacco products. He led a team of six professionals, with lobbyist representation in all 50 states, and managed a $15 million budget. He was active in many statewide and national business, legislative, and political organizations.

After retiring from Reynolds American in 2015, Powers joined the Winston-Salem based law firm of Womble Carlyle Sandridge & Rice as the senior government relations consultant before venturing out to form his own public affairs firm in 2017.

His introduction to politics came at an early age. He volunteered on several political campaigns in high school and college before working full-time on United States Senator Jesse Helms' 1984 reelection campaign. He served in the administration of Gov. Jim Martin from 1985-86 and as a political appointee in President George H. W. Bush's administration from 1991-92, where he was a senior intergovernmental affairs officer for Secretary Jack Kemp at the US Department of Housing and Urban Development. Powers also worked in a public affairs role in a trade association and in corporate real estate for a bank and a restaurant chain.

He's a member of the United States Business Associates, an organization of committed business and public affairs executives who work to foster stronger ties with European countries through spirited engagement with European business leaders on issues relating to education, commerce, and public affairs. The group regularly holds engagement meetings in different European countries.

A native of St. Pauls, NC, Powers graduated from North Carolina State University with a bachelor's degree in economics and earned an MBA from Campbell University. He completed the University of Virginia's Darden School's Emerging Political Leaders program.

He and his wife of 30 years, Shreita, live in Raleigh.

His advice to today's students:

"It helps to have some focus on what you want to do when you get ready to apply to college. When I was growing up, we didn't have many choices. Today, students are exposed to so much more. They have more information at their disposal. I would encourage them to maintain flexibility as to their career path, but go in knowing what you want to do. You don't want to limit yourself, but it helps to have a strategy."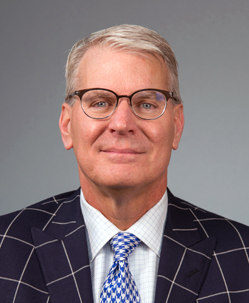 Committees
Chair, Committee on Strategic Initiatives