Just on the heels of Black Friday and Cyber Monday comes Giving Tuesday, the unofficial national holiday focused solely on acts of generosity. Students, faculty, staff, and alumni all across the state are collaborating on donation campaigns, creating a groundswell of charitable giving.
For their parts, Anna Beth Robertson and Grant O'Brien — 2020 Schweitzer Fellows from East Carolina University's Brody School of Medicine — will be plotting how to strengthen the telehealth support they've been providing to homeless patients. 2020 J. Bradley Wilson Schweitzer Fellows Christopher Lane and Scott Philips — from UNC School of Dentistry — will be securing funding and scarce PPE (personal protective equipment) for a clinic that provides dental care and dentures at no cost to patients struggling with homelessness.
At every level, the UNC System dedicates itself to serving the communities around us.
These charitable efforts gain considerable visibility on Giving Tuesday, but similar work unfolds throughout the year at each UNC System institution.
For many students, service learning coursework is integral to their curriculum. Many faculty are deeply involved in research aimed at strengthening communities and promoting international collaboration around the globe. Each constituent institution has formalized a community engagement plan as part of the UNC System's Strategic Plan goal to "increase investment of time and resources in strengthening North Carolina communities."
COVID-19 has made this work particularly tricky. Not only have faculty, students, and staff continued their education and research in the midst of a global pandemic. They are also finding new ways to give back to the communities that support their studies and research.
The Schweitzer Fellows all began 2020 with ambitious plans to provide critical healthcare services to North Carolinians in need, but safety measures and social distancing protocols presented some significant hinderances. Not surprisingly, the Fellows rejiggered their projects and have found new ways to serve, which they hadn't even anticipated.
Their adaptability embodies the resourceful perseverance to be found across the UNC System.
The Professional Pipeline That Reaches Vulnerable Communities
Every year, Schweitzer Fellows dedicate themselves to a year-long project. As the program's namesake suggests, the projects are designed to improve community health and well-being.
This year, there are 24 fellows, working mostly in teams of two. Their work comes in many forms: promoting health literacy among women; increasing access to healthier foods; connecting homeless UNC Health patients with community housing services; using games and foreign language instruction as an early intervention strategy to help improve speech and communication; addressing the maternal health needs of postpartum mothers. The list goes on.
The program offers competitive fellowships to graduate students preparing to be health professionals. The aim is to "develop a pipeline of emerging professionals who enter the workforce with the skills and commitment necessary to address unmet health needs." But the program's impact is also immediate: as they are completing their studies, selected Fellows deploy their skills serving vulnerable communities.
North Carolina is only one of 13 Schweitzer Fellowship chapters in 11 states. The NC chapter is supported largely through financial partnerships with North Carolina Central University, East Carolina University, and UNC-Chapel Hill, along with Duke University, Wake Forest, and Blue Cross and Blue Shield of North Carolina Foundation (Blue Cross NC Foundation). This year, ten of the 15 projects are led by representatives from UNC System institutions.
These contributions to the Schweitzer Fellowship program, both at the administrative and the boots-on-the-ground level, offer a snapshot of the indispensable role the universities play in preparing the workforce North Carolina will rely on to meet critical healthcare needs.
"The institutions that are our partners aren't just committed to meeting the needs of their students. They're equally committed to helping all the people of the state," said Barbara Heffner, director of North Carolina's Albert Schweitzer Fellowship. "In addition to the schools, Blue Cross NC Foundation has been an incredibly supportive partner, which has helped us elevate the leadership training we provide Fellows so they understand their role in addressing health disparities in the emerging healthcare landscape and are equipped to lead community interventions that have measurable impact."
Just as importantly, student participation in the program demonstrates the variety of ways our institutions engage with the underserved communities around them.
"It's always so inspiring to see such a large group of young people who want to do amazing and fabulous things for underserved populations throughout the state. It restores one's faith. We play a large role in preparing health professionals to go out into the workforce and to serve these communities either directly or through volunteer service," Heffner added.
Helping Patients avoid Dangerous Lapses in Vital Medications
Anna Beth Robertson and Grant O'Brien are both eager and engaged second year medical students.
When they learned they were selected as 2020-21 NC Schweitzer Fellows, they initially planned to launch a free vaccine program and smoking cessation classes through the Greenville Community Shelter Clinic, a student-run service operating out of the Greenville Community Crossroads Shelter. Their tenure had barely gotten underway when COVID-19 safety precautions were put in place. Suddenly, ECU students could no longer meet patients face to face in the homeless shelter.
But it didn't take long for Robertson and O'Brien to find ways to make use of the remote technologies that have become de rigueur in 2020.
The first step was to procure a digital tablet for use at the shelter. With the help of social workers from Access East, this technology gives Robertson and O'Brien the capacity to offer telehealth services to anyone staying at the shelter. The social worker on site gets patients set up to use the technology and takes vital signs. Robertson and O'Brien then offer cursory exams and interview the patients to find out more about chronic pains and recurring problems.
Once Robertson and O'Brien gather this vital information, they work with ECU doctors to issue prescription refills. Crucially, the Fellows have secured funding from the Schweitzer Fellowship to provide these refills for free or at reduced cost. This prescription refill program is one of the most significant benefits to patients, many of whom might otherwise face debilitating lapses in their vital medications.
Robertson and O'Brien note that the success of their program takes an entire collective of ECU students, faculty, and staff, not to mention support from partner organizations.
"The problems our patients face are multifaceted. Because they are homeless, they have a number of social determinants of health at play. We have an awesome team. Any given patient might require us to draw on resources of our social work partners, ECU pharmacy residents, a physician, other student volunteers at the clinic. Together we create a formidable team that can try to solve all aspects of their health," said Robertson.
Robertson and O'Brien are also busy trying to establish a unified electronic health record system across the various clinics in Pitt County. Currently, the Greenville Community Shelter clinic is the only one in the county that uses electronic records instead of paper charts. By establishing a single, cloud-based storehouse of information that all the other clinics can log into, Robertson and O'Brien will help doctors and staff to maintain continuity of care as patients visit multiple clinics.
The challenges of 2020 have certainly stymied Robertson and O'Brien, just like everyone else. But the Fellows have embraced these challenges and found ways to make the most out of the limitations they will continue to face until their vaccine program is back up and running next year.
"It's been a little bit frustrating, because so much of what we love is getting to meet people where they are, and we've lost so much of that," mused O'Brien. "But I've appreciated that we've had so much support from the physicians who work with us on the clinic's student Board and the administrators at the university who've really balanced the need to keep students safe while also allowing them to continue the work that they are passionate about. They've certainly erred on the side of safety, but they've been open to our adaptable ideas, so we're managing to make a difference in peoples' lives even under these trying circumstances."
"Yeah, when the pandemic hit, it took a while for us to get back up and running, and I'm so glad we were able to make something work," added Robertson. "I have learned how to be so much more adaptable in this process, and this will really help me in my career as a physician someday … how to adapt, how to communicate, how to work as part of a team."
Giving Back a Smile To Transform a Life
If eyes are the windows to the soul, a smile is the doorway. Through it, we create opportunities to connect with friends and strangers alike, we share what tickles our amusement … we forge connections that lead to life-changing opportunities.
What happens if we are too self-conscious to open the door?
For many years, students in UNC-Chapel Hill Adams School of Dentistry have provided volunteer dental services to patients in need at the Samaritan Health Center in Durham. The work focused on addressing immediate problems with pain and infection. These efforts addressed urgent needs, but the leaders involved wanted to take this work a step further by helping to restore chewing function and confidence.
In 2019-20, J. Bradley Wilson Schweitzer Fellows Samantha Sloan and Trent Bottoms piloted a program to provide homeless patients with dentures at no cost, through support from Blue Cross and Blue Shield of North Carolina and Dental Designs Laboratory. By year's end, Sloan and Bottoms had provided an estimated $40,000 worth of free services.
Christopher Lane and Scott Philips, who were also volunteers at the clinic at the time, saw firsthand how this work visibly improved lives. When they were named as 2020-21 J. Bradley Wilson Schweitzer Fellows, Lane and Philips were eager to continue and expand this unique service opportunity.
"It's hard to overstate the impact that teeth loss can have on so much of our daily lives that so many of us take from granted, from eating to speaking, sleeping, and breathing properly. It touches on everything," explained Lane. "Tooth loss has a significant impact on overall general health, too, because it makes eating harder fruits and vegetables more difficult, forcing patients to choose more processed foods."
Loss of teeth can also present devastating psychological barriers that affect virtually every aspect of life. Many are quick to assume that those missing teeth are irresponsible or self-destructive. This unspoken bias can upend everything from friendships to employment opportunities.
"It's not just the aesthetics of vanity," said Philips. "Not having the ability to smile … not being able to show you care about something or to find something humorous. If you've already been struggling with homelessness or addiction, this can add a whole other layer of challenges that we want to help alleviate."
COVID-19 took everyone by surprise and forced the postponement of the Fellows' plans. But Lane and Philips quickly reset their sights on longer term goals.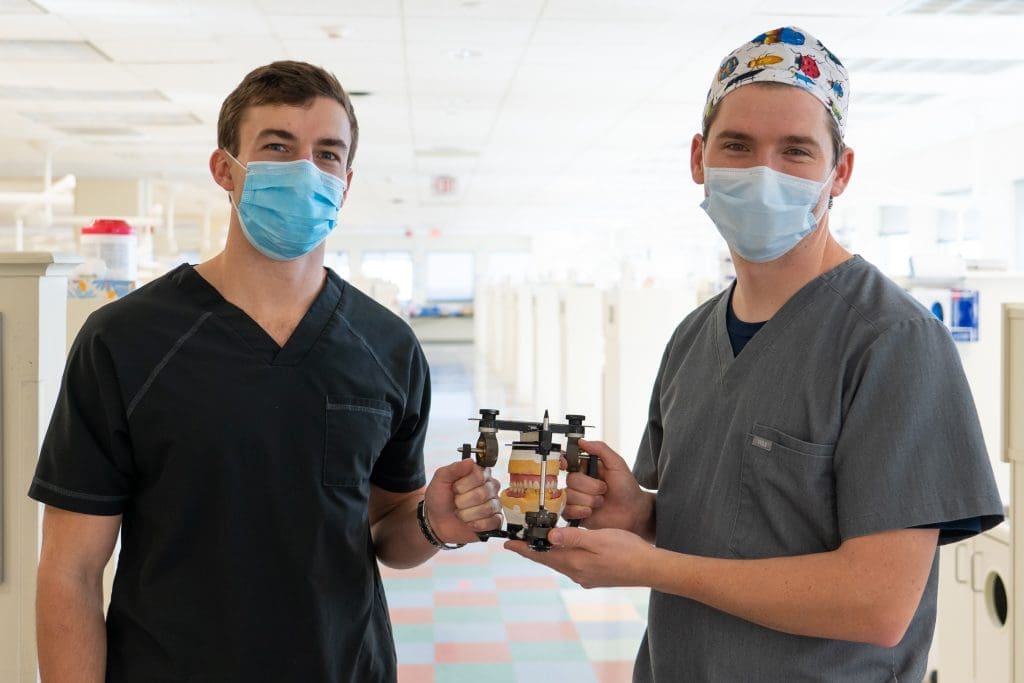 Anticipating the clinic's eventual reopening, they have been strategizing how to improve safety protocols and maximize the benefits to the patients. The Schweitzer Fellowship provided funding to supply the Samaritan Clinic with PPE, a critical boon to any non-profit organization run on a shoestring budget. They've been finding ways to tighten safety standards and sharing Adams School of Dentistry infectious disease safety protocols with the clinic staff.
They're also investigating the possibility of piloting a plan to provide partial dentures. Just as importantly, they've been creating user-friendly materials that will help future patients understand how to care for their new smile.
"It's not the same as brushing teeth, it's not intuitive. Not taking care of dentures can open the lid on Pandora's box, leading to a whole array of other infections and problems," explained Philips. "Many of our patients don't have easy access to YouTube how-to videos. So we've been busy drafting and streamlining a clear and accessible user guide for them."
When the clinic is finally back up and running, all of this work will make the operations safer, more efficient, and more impactful.
Serving North Carolina Today … and Tomorrow
The short-term benefits of helping North Carolinians in need are both critical and immediately obvious.
The long-term impact of this work is less apparent, but no less significant. The UNC System plays a critical role generating the critical workforce credentials North Carolina needs to address one of its most formidable challenges: helping strengthen an infrastructure that will meet the healthcare needs in the state's rural areas.
Research shows that students are likely to feel connected to and remain in the state where they are educated. For her part, Ms. Robertson embraces her ambitions to give back to the state that has given her so much.
"I'm Eastern North Carolinian … born and raised in Elizabeth City. Ultimately, I want to serve the residents of North Carolina," she said proudly.
Mr. Lane, too, already has his sights set on home.
"I'm from Chowan County and my plan is to return back home to eastern North Carolina within the next year and establish a general dentistry practice," he explained. "Access to care is a big issue in the area, and I feel personally called to help."
As case studies of excellence in service, these Schweitzer Fellows illustrate how the UNC System isn't just teaching future doctors, dentists, and nurses … it's instilling in students a commitment to North Carolina and its people.