Dr. Bennett Jones to lead recruitment, forgivable loan program for North Carolina teachers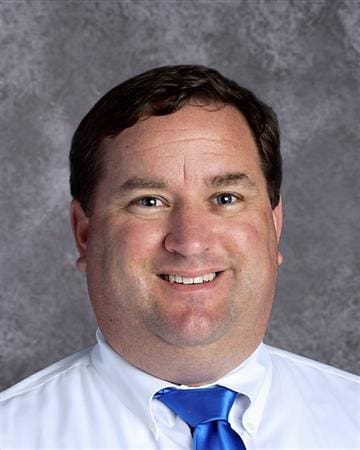 The Board of Governors of the University of North Carolina System has appointed Dr. Bennett Jones to lead the North Carolina Teaching Fellows program.
The Teaching Fellows program is a competitive, merit-based forgivable loan program providing tuition assistance of up to $8,250 per year for qualified students committed to teaching special education, science, technology, engineering or math in a North Carolina public school. The purpose of the program is to recruit, prepare and support future teachers who attend institutions of higher education in North Carolina.
Jones has spent 24 years working in various teaching and leadership roles in North Carolina public schools. Since 2016, he has served as principal of Clayton High School in Clayton, N.C., where he was voted Johnston County Public Schools Principal of the Year for 2017-18. Under Jones' leadership, Clayton High School saw notable improvements in graduation and retention rates, and implemented a five-year improvement plan based on culture, data, intervention scheduling, professional development and personalized learning opportunities for students.
"I am honored to lead the North Carolina Teaching Fellows program and to collaborate with P-12 schools and the colleges and universities in North Carolina to recruit students into the teaching profession," Jones said. "It has been a privilege and highlight in my career to have served as a principal of Clayton High School, and I am immensely grateful for the support I have received from the Clayton community and Johnston County Public Schools. I look forward to working with educators and leaders across the state to promote our outstanding teacher preparation programs and to enhance and expand the future teacher pipeline in North Carolina."
"On behalf of the Johnston County Board of Education, we want to thank Dr. Jones for all of his contributions and great accomplishments at Clayton High School and his service to JCPS," said Todd Sutton, chair of the Johnston County Public Schools Board of Education. "We are very excited for him to have the opportunity to lead a statewide program that will help recruit and educate the next generation of teachers in North Carolina."
Prior to leading Clayton High School, Jones served as the assistant principal at South Johnston High School in Four Oaks. He spent 10 years as an educator at public schools in Johnston and Wilson counties, teaching computer engineering, health and physical education at Beddingfield High School in Wilson, Clayton High School and West Johnston High School in Benson. In addition to his teaching roles, he served at each school as a coach for football and track.
Jones received a bachelor's degree from East Carolina University and completed his master's and doctoral degrees at NC State University.
He will work to recruit prospective teachers with the eight Teaching Fellows institutions across the state: Elon University, Fayetteville State University, Meredith College, North Carolina Agricultural and Technical State University, NC State University, University of North Carolina at Chapel Hill, University of North Carolina at Charlotte, and University of North Carolina at Pembroke.
About The University of North Carolina System
The University of North Carolina System enrolls nearly 250,000 students at 17 institutions, including the state's 16 public universities and the nation's first public residential high school for academically gifted students. The UNC System is among the strongest and most diverse higher education systems in the country, with more than $1.8 billion in research expenditures and campuses that serve every region of the state. Affiliate organizations include UNC Health and PBS North Carolina, with its 12-station broadcast network.