UNC remains committed to affordability, student success; meets or exceeds major goals in year three of five-year strategic plan
CHAPEL HILL, NC – In-state tuition across the University of North Carolina System will remain frozen for the fifth straight year. At the same time, five-year graduation rates across the System have reached record highs.
These gains are encouraging, showing how UNC System institutions have successfully balanced long-term goals alongside public health efforts during the COVID-19 pandemic.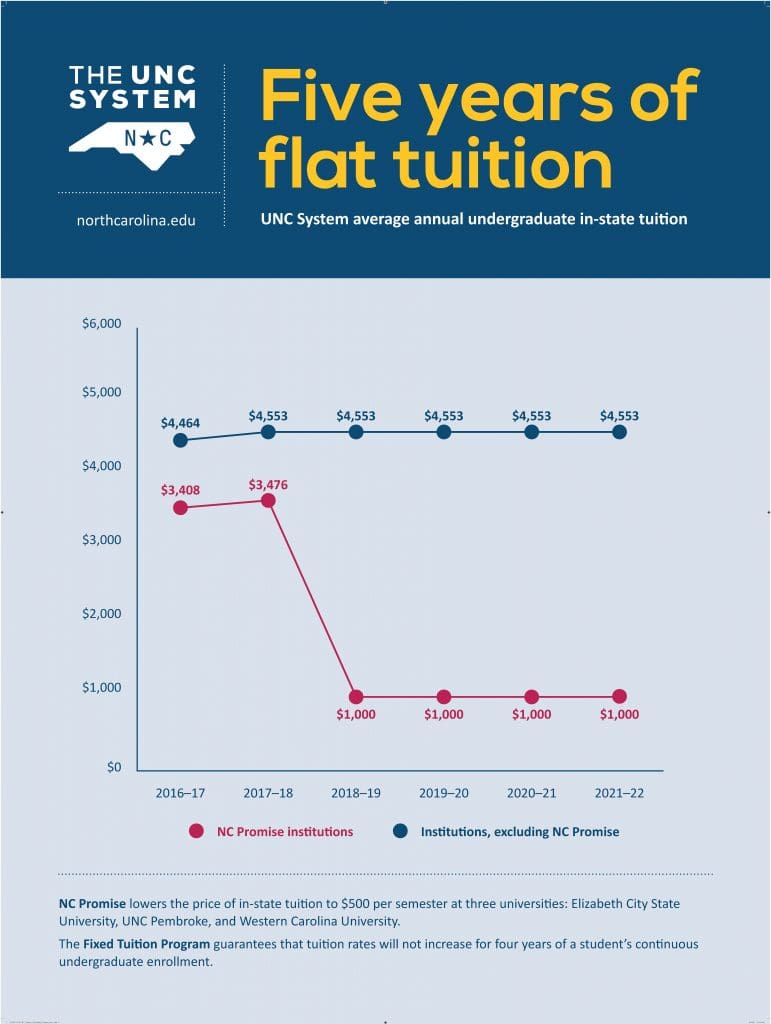 In 2016, the UNC Board of Governors, in partnership with the System Office and its 17 constituent institutions, adopted a strategic plan called "Higher Expectations." As part of the plan, the System committed to improving affordability, access, student success, economic impact, and excellent and diverse institutions. It's been three years since the System began reporting data related to those goals. Though the past year has been extraordinarily challenging for universities, the UNC System has stayed the course on most targets, meeting or exceeding new highs on nine of the 12 metrics in year three of its five-year strategic plan.
As of 2020, five-year graduation rates reached a system-wide high of 71.4 percent, the System's 2021 report shows. UNC System institutions also graduated a record 27,383 students in critical fields like science, technology, engineering, math, health care, and teaching during the 2019-20 academic year. These graduates will help power North Carolina's workforce during the post-COVID economic recovery.
"When the University of North Carolina System adopted this strategic plan in 2016, no one could have predicted the COVID-19 pandemic or the difficulties our state would face as a result," said UNC System President Peter Hans. "In today's economy, many North Carolinians are seeking opportunities to rebuild their careers, their health, and their community. This report shows how our University is clearing pathways and helping residents meet those goals. I applaud our chancellors, faculty, and staff for their hard work toward this cause."
"In these times of trial, it's easy to lose sight of the long game," said Randy Ramsey, chair of the UNC Board of Governors. "But even with the emergencies and distractions, we haven't taken our eye off the ball. Our universities are multitasking, making tremendous progress as they balance priorities and manage public health and safety."
The System has made progress on student success for low-income and rural students and is committed to continuing its efforts to improve enrollment among those groups.
College affordability is another major focus of the strategic plan. Since 2017, the UNC System has capped tuition prices for students who live in North Carolina. During the 2021-22 academic year, resident undergraduates will pay an average $4,553 in annual tuition across 13 of the System's 16 universities. In-state tuition at UNC's three NC Promise institutions will remain at $1,000 annually. NC Promise is an affordable tuition program enacted by the General Assembly in 2016. Residents pay $500 per semester tuition at Elizabeth City State University, UNC Pembroke, and Western Carolina University. Out-of-state students also receive affordable tuition, with the price set at $2,500 each semester. The program has been in effect since 2018.
"Our System-wide tuition freeze reinforces the board's commitment to keep college costs low," Ramsey said. "We are also grateful to the General Assembly for helping us reduce the financial burden on our students. Together, we will ensure people from every corner of this state can afford a world-class education."
The UNC System will raise nonresident undergraduate tuition by an average of 1.2 percent for the 2021-22 academic year. Graduate students from outside the state will also see an average 3.9 percent tuition increase.
Student fees will increase by a system-wide average of 2.2 percent for both resident and nonresident undergraduates. Resident undergraduates will pay an average $6,553 in tuition and fees. Out-of-state undergraduates will pay an average $20,194 in tuition and fees. These totals do not include estimates for room, board, books and other expenses related to campus living.