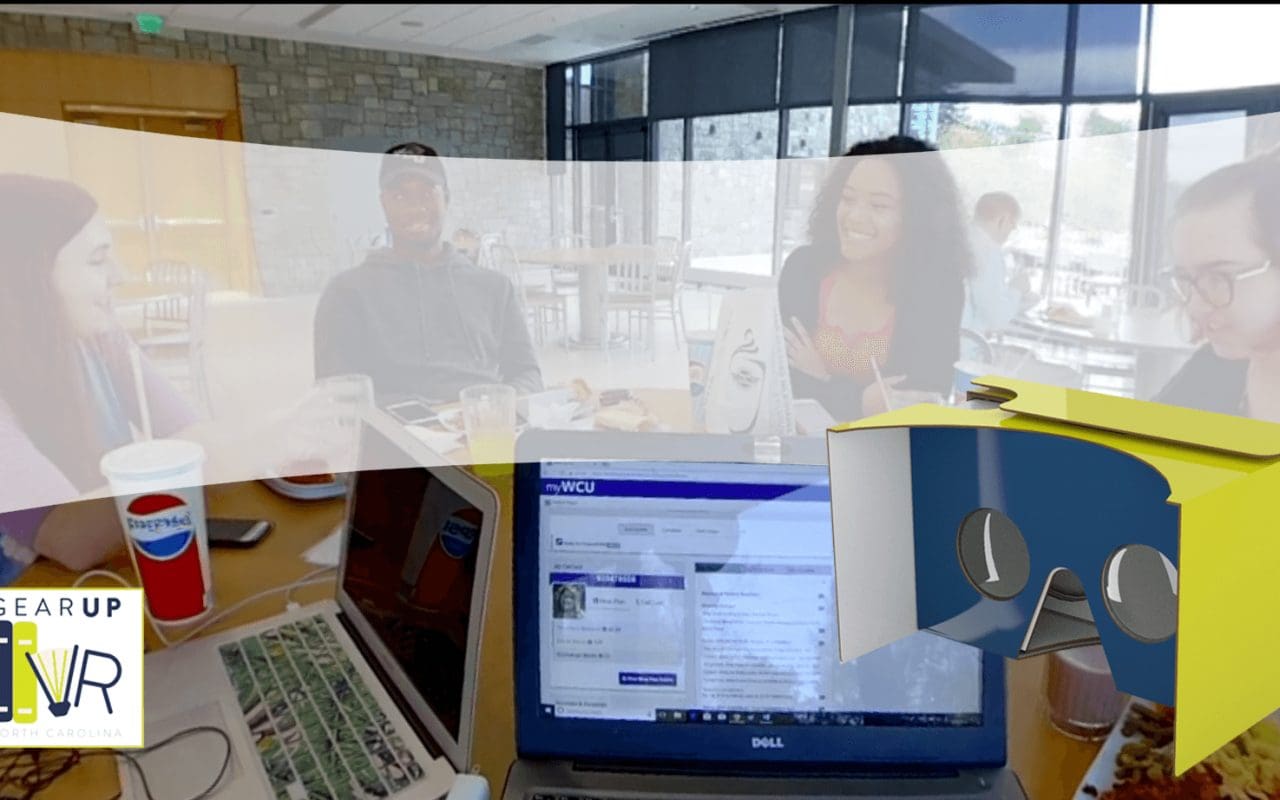 Virtual Reality Improves College Access
The university campus tour is a generations-old rite of passage for eager—and nervous—high school students who have their sights set on the horizon as they prepare to leave the nest.
Imagine the thrill for a Walter Williams High School junior, on her way from Alamance County to Boone for the first time, riding in the backseat of her parents' SUV as it cuts through the morning fog blanketing highway 421. Suddenly, the vehicle pierces through the far side of the cloudbank; brilliant sunlight and blue skies shine down on the valley below, its nooks and crannies filled with mist and quickly receding into the distance.
Then and there, her hunch is confirmed: Appalachian State University's accounting department will be the one for her. Rising above the clouds is transcendent serendipity. To an impressionable student, could there be a clearer metaphor for the bright future that lies ahead?
There are few rituals in life that play such an important role in shaping an individual's future than the campus visit. Based on fleeting glimpses and initial impressions, families decide where their child's young adulthood will be spent. Prospective students weigh options for their academic pursuits and long-term career goals.
And yet, this rite of passage isn't an option for high school students who can't afford to travel, or to rural students who don't have easy access to a nearby institution. If the future begins to take shape with the campus visit, then for those high school students who don't have the means to explore their college options, a lack of opportunity might very well forestall the possibility of pursuing grander ambitions.
Even students from comfortably middle-class families typically only visit a few college campuses, their choices frequently based on preconceived ideas and vague perceptions. Time constraints keep them from making informed choices or finding the hidden gems nestled within the UNC System.
But a groundbreaking new initiative will open the doors to all 16 System universities, allowing every student to traverse the state virtually, touring campuses from Wilmington to Cullowhee—from anywhere and at any time.
SIXTEEN REMARKABLE INSTITUTIONS IN ONE APP
Gaining Early Awareness and Readiness for Undergraduate Programs (GEAR UP) NC has unveiled a new app that will allow users to take immersive virtual reality tours of each of the UNC System's 16 institutions of higher education.
GEAR UP is a national college access initiative funded by the U.S. Department of Education, aimed at increasing the number of low income students enrolled at and succeeding in postsecondary education. In pursuit of this mission, GEAR UP NC created its VR APP with the specific purpose of helping students in rural, low wealth, and first-generation families engage with the decision-making and application processes other college-bound students face with more secure support systems.
The app is designed to encourage students to aspire to higher education and to connect them with the institution that will help them attain their academic and personal goals.
Download the free app:


There is no charge for downloading or using the GEAR UP NC VR app, which is available in the Apple and Google stores by searching for GEAR UP VR. In addition, 21 GEAR UP high schools across the state will receive GEAR UP NC-branded Google cardboard virtual reality headsets and earbuds—enough to ensure that each school can coordinate class-wide "tours." Students will own the cardboard goggles, enabling them to "visit" campuses multiple times as well as to enable family members to "visit" colleges to help in making a college decision.
Students who access the app will find 16 short virtual reality videos, which highlight the unique features that characterize each institution. Anyone who does not have access to a VR headset will still be able to watch the 360 videos on their phones and laptops, toggling controls to pan left and right, up and down.
Free universal access to the content, not to mention the broad distribution of VR hardware, ensures that many North Carolinians who might otherwise lack support, time, or financial means will be able to sit dockside with UNC Wilmington's marine biology students, to see the brilliant red bud trees in bloom on Winston-Salem State University's campus, and to gaze at the collar of mountains cinched around UNC Asheville, all over the course of a single afternoon, with the punch of a button and the donning of a headset.
The VR campus tours even feature something their in-the-flesh counterparts typically lack: an opportunity to get inside the buildings. On most organized visits, throngs of prospective students wander around looking at campus landscaping and the exteriors of significant structures. But the VR app lets users actually see the facilities, from a movie set in UNCW's Film Studies Department, to a biotech lab at WSSU or a design studio at NC State University.
" … leveraging these new technologies to enable more students across the state to have this opportunity …"

Associate Professor Steven King
Such details highlight the diversity across the UNC System. To develop the app, GEAR UP NC partnered with Associate Professor Steven King's Emerging Technologies Lab at the UNC-Chapel Hill School of Media and Journalism, a leader in virtual reality. "We started with a proven learning framework developed by the First Look program at UNC-Chapel Hill and we expanded it by leveraging these new technologies to enable more students across the state to have this opportunity," said King.
To create the content, GEAR UP NC partnered with the Los Angeles-based storytelling agency SeeBoundless.
"We wanted to ensure the campuses had input on the planning, production, and final product so that the videos match the institutions' individual goals," said SeeBoundless founder Steve Johnson. "Campus leaders suggested locations and activities to film and also had input on the script to make sure the video looked and felt authentic to their campus."
TRANSLATING DIGITAL ACCESS INTO CLASSROOM ACCESS
GEAR UP NC understands that getting high school students inspired to choose a university is only part of the challenge of opening up the doors to postsecondary education. Students also need the skills to apply to college and the financial means to attend.
With this in mind, GEAR UP NC has designed the VR app to be an information portal that will help prospective students make the difficult transition from high school to college.
In doing so, the app will play an important role in helping the University achieve one of the central goals outlined in its Strategic Plan: to "increase enrollments of and completions by underserved students, including those from low-income families, rural counties, and others who are underserved for any reason."
"This virtual reality technology gives every North Carolinian the opportunity to make more informed choices about where they want to go."

President Margaret Spellings
"Many of us don't fully appreciate that the campus visit is an accessibility issue. Without it, college can become a guessing game or, too often, a distant pipe dream," said UNC System President Margaret Spellings. "This virtual reality technology gives every North Carolinian the opportunity to make more informed choices about where they want to go. Just as importantly, it helps them figure out how they're going to get there."
For example, the app's landing page features tiles and short videos aimed at getting students excited–rather than intimidated–by the prospect of university life. One tile is a primer on the resources available online and in high school guidance offices that can help students prepare for and apply to college. A separate video portrays the excitement of "student life," highlighting how the extracurricular activities and social opportunities awaiting incoming freshman are catalysts for personal growth.
One particularly useful tile on the landing page explains the concept of choosing a degree major. For those who have attended a university, this might seem commonsensical. But for a prospective student—especially a first-generation college student—this information provides an invaluable key to understanding how university academics will differ from high school. The tile also distinguishes among associate's, bachelor's, and master's degrees. By taking the mystery out of majors and degrees, this page makes it clear that a postsecondary education can mean many different things, depending on one's career and intellectual aspirations.
The app's architecture is designed to drive students who watch the videos to find out more information about the universities that capture their imagination. Alongside each video, users will find institution-specific links to websites, admissions pages, financial aid information, and social media.
INNOVATION LIFTS MORE NORTH CAROLINIANS OFF THE GROUND
The GEAR UP NC VR app is the first of its kind and the largest VR project for social good to date. While other campuses have begun offering virtual tours, this marks the first time a university system has used the technology to promote all of its institutions. The undertaking began in January 2017 with a pilot project in collaboration with Missy Julian Fox, director of the UNC-Chapel Hill First Look program. The First Look pilot evolved into the GEAR UP NC app's current capacity to accommodate all 16 UNC campuses as well as the introductory tiles.
Since October 2017, the project has involved more than 500 hours of planning and about 350 hours of filming. Editors sifted through 30 hours of raw footage to generate each institution's final cut.
The enterprise's massive scope suggests the grand ambition of GEAR UP NC's motivations: get more students excited about the prospect of attending college by exposing them to the many, many options available to them within the UNC System.
"GEAR UP NC faced a challenge of time, distance, and cost moving 21,000 GEAR UP students across the state for college visits. We looked for a technology innovation to address our challenge, and we are very pleased with the app and content," said Principal Investigator Dr. Carol Cutler White. "We are researching the project to determine the impact on student motivation and knowledge of college. In our next stage of development, we intend to incorporate artificial intelligence and chatbots with our AdmitHub partner to allow students to begin a discussion with campuses that interest them. Eventually we'd like the app to have content from all of North Carolina's community colleges and its private colleges and universities. This expanded scope would provide a comprehensive view of college choice in NC."
"In our next stage of development, we intend to incorporate artificial intelligence and chatbots"

Dr. Carol Cutler White
To this end, NC GEAR UP VR places all 16 of the UNC System institutions of higher learning on the same footing. The app is a showroom, proudly shining a spotlight on the regional universities alongside the high-profile flagship institutions. The timing of the app's release fortuitously coincides with the inaugural year of the NC Promise Tuition Plan, which means that students looking at options for the most affordable higher education across the state can consider all three NC Promise institutions, not just the one in their home region.
Seeing the videos side by side also highlights the diversity of programs offered across the System. High school students might be thrilled to learn that NC State is more than an engineering school; it also offers cutting edge degrees in the arts and humanities. Or that Appalachian State University offers coursework in exercise science and sustainable development in addition to its more visible programs in business, music, and education.
Although the app gives users only a small taste of what each institution has to offer, each VR tour seems tailor-made to spark the high school student's imagination about what the future might hold. For those stymied by the prospect of anticipating their life's work, learning that WSSU offers a degree in motorsports management or that students can study parks and recreation management at Western Carolina University might just reveal never-before-considered career possibilities and inspire new dreams.
More than that, these videos make it clear that—somewhere in the vast UNC System–there's a route to achieving these dreams. For the young girl who's always wanted to pilot planes, learning that Elizabeth City State University offers North Carolina's only bachelor's degree in aviation could spark the realization that her career ambition is well within her reach.
As the ECSU VR tour reaches its climactic conclusion, users find themselves in the pilot's seat of a Viking plane as it lifts off, soaring above Pasquotank County. The voiceover invites the user to "join the Viking family and discover what it takes to conquer the world."
For that girl who dreams of being a pilot, this dramatic, immersive moment will make it clear that there's more than one way to rise above the clouds, and that the UNC System offers many routes to a brighter future.