As home to the nation's first public university, North Carolina has a long-standing commitment to educational opportunity for all residents. The NC Promise Tuition Plan reaffirms the state's commitment to make the university experience affordable and accessible to all.
Through NC Promise, the state has significantly reduced student tuition cost to $500 per semester at four UNC System institutions: Elizabeth City State University, Fayetteville State University, The University of North Carolina at Pembroke, and Western Carolina University. The plan has increased educational access, reduced student debt, and grown the state's economy.
Participating Institutions
Testimonials
Jasmine Riddick | Student
Elizabeth City State University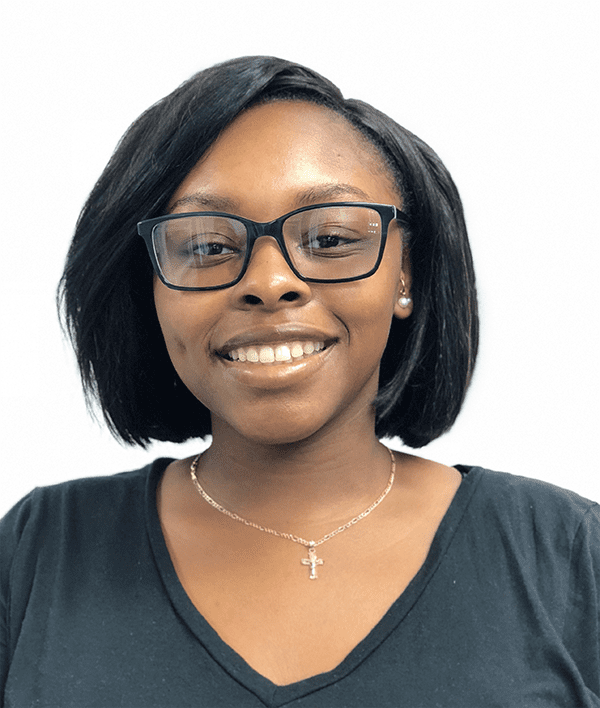 NC Promise helps Elizabeth City State student secure degree, pursue future in hospital management
Born and raised in Elizabeth City, Jasmine Riddick always had her sights on pursuing a four-year degree to help secure her future success. When the NC Promise Tuition Plan, offering $500 per semester tuition, was announced in 2016, Jasmine realized that a high-quality four-year degree at her local university was now within reach.
"NC Promise has reduced the financial burden on my family and has provided me the opportunity to go to college to follow my future career aspirations," said Jasmine.
Jasmine is now a freshman at Elizabeth City State University seeking a degree in Business Administration. With her degree, Jasmine wants to help others and the community through a career in Hospital Management and Administration.
Thanks to NC Promise, Jasmine is now receiving a top-notch education at a university that is also close to home.
Jasmine's mother, Sharon Riddick, is also thankful for the opportunities provided by the NC Promise tuition plan.
"To compete in today's increasingly competitive workforce, my daughter needs a degree to ensure her success," said Sharon. "I've always pushed my girls to do their very best. I've told them to either beat or meet me, and I have a master's degree."
Through the NC Promise tuition plan, more students can now earn a college degree without the burden of student debt.
Justice Rushing | Student
Fayetteville State University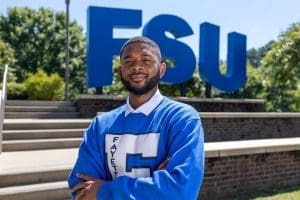 NC Promise helps first generation college student pursue a career in law, allowing him to serve and advocate for his community
As a first generation student from Cincinnati, Ohio, Justice Rushing always knew he wanted to go to college. He excitedly chose to continue his education at Fayetteville State University, pursuing a degree in Criminal Justice with a Minor in Pre-Law. Justice fell in love with the campus and the overall welcoming culture, which was continuously provided to him throughout his collegiate career.
"I wouldn't be who I am today without Fayetteville State University. It offered me the opportunity to be a big fish in a small pond. I chose Fayetteville State University because of the supportive, family-oriented atmosphere. Here, I am not just another student, I am not just another number, I am a part of the Bronco mold."
During his time at Fayetteville State University, Justice has been involved in a diverse range of activities including becoming a member of the Epsilon Beta Chapter of Kappa Alpha Psi Fraternity, Inc serving as a student assistant for the Women's Basketball Team, participating in the Pre-Law Society; and interning in the SECU Public Fellows Internship Program, where he worked in Access and Visitation at Cumberland County Courthouse. The NC Promise Tuition Plan not only provided Justice with an opportunity to further his education but also empowered him to excel at the institution by serving his community and sowing seeds for his future aspirations such as attending law school and engaging in higher education advocacy.
"NC Promise gives people, who usually would not have the opportunity, the resources to receive an education at an affordable price. This program allowed me to breathe by taking the financial burden off my family."
Currently entering his senior year, Justice reflects on his accolades and prides himself on becoming the man he is today. NC Promise has opened new doors for Justice to walk into, bringing him one step closer to his goals to make a difference in the communities which supported him. Coupled with his high involvement at his institution, Justice's drive continues to propel him into new opportunities.
"I thank my family, friends, and entire support system for inspiring me to continue my education, push past barriers, and exceed all expectations."
Aron Kleinschrodt | Student
Western Carolina University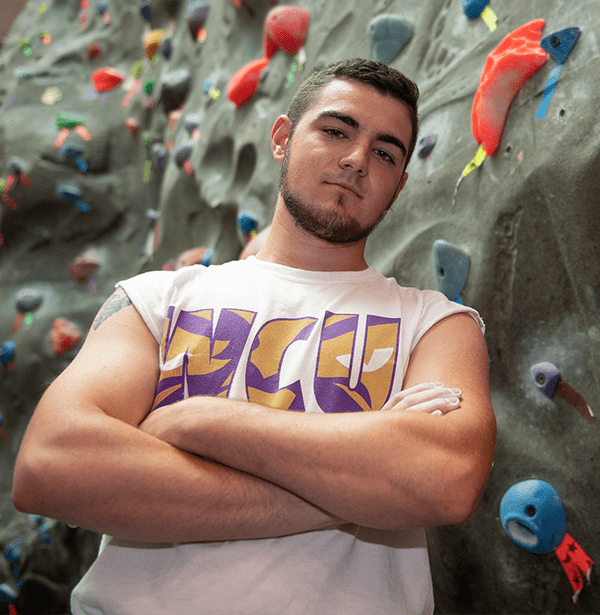 NC Promise helps one student avoid debt as he prepares for a career in public service
As a student at Piedmont High School in Unionville, NC, Aron Kleinschrodt signed up for a senior year fire academy program, and he was hooked. There is no question in Kleinschrodt's mind that he wants to be a firefighter.
The Piedmont program set him up to hit the ground running. Before graduation he was certified as a firefighter for the state of North Carolina. He could work almost anywhere.
But his parents — one an occupational therapist and one a school psychologist — convinced Kleinschrodt that a college degree would open doors that would be closed to him otherwise.
"I wouldn't have had to have a degree, but I understand that getting an education will help me move up in my career faster," he said.
Still, he was worried about the cost. His grandfather had started a savings account for both he and his twin brother to attend college, but with the continually rising cost of school it wouldn't be enough.
Then, at a college fair in Charlotte he was given a brochure for a new program from the state of North Carolina called NC Promise. One of the schools included in the program, Western Carolina University, had already been on his radar.
"I knew I wanted to be in the mountains, but I also knew that I had to worry about how I was going to pay for it," he said. "NC Promise was the answer. If I didn't have the option of going to WCU, it would have been a challenge."
"NC Promise was the answer. If I didn't have the option of going to WCU, it would have been a challenge."
For Kleinschrodt, being in the mountains was about more than his love for the outdoors. He knew that improving his skills in outdoor sports would translate well into work as a firefighter, especially working in rural communities or in forest land. Plus, WCU offers majors in parks and recreation, emergency disaster management, and emergency medical care, all of which would apply well to his hopeful career. To top it all off, WCU's campus recreation department includes Base Camp Cullowhee, an on-campus adventure guide service, where Kleinschrodt hopes to work during school.
While his twin brother decided to live at home an attend community college, at least for the first year, Kleinschrodt said he's thankful to be living on campus.
"I think it's going to make all the difference," he said. "I totally believe in living on campus and getting those roots in place your first year. How many true friends would I really make, how many connections would I have, if I didn't live on campus?"
Thanks to NC Promise, Kleinschrodt plans to use the savings account his grandfather set aside for the first two years of school and save up for his upperclassman years. He hopes to be able to graduate without student debt.
That means a lot to Kleinschrodt as he considers a career that is focused more on service than salary.
"I've always wanted to be a community servant — someone who is there for people when they need them most," he said.
Natalya Sampson | Student
UNC Pembroke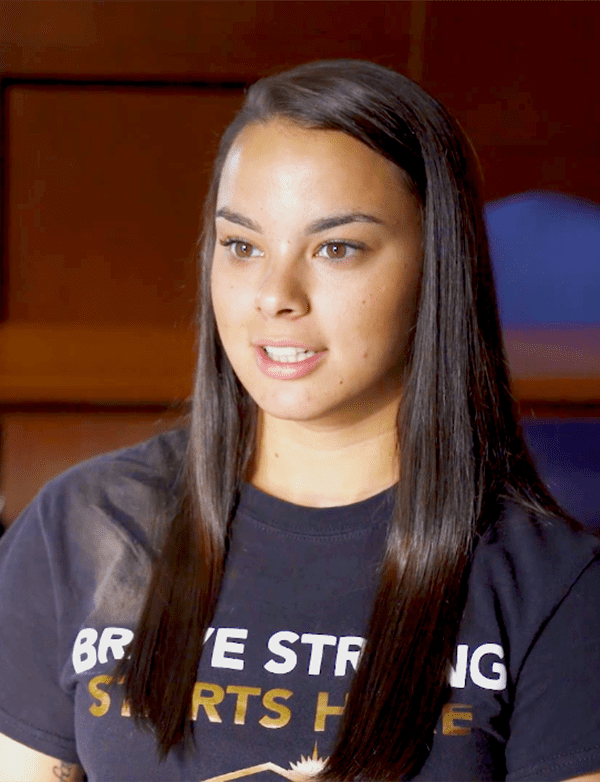 NC Promise allows UNC Pembroke student to pursue degree; inspires desire to give back to Robeson County's healthcare industry
As part of a family who places high value in academia, it was instilled in Natalya Sampson at a young age that education is the gateway to success. She had always planned on attending college, but wasn't quite sure how she would afford it.
The NC Promise Tuition Plan came at the perfect time for Natalya, offering her the opportunity to follow in her parents' footsteps by attending the University of North Carolina at Pembroke (UNC Pembroke) to achieve her academic goals.
Not only has Natalya been able to pursue a degree in business administration through this affordable program, but the tuition savings she realized allowed her to take part in the traditional college experience by living on campus her first year and purchase her first car.
"I feel really comfortable knowing that I'll graduate with minimal debt because of NC Promise," said Natalya, now a senior. "It's a burden lifted off of me, and its rewarding knowing I can get a high-class education for a really low price."
Currently a senior, Natalya plans to pursue a master's degree in business administration at UNC Pembroke upon undergraduate completion with hopes to join the workforce as a healthcare administrator.
"If I could find a nice job here in Robeson County, I'd like to make a difference," said Natalya.
While UNC Pembroke feels like home to her now, Natalya is thankful that NC Promise gave her the opportunity to be molded by her professors into a competitive professional who can thrive in her future career.
Vanessa Barnes | Dean of Students
Millbrook High School, Raleigh, NC
Education unlocks the future for our youth. The more affordable it is, the more accessible it is.
My students choose to pursue a college degree for many different reasons. Some want to expand their knowledge of subjects that inspire them in high school. Others are first-generation college students who are looking for more career options and the opportunity to improve their economic outlook. All of them want the chance for a brighter future, and education is the key.
Despite the desire to pursue a two- or four-year degree, the reality is that many families are overwhelmed by the cost of college. Their ultimate concern is the availability of financial aid, scholarships, and other funds to finance higher education.
The lack of knowledge about how to navigate the financial aid and the college application processes are huge barriers that stand in the way of students pursuing a postsecondary options. Many families also discount the idea of going to college simply because they aren't aware of the different payment avenues.
As a school counselor, I feel it is my job to help guide students and parents through the college-going process. Our department works to educate students and families about the options available to them through ongoing communication, as well as individual and group counseling services.
North Carolina's initiatives to make a high-quality four-year degree more accessible and affordable means more opportunity for my students and their families. The NC Promise Tuition Plan levels the playing field for students and families by giving them access to a UNC System school, and opportunities to pursue STEM and other majors at an affordable tuition rate. Furthermore, the geographic location of the schools makes them accessible throughout the state.
The Fixed Tuition Plan helps families and students budget appropriately, knowing that their tuition will remain at a fixed rate throughout their four-year tenure in college, and helps provide a more accurate view of what higher education will cost over time. If families can see their long-term budget, it's easier to make plans for payment, whether it be via financial aid or scholarships. My daughter is in her first semester at a UNC school, so this plan is great for me.
By far, the best part of my job is the students. I love meeting students as they enter high school and working with them throughout their time here to navigate all of their options. I get to see how the choices they make inform their higher education decisions. I get to see them walk across that stage, and it brings me joy to be a part of preparing them for the next phase of their lives.
One student success story I have is about a young man with whom I worked throughout his high school tenure. Initially, his options were very limited due to finances. We worked through all of the obstacles together, and he earned admission to all of the schools that he applied.
Marcy Sammons | Student
Western Carolina University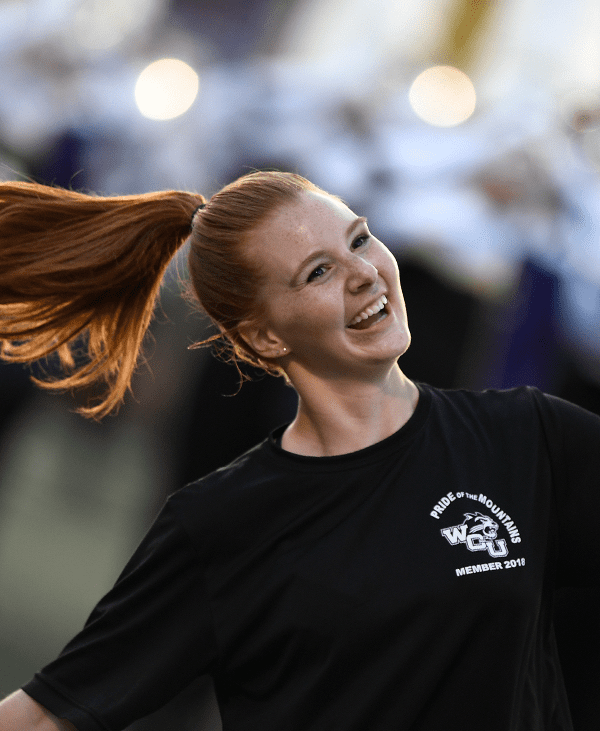 Western Carolina transfer student says NC Promise "was definitely the yes" in her decision to continue her education
As a senior at Forest View High School in Gastonia, Marcy Sammons had her eye on Western Carolina University (WCU). She'd heard good things about WCU's College of Business, but perhaps even more importantly, WCU had the best Marching Band in the state and one of the best in the nation.
Sammons led the Color Guard at Forest View, and she'd heard stories about WCU's 2014 trip to march in the Macy's Day Parade. She was a high school junior at the time.
But when senior year rolled around, the cost of a four-year university simply wasn't an option for Sammons or her family. She was going to need to borrow the money she would need to attend school, and the thought of finishing a marketing degree with significant college debt was overwhelming.
"I'm trying to look out for the future and not be in debt forever," Sammons said.
So, in the fall of 2016, Sammons enrolled at Gaston College, a public community college near her home. She earned her Associate in Arts from Gaston while living at home and working a part-time job to pay her tuition cost.
Then, last year, as she began to again consider whether or not she could afford to transfer to a four-year school and finish her bachelor's degree, Sammons heard from friends at WCU about the introduction of NC Promise.
"That was definitely the yes," she said. "It was the deal maker."
The program opened the door for Sammons to have the college experience she was hoping for. The reduced tuition meant that she would take on less debt, plus she would have the flexibility to work less during school so that she could join the award-winning Pride of the Mountains Marching Band.
"I was able to work quite a bit over the summer and save up money so that I could pay out of pocket instead of taking out a lot of student loans," Sammons said.
The reduced debt is nice, but her real excitement came when she learned this Spring that the Pride of the Mountains Marching Band has been invited back to the Macy's in the fall of 2019. It will be Sammons' senior year at Western Carolina, and she'll get to make that once-in-a-lifetime trip thanks in large part to NC Promise.
Lauren Inman | Student
UNC Pembroke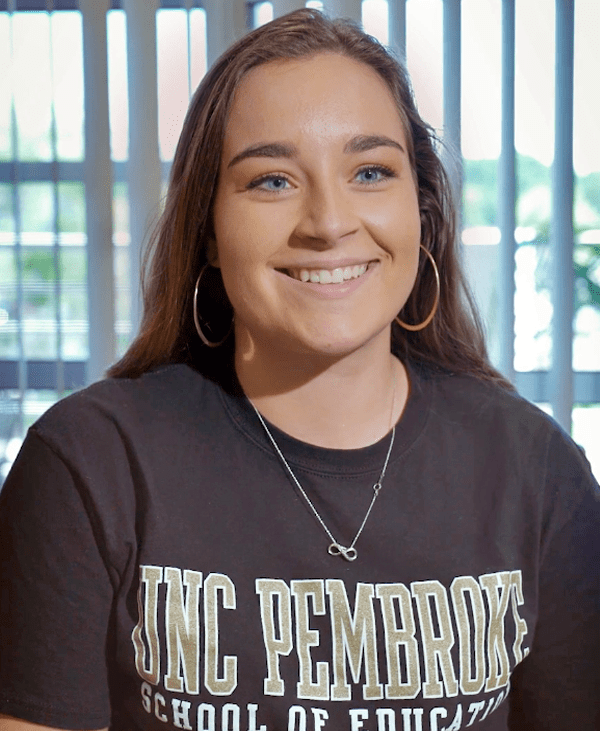 NC Promise helps UNC Pembroke student minimize financial burden
As the daughter of a long-time teacher, Lauren Inman has always dreamed of being one herself. In fact, when she graduates in 2022 from the University of North Carolina at Pembroke (UNC Pembroke) with her degree in elementary education, she will join the fourth-generation of a long line of family teachers.
Going into her college search, Lauren was very fiscally conscious, as she is the first of four children her parents will ultimately help put through college. As she considered the NC Promise Tuition Plan, she was thrilled to discover that she could earn a high-quality four-year degree through UNC Pembroke's well-respected School of Education for just $500 per semester tuition.
"To my family, NC Promise means that all four kids can earn a quality education without having to worry about how much it costs," Lauren said. "I am also paying for some of my college myself, so it will be a big help as I start my career as a teacher."
Lauren, who has wanted to be a teacher since she was 5 years old, is now able to pursue her dream without the burden of student debt.
Kerri Johnson | Student
Elizabeth City State University
NC Promise allows next-generation educator to pursue her passion of teaching
Having grown up just across the North Carolina state line in Portsmouth, Va., Kerri Johnson considered attending both in- and out-of-state universities.
Upon graduating high school, Kerri began her college career at Tidewater Community College in Virginia.
However, after realizing that a high-quality four-year degree was much more affordable inside North Carolina state lines, Kerri transferred to Elizabeth City State University (ECSU) to take advantage of the NC Promise Tuition Plan, which offers in-state tuition at $500 per semester and out-of-state tuition at $2,500 per semester at three UNC System schools, including ECSU.
"ECSU was the best choice for me," said Kerri. "I want to better myself, and I've had a great experience so far."
Now a junior, Kerri is well on her way to completing her degree in early childhood education, and, without the burden of excess student debt, can pour all of her energy into teaching the next generation upon graduation.
Elias Reyes | Student
UNC Pembroke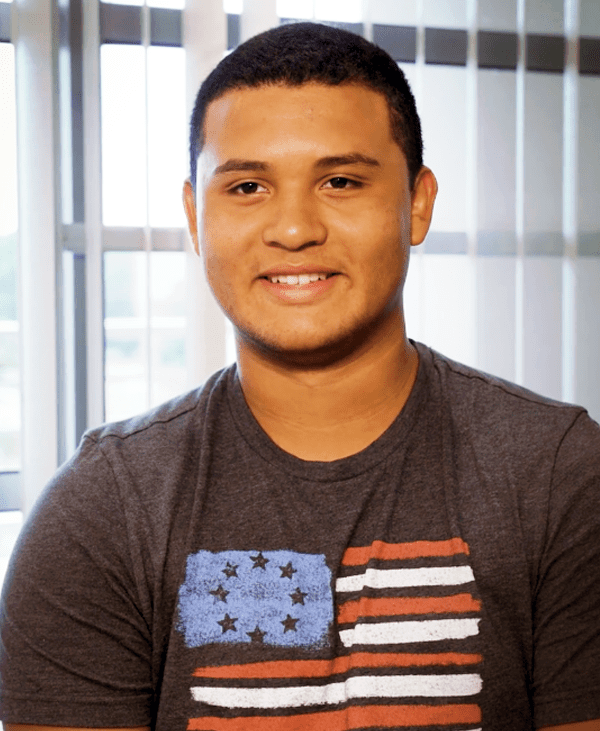 NC Promise allows UNC Pembroke student to pursue degree, pursue cybersecurity dreams
As a student at Scotland Early College High School in Laurinburg, Elias Reyes was pursuing an associate's degree in science. During his senior year, he learned about the opportunity to continue his degree at the University of North Carolina at Pembroke (UNC Pembroke) for just $500 per semester through the NC Promise Tuition Plan.
"With lower tuition through NC Promise, I decided to continue my degree at UNC Pembroke to help ensure my future success in the programming and cybersecurity fields," said Elias.
Elias is now pursuing a bachelor's in computer science with the hopes of launching a career in cybersecurity to help protect our critical digital infrastructure and individuals from bad actors online.
The opportunity to pursue an education at UNC Pembroke has provided Elias a sense of belonging and invaluable interactions with professors and students who are invested in his success. This has also allowed him to focus more on his studies, save for his future, and get involved in campus activities, like the soccer club and Bible study.
With $500 tuition per semester, Elias is able to pursue his degree without taking on college debt.
"This means a lot for my family and my future," said Elias. NC Promise has allowed me to secure my future because I don't have to worry about paying off college debt. This means that upon graduation, I can save more of my paycheck to plan for the future."
Thanks to NC Promise, Elias will not only be prepared for the future, but able to fully enjoy all that the college experience has to offer.