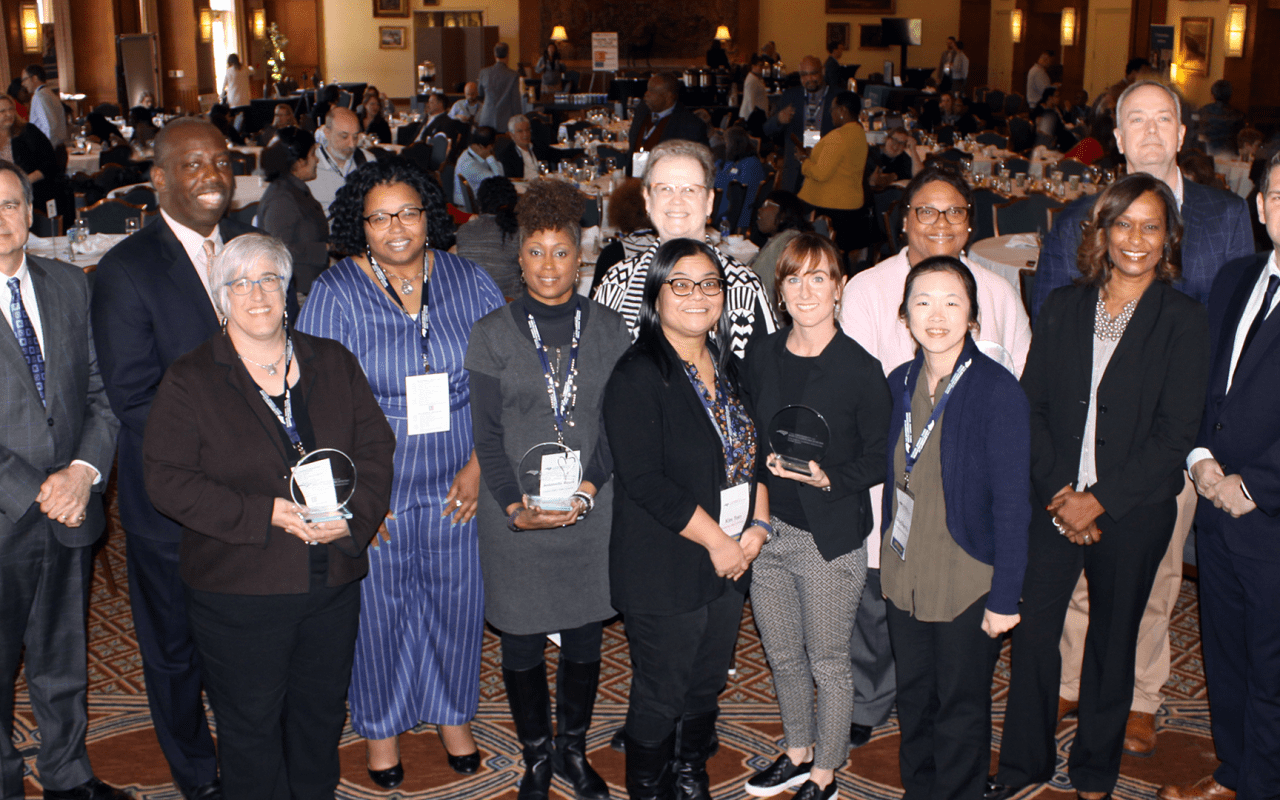 Symposium Highlights Innovative Uses of Teaching Technologies
Professors can have a difficult time planning to co-teach a course with a colleague in another department: orchestrating schedules, arranging funding, coordinating lecture slots, developing complementary lesson plans. Imagine the audacity of Dr. Barbara Howard's vision to team teach with a faculty member in another country. Howard wanted to remain on campus at Appalachian State University, while Dr. Natalia Ilyashenko would stay planted at her home institution … Novgorod State University in Russia.
Speaking to a packed audience at the 2019 Digital Learning Initiative (DLI) Symposium, Howard and fellow Mountaineer, Dr. Herb Brown, explained how they used an assortment of technologies to pull off this teaching feat.
On March 27 and 28, a capacity crowd of 250 attendees, representing all 17 institutions in the UNC System, convened in Chapel Hill for the second annual installment of the symposium. For two days, colleagues shared and gathered intel on the latest teaching technologies and strategies. Their joint mission? Using those technologies to encourage more students throughout North Carolina to pursue and succeed in higher education.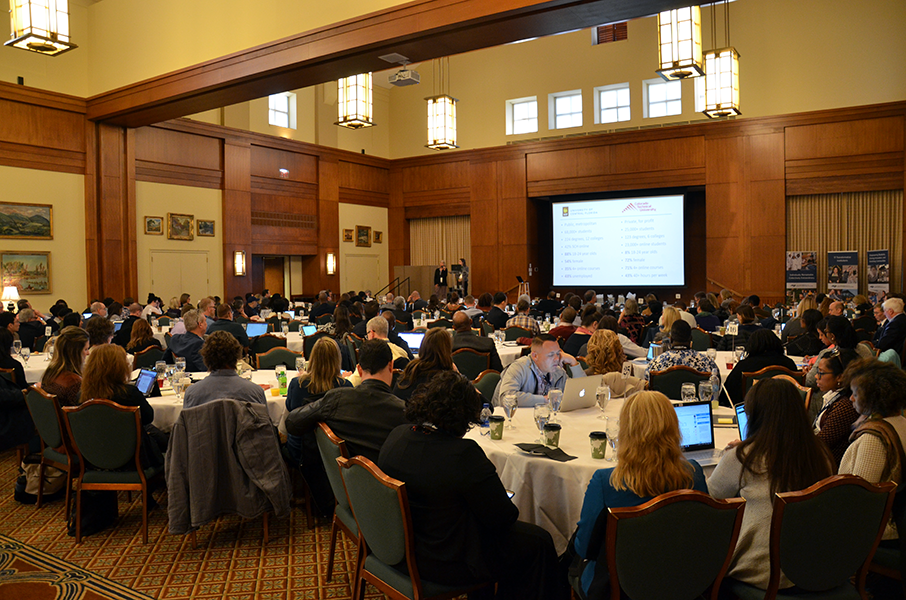 Through panel presentations, a technology innovation lab, and interactive kiosks, presenters made it quite obvious that faculty and administrators across the entire UNC System are using digital technologies to create more pathways into the University, to improve student performance, to make college more affordable, to help faculty be more effective teachers, and to create more diverse learning opportunities.
Appalachian's inventive approach to international collaboration gave students a unique learning opportunity they are not likely to forget: the chance to engage in a long-term collaboration with peers 4,843 miles away.
Howard's class didn't just feature the occasional video-taped guest lecture by Ilyashenko. Both professors were equal partners in the class. More remarkably, both Appalachian and Novogorodian students filled the virtual seats. A whole array of digital tools enabled both populations to actively collaborate with one another.
Howard and Brown's presentation exemplified why the DLI Symposium is so vital to the UNC System: there's no avoiding the fact that educators in this age must be on the vanguard. Digital learning technologies are evolving at such a rapid rate that no single faculty member can possibly keep apace. By harnessing creative input and gathering diverse talent from across the University, the symposium provided attendees with a broader sense of the landscape and a keener understanding of the wide range of possibilities at their disposal.
Sharpening the Cutting Edge … Together
The DLI's provocative mantra alludes to the UNC System's push to remain on the cutting edge of teaching practice: "Transformational Education: Today, Tomorrow, Together."
At the same time, the mantra also encapsulates much of what made the 2019 symposium so compelling. The nature of the event underscored how the UNC System is committed to leveraging the remarkable talent at 17 distinct institutions. It takes a team effort to remain on the forefront of the intersection of teaching and technology. As a united front, the University is already discovering tomorrow's teaching practices, today.
"Integrating digital learning across 17 diverse institutions presents complex problems," said UNC System Vice President for Digital Learning Jim Ptaszynski. "The symposium provided an opportunity to develop a strong community of like-minded educators who can work together to support change across the System."
Typically, a conference is made up of solitary individuals. They might return to their home institutions excited about new possibilities, but they continue their work alone. A few weeks after the conference, their classrooms are islands of innovative excellence, surrounded by a sea of traditional teaching practices.
The symposium presented quite a different picture. Each of the 17 institutions invested in sending collaborative teams of faculty and staff. From the outset, this commitment ensured that teaching innovations would gather momentum. Attendees would return from the conference with some consensus and the shared enthusiasm needed to promote new technologies and teaching strategies at their home institutions.
The symposium also allowed participants to identify new colleagues and collaborators, from across the 17 institutions, who could provide on-going advice, counsel, and support. By fostering an inter-institutional support network, the symposium increased the probability that the best practices learned there would rapidly circulate throughout the System.
By a wide margin, most of those in attendance were instructors actively engaged in the classroom. The numbers underscored how the push to innovate higher education is happening from both ends; the System Office is promoting and channeling the wellspring of energy that is bubbling up from the grass-roots level.
"It speaks volumes that so many in attendance are doing the work in the classroom," said Dr. Kimberly van Noort, senior vice president for Academic Affairs. "They're the ones who are going to need to implement these tools, so their presence here indicates a passionate commitment to staying current in the field."
New Partners for Student Success
Over a dozen technology partners were in attendance, including Realizeit, Pearson, Microsoft, ecree, McGraw Hill, CogBooks, OpenScholar, Acrobatiq, and Talented. The providers participated in many of the session presentations alongside their campus partners. The rich tapestry of presenter teams illustrated the power of collaboration between technology providers and the UNC System institutions.
Representatives from UNC-TV were also on hand to share ideas about how North Carolina's public media network could help institutions develop online content. They even ensured that attendees left the symposium with their very own professional headshot, suitable for sharpening any social media profile.
John Falchi, director of special projects at the UNC System, encouraged the faculty and staff in attendance to "treat the providers as true colleagues" and to visit with them during the Learning Technology Innovation Labs in between formal presentations. Working together, faculty and technology partners can "learn how these technologies can create more efficient and effective learning environments."
"In the keynote address, Dr. Charles Dziuban [director for the Research Initiative for Teaching Effectiveness, University of Central Florida] suggested that we replace the word 'vendor' with 'partner.' That initially surprised me, but the message soon became, for me, the theme of the conference," said Dr. Ben Powell, associate professor of entrepreneurship at Appalachian State University and a UNC System Faculty Fellow. "Some might question technology providers and their motivations for attending. But if we want more effective relationships and better tools, then we need to engage with technology providers and share with them our concerns and needs. The various partnerships and initiatives on display at the DLI Symposium convincingly demonstrated the potential for such collaboration."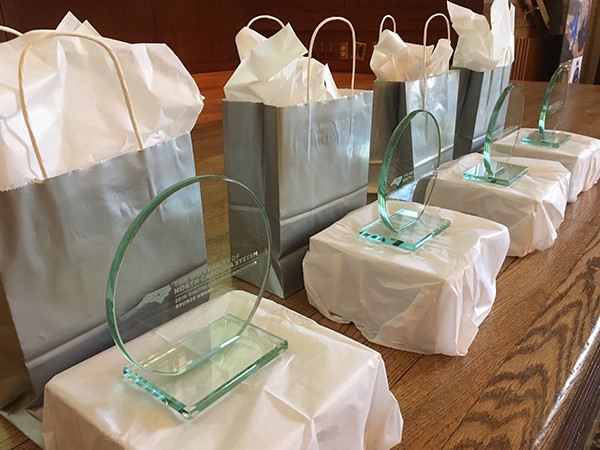 A Singular Mission, a Multiplicity of Strategies
The two-day event covered a wide range of topics, from adaptive courseware to writing evaluation.
The four recipients of the DLI Awards provided a sense of the wide scope of cutting edge teaching practices happening at all 17 constituent institutions. Voted on by their peers, the DLI Award-winning initiatives were selected based on five criteria: their potential to serve underserved students; their promotion of partnerships between institutions and/or with external partners; their potential to shift classroom paradigms in a dramatic way; their overall quality; and their scalability.
A team of partners from Winston-Salem State University and Western Carolina University were recognized for their efforts to promote digital literacy. WSSU is the first Historically Black College and University in the nation to become an Adobe Creative Campus, which gives all faculty, staff, and students free access to the company's Creative Suite.
The presenters explained how the university is using these tools to reimagine assessment. Instead of asking students to summarize what they've learned in a final paper, some professors now require students to transform their ideas into web pages. Assessment is no longer a mere a mechanism for testing and evaluating. It also promotes the development of a marketable, transferable digital skill and motivates students to build a rich portfolio to share with potential employers.
North Carolina Central University's team earned plaudits for its shift to using teaching materials students can find in the public domain. By minimizing or eliminating the cost of textbooks from student expenses, NCCU's use of open access materials makes college more affordable. Just as crucially, it promotes student success, because students will be more likely to actually have course materials in their possession on the first day of class.
Faculty members from Fayetteville State University's psychology department took home a DLI Award for implementing software to help military-affiliated students succeed in the classroom and on their career paths. The team explained the challenges this student population faces and the multiple ways that the digital space can help minimize these challenges. By utilizing adaptive learning technology, providing online career coaching, offering advanced online seminar content, and using technology to ease the transition from community college to the University, the FSU team has helped reduce the dropout and failure rate among military affiliated students in their program.
The team from UNC Wilmington's College of Health and Human Services took home top awards for their Online, Accelerated Program (OAP), which allows adult learners greater flexibility to pursue a degree at their own pace. Through the application of learning technologies and innovative online instructional strategies, students can study complex pathophysiology case studies. Adaptive technology helps them practice clinical decision-making skills. Because each case study can be refreshed, students must adjust their diagnoses based on new, dynamic information every time they return to the interface. Student success requires problem solving rather than rote memorization.
UNCW's initial foray into this territory was a program designed to help registered nurses earn a bachelor's degree. Today, U.S. News and World Report ranks UNCW's RN to BSN degree program among the nation's top ten online bachelor's programs. The OAP was designed to be scalable. So, when it proved to be a great success, the university expanded the template to include a bachelor's in exercise science, a master's in nursing, and a master's in healthcare administration.
These four ambitious initiatives alone offer some indication of how the use of digital learning technologies helps the UNC System target its core mission: to make higher education available to every North Carolinian.
Moreover, these technologies are quickly becoming indispensable tools in the University's pursuit of the central goals outlined in its Strategic Plan. Each presentation offered a unique perspective on how these technologies are making higher education more affordable and more accessible to students in all 100 counties. Technological innovation is helping more students stay on track to degree completion. And it is helping North Carolina fulfill critical workforce needs, particularly in healthcare and STEM fields.
Sustaining the Momentum: Convening at the Virtual Symposium
In keeping with the spirit of the event, organizers have created a website to house synopses and visual materials for all of the presentations.
Dr. Jim Ptaszynski also announced that the System's Office of Digital Learning would also be launching quarterly webinars to keep driving the momentum coming out of the symposium.
"Too often, conferences such as this really excite and motivate participants, but quickly their daily teaching and research responsibilities get in the way of applying what they've learned. Not much then happens until the next conference and the cycle continues," he explained. "The webinars will be one way to keep people at the universities engaged, learning, and supported between events."
Anyone with a vested interest in higher education in North Carolina can read about – and participate in shaping – its future.
Hands Across the Water … Virtually
On the heel of her initial success organizing a virtual global classroom, Dr. Howard has developed a total of four online graduate courses that allow American and Russian students to work together to develop international leadership skills.
Appalachian's contingent might not be able to get their hands on authentic borscht and blinis. But they do get to experience something that will sustain them into the foreseeable future: a year-long, immersive learning experience, delivered at the fraction of the cost of a traditional study abroad program.
For the student who has never before ventured beyond the realm of Avery and Watauga Counties, this opportunity will be a portal to countless new, eye-opening experiences. More than that, it might well lead to a lucrative new international career, where global experience is fully realized and where borscht and blinis are tangible and tasty.
That's transformative education. Today.