Chapel Hill, NC –Carmen Russoniello, founding director of East Carolina University's Center for Applied Psychophysiology, and Sylvia A. Flack, executive director of Winston-Salem State University's Center of Excellence for the Elimination of Health Disparities, are the 2015 winners of the James E. Holshouser Jr. Award for Excellence in Public Service, given by the Board of Governors of the 17-campus University of North Carolina.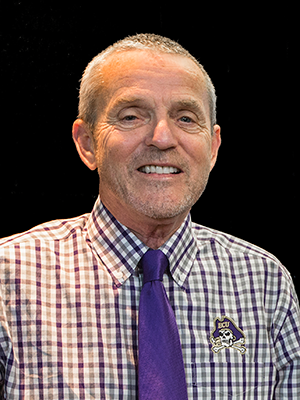 High Resolution Download
The award, named in memory of the late North Carolina governor, was established in 2007 to encourage, identify, recognize and reward distinguished public service and outreach by faculty across the 17-campus University. Winners must demonstrate sustained, distinguished achievement in university public service and outreach and must contribute to improving the quality of life for North Carolina citizens. The 2015 awards, which carry a $7,500 cash prize, were presented today (Oct. 30) by UNC President Tom Ross and board Vice Chairman Lou Bissette.
This is the first time in the award's history that it has been given to two winners.
A member of the ECU faculty since 1999, Russoniello founded the Center for Applied Psychophysiology in 2013 to help members of the Armed Forces dealing with Post Traumatic Stress Disorder. A Vietnam veteran and a former member of the U.S. Marine Corps, Russoniello himself suffered from PTSD.
Russoniello uses a biofeedback approach rather than pharmacological intervention when treating his patients. He began providing biofeedback services to Marines stationed at Camp Lejeune in 2008, helping them deal with the physical and mental traumas of combat. He has also accompanied wounded warriors on boating, fishing and other therapeutic outings, as well as used video games as part of his treatment process.
Russoniello holds undergraduate and master's degrees in recreational therapy and interdisciplinary studies from Eastern Washington University, and a doctorate in educational leadership from Gonzaga University. He has authored and co-authored numerous articles on mental health issues for a variety of academic and medical journals.
"My belief about service is best summarized by the idea that the more we share, the more we have," Russoniello said. "I am honored to receive an award in the name of a man who practiced this philosophy and did so much to help our communities and state grow. I am awed by all that Governor Holshouser accomplished while a public servant and humbled to be recognized in his honor."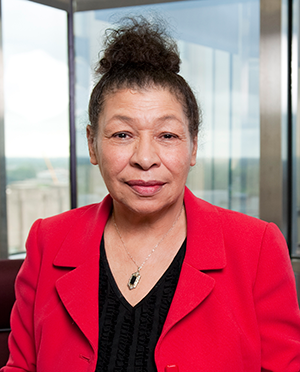 High Resolution Download
Flack joined the WSSU faculty in 1990 as the founding dean of the School of Health Sciences, in part to help revitalize WSSU's nursing program. She has had a lifelong interest in helping to eliminate inequality in health care for minorities, and has been instrumental in bringing a variety of programs to Winston-Salem and Forsyth County to address the needs of the community.
Flack, who stepped down as dean in 2005, has led the Center of Excellence for the Elimination of Health Disparities since 2006. She also has served as a special assistant to WSSU's chancellor and worked with a number of Winston-Salem nonprofit organizations to secure funding to address health issues facing Forsyth County's minority community. Her programs have served as models for similar initiatives nationwide.
A 1968 graduate of WSSU, Flack holds a master's degree in nursing from the Medical College of Georgia and a doctorate in education from Virginia Polytechnic Institute and State University. She has written for a number of academic publications as well as created conferences throughout North Carolina.
"This is really exciting, really surprising," Flack said. "With Gov. Holshouser's vision and the way that he worked, I think it's really important because in my quest eliminate health disparities in Forsyth County, I've involved everyone I can involve. I think it's important that people know how significant it is to become involved in what's going on in the community."