William C. Friday, who had been president of UNC since the 1950s, is chosen to lead the new, larger system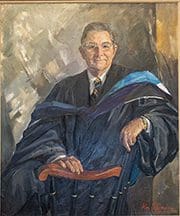 The Planning Committee that was a precursor to the Board of Governors chooses Friday to lead the new system.
Despite friction with Gov. Scott during the consolidation process, Friday is steadfast in his role as an advocate for the UNC System and American higher education, leading all 16 campuses through a period of growth and increased stability. "Friday fought this thing as hard as he knew how," recalled Scott, who had presented his former opponent's nomination to the board. "But when it was done and over, he took the lead and he made it work. I doubt that anyone else could have made it work except for him. He had the respect, integrity, prestige and knowledge essential for that enormous task."
Source: "Reorganizing Higher Education in North Carolina" by Barbara Solow, published by the North Carolina Center for Public Policy Research
Friday grew up in Dallas, N.C., and entered Wake Forest College before transferring to North Carolina State College, now known as North Carolina State University. There he earned a bachelor's degree in textile engineering and, following graduation, served in the U.S. Navy during World War II. After the war, he entered law school at the University of North Carolina at Chapel Hill, where he earned his degree in 1948. Friday served as an assistant to University of North Carolina President Gordon Gray from 1951 to 1955. Friday began his own career as president in 1956 and served in that role until 1986. His 30-year-career was marked by the progress of the state's public universities, but also by his ability to manage challenges of campus unrest and political controversies. Friday would become a beloved figure in his state and a revered statesman in American higher education.