University of North Carolina at Charlotte cancer researcher Pinku Mukherjee believes that in the future, immune therapies and vaccines will be used to fight cancerous tumors, just as they are used today to prevent infectious diseases.
Already, her research in collaboration with Mayo Clinic scientists has led to the development of a breast cancer vaccine that uses a patient's own immune system to destroy breast cancer cells. Designed to help patients who are in a state of remission, the vaccine has been offered as part of a clinical trial at the Mayo Clinic.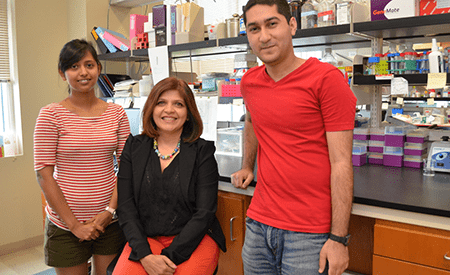 Dr. Mukherjee with post doctoral students in the lab at UNC Charlotte.
"Imagine if your body has a memory of your cancer, and every time that cancer came back, your immune-system memory cells could go get rid of it without you even knowing," Mukherjee said. "That would be a dream."
A cancer researcher of more than 25 years, Mukherjee is transforming the diagnosis and treatment of breast and pancreatic cancers. In addition to developing novel therapies like a cancer vaccine, she has founded ways to potentially eliminate the need for invasive breast biopsies and detect pancreatic cancer before it spreads throughout the body.
For her game-changing work, the Board of Governors of the 17-campus University of North Carolina named Mukherjee one of two recipients of the Oliver Max Gardner Award, the highest faculty honor the board bestows — and the only award for which all faculty members on UNC campuses are eligible. 
Established by the will of Governor O. Max Gardner, the award recognizes faculty who have "made the greatest contribution to the welfare of the human race." The 2015 award carries a $20,000 cash prize and was presented during the April 2015 board meeting.
Groundbreaking Discoveries
In 2014, more than 2.8 million women in the U.S. had a history of breast cancer, and pancreatic cancer was the seventh leading cause of cancer death in the world, with the average patient surviving only eight to 10 months after diagnosis.
To aid doctors in detecting these cancers early, Mukherjee developed a way to measure "markers" in the body that indicate the cancers' presence. Using a simple and inexpensive blood test, doctors can identify patients with elevated marker levels and know they need to implement further imaging and appropriate treatment.
Because the test can determine early whether a solid tumor is malignant, it can significantly improve a patient's chances at survival. Additionally, since women with ambiguous mammograms often undergo biopsies, only 15-16 percent of which result in malignant diagnoses, Mukherjee's test helps patients avoid having to undergo the invasive, expensive, anxiety-inducing procedures.
"I think we need to be kinder to the entire body and not so aggressive in treating low-grade tumors," Mukherjee said. "For me, it boils down to being able to say, 'Do I have a malignant or a benign tumor, and do I need to treat it in a certain way or can it just remain?'"
To distribute the products she is developing, Mukherjee founded a spinoff biotechnology company through UNCC called OncoTab Inc. (previously CanDiag Inc.) in 2011. While the patented marker test constitutes the core of OncoTab Inc.'s current platform, the company will eventually offer a range of clinical products that will address cancer at multiple stages — from diagnosis to treatment to monitoring for recurrences. Mukherjee hopes OncoTab will be fully up and running in two to two-and-a-half years.
Academics and doctors alike call Mukherjee's work "groundbreaking." Her discoveries have already produced one U.S. patent and led to the filing of 12 others, and her research has attracted grants totaling $10 million from the National Institute of Health, Department of Defense, American Association for Cancer Research and Susan G. Komen Foundation.
"Through Dr. Mukjerhee's research over the past two decades, scientists can now envision a world in which biopsies and late diagnoses of tumors are relics of the past," said UNCC Chancellor Philip Dubois. "The impact of her research, teaching, creativity, outreach and entrepreneurial thinking about the best ways of creating positive outcomes for people with cancer is transformative indeed."
Pancreatic cancer expert Anirban Maitra of the MD Anderson Cancer Center at the University of Texas echoed the sentiment.
"Pinku is, without question, one of the most committed and well-respected scientists in cancer research on the national arena today."
Journey to UNC Charlotte
Born and raised in India, Mukherjee received a bachelor's degree in microbiology/ biochemistry from Bombay University and master's and doctoral degrees from the University of London.
After holding faculty appointments at Pennsylvania State University  and  Indiana University Medical Center, she worked at the Mayo Clinic in Scottsdale, Arizona, for a decade starting in 1998, where she began extensive work on pancreatic cancer.
She came to UNCC in 2008 as the Irwin Belk Endowed Professor of Cancer Research. In addition to running her lab, Mukherjee teaches immunology and carcinogenesis courses in the biological scienes department and oversees a number of graduate students.
"It's the best," she said of the classroom time. "Some of their questions are so out-of-the-box; it's so much fun to see their point of view. I learn a lot from them."
Mukherjee lives in Charlotte with her husband, who holds a PhD in mechanical engineering and recently retired from Bank of America, and her 92-year-old father, who she takes care of.
Her two grown daughters, who as children spent afternoons with her in the lab at the Mayo Clinic, are both pursuing careers in cancer research as well, the elder at the University of Pennsylvania and the younger at University of California at Berkeley. When she is not working, Mukherjee enjoys singing, especially popular Indian music.
Mukherjee said she felt extremely honored to win the Gardner Award.
"In the UNC system, so many people are doing such cool things," she said. "When I first learned I was nominated, I was surprised, and when I got the call, I was even more humbled and surprised."
Losing her aunt to cancer drives her in her work, she said, as does the perniciousness of the disease itself.
"Once I got into the field of cancer, the cancer itself motivated me — what it can do, how it outsmarts us continuously no matter what kind of medicines we put on it," she said. "It's continuously adapting. And that's what keeps me motivated, even today."