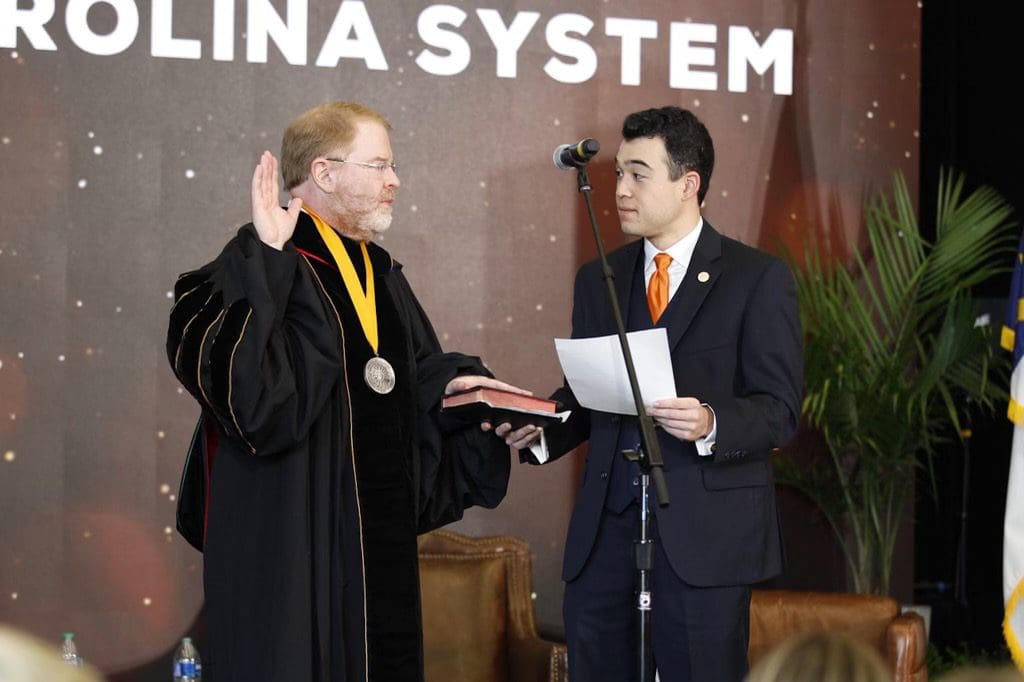 FOR IMMEDIATE RELEASE
Hans honored as seventh president of the UNC System during 50th anniversary celebration
RALEIGH – University of North Carolina President Peter Hans was formally inaugurated Tuesday, Nov. 16, 2021, during a ceremony at North Carolina State University's Hunt Library.
The inauguration was held in conjunction with the celebration of the 50th anniversary of the UNC System. Hans, the System's seventh president, has been guided by his deep commitment to higher education and longstanding relationships with System leaders. He has known all six of his predecessors, including the late William Friday, UNC's longest-serving president from 1956 to 1986.
A first-generation college graduate from rural North Carolina, Hans understands the value of affordable, accessible, high-quality education for everyone.
In his speech, Hans talked about plans to create an ambitious initiative to meet the needs of working adults who are ready for a college degree.
"We must stand alongside the very people who need us the most and enable their dreams to take flight," Hans said. "Making higher education work for more students is about more than economic opportunity. Broadening our vision of who college is for, who our institutions of higher education are meant to serve, is about the health of our country in the deepest sense."
"This inauguration is a joyful occasion for the UNC System," said UNC Board of Governors Chair Randy Ramsey. "President Hans brings decades of higher education and public policy experience to this role, using his talents as an advocate and consensus builder to further the mission of the University. His passion for students shines through every day, as does his commitment to financial accountability and good stewardship. The Board is grateful to him for his leadership throughout the pandemic and we look forward to working alongside him in the years ahead."
Hans took the helm of the UNC System in August 2020, guiding the System's response to the coronavirus pandemic and the largest disruption to higher education in generations. At the same time, he enacted several policy reforms designed to broaden student access, boost affordability, and increase efficiency across all 17 campuses. Hans has championed record investments in repair and renovation of campus facilities and has launched a budget overhaul that will bring greater accountability for spending decisions across the System. During Hans' tenure, the System has expanded student mental health services, has successfully advocated for the University's budget priorities, and has overseen COVID-19 vaccine clinics that have provided more than 112,000 vaccinations to North Carolinians across the state.
Before becoming president of the UNC System, Hans served as the ninth president of the North Carolina Community College System, where he oversaw improvements in completion rates, increased public funding and private giving, and promoted growth in business partnerships. Having served on both the State Board of Community Colleges and the UNC System Board of Governors, Hans is committed to strengthening relationships between community colleges and universities. As chair of the BOG from 2012 to 2014, Hans pushed for streamlined transfer agreements and advocated for reinvestment of administrative efficiencies to better support students.
Early in his career, Hans served as a policy adviser to three members of the United States Senate, counseled the private sector on public affairs at one of the state's largest law firms, and supported former UNC System President Margaret Spellings on key policy initiatives.
President Hans grew up in the small North Carolina towns of Southport on the coast and Hendersonville in the mountains. He earned a Bachelor of Arts degree from University of North Carolina at Chapel Hill and a Master of Liberal Arts in extension studies from Harvard University.
The UNC System enrolls nearly 250,000 students across 17 campuses. It is one of the strongest and most diverse higher education systems in the country, with over $1.5 billion in research expenditures and universities that serve every region of the state. Affiliate organizations include UNC Health, PBS North Carolina, the North Carolina Arboretum, UNC Press, and the North Carolina State Education Assistance Authority.