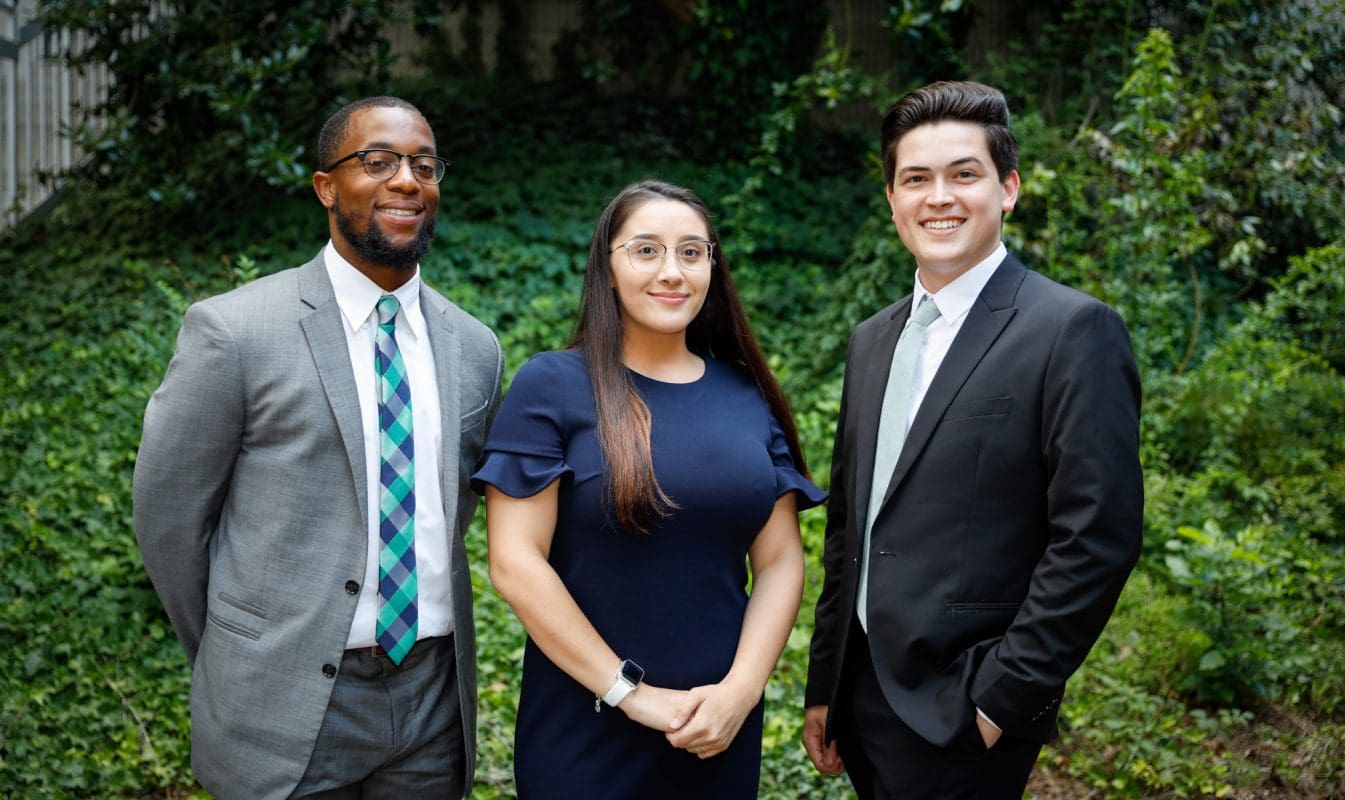 Three recent graduates will benefit from professional development opportunities at the System Office
CHAPEL HILL, N.C. —University of North Carolina System President Peter Hans announced today that three recent graduates of UNC System institutions will serve as Presidential Scholars for the 2021-22 academic year. As part of an annual program, Presidential Scholars serve a one-year appointment and provide a wide range of professional functions for the UNC System Office. The scholars will interact with the president, his senior leadership team and members of the Board of Governors of the University of North Carolina. They will also contribute work in areas including education, public policy, research and strategic initiatives that affect higher education.
"These scholars are representative of the impressive undergraduates who excel at each of our 16 universities," Hans said. "This program allows them to sharpen their learning with practical work experience, preparing these outstanding young people for a successful launch into the professional world. I am proud of each of these scholars for their achievements thus far and we look forward to mentoring them throughout the coming year."
Scholars were selected from a competitive pool of applicants. Each of the scholars demonstrated leadership skills, intellectual curiosity and a strong interest in higher education and public service. The Presidential Scholars program goes beyond higher education and career development, exposing participants to ideas of public service to the state. Scholars see firsthand how education legislation and university policy affect current students and state residents.
This year's scholars class includes:
Randi Dagenhart
Randi Dagenhart, of Robeson County, graduated cum laude with a Bachelor of Arts in political science and a minor in management from the University of North Carolina at Pembroke. Her thesis evaluated the impact of locally implemented federal immigration policies in North Carolina. Her passion for engagement began as a volunteer for her local chamber of commerce, where she was named Chamber Ambassador. During her time as a student at UNCP, Dagenhart was appointed as treasurer for the UNC Student Government Association. As a member of SGA, she gained valuable experience in finance, campus engagement, and leadership. Dagenhart also participated in Southern Regional Model United Nations as a delegate in Atlanta, GA, and as head delegate in Charlotte, NC. During her undergraduate studies, Dagenhart worked in a management position with H&R Block. While there, she employed her leadership skills to drive productivity, corporate imperatives, and team empowerment. Dagenhart plans to use her time as a Presidential Scholar to cultivate the skills and knowledge necessary for her graduate studies and her future in public service and economic development.
Connor Wood
Originally from Greenville, NC, Connor Wood graduated from two UNC System institutions. In high school, he completed the dual-enrolled online program at the North Carolina School of Science and Mathematics. He graduated summa cum laude with a bachelor's degree in geography with a focus in economics, research and public policy from the University of North Carolina at Charlotte. During his time at UNC Charlotte, he became a published researcher and received numerous awards for his involvement across campus. Through his research and academic classes, Wood developed a passion for policy and data. During his year as a Presidential Scholar, he plans to advocate for his fellow students across the system at this crucial time in educational policy. Following his year at the UNC System Office, Wood will attend American University in Washington, D.C. to pursue a master's degree in public policy.
Emmanuel Wright
Emmanuel Wright, of Statesville, is a graduate of the University of North Carolina at Charlotte, where he earned a Bachelor of Science degree in psychology with a double minor in military science and sociology. As an undergraduate student, Wright served on a faculty and staff led "Black Student Mental Health Taskforce," a working group called together after the events of racial injustice in the summer of 2020. Wright currently serves in the U.S. Army Reserves and was an ROTC cadet for three years, holding various leadership positions during that time. During his time at UNC Charlotte, Wright also served as a mentor and student coordinator of the Student Advising for Freshman Excellence (SAFE) Program at UNCC. In these roles, he was awarded Most Helpful Mentor during the weeklong SAFE Voyage and led the initiative in recruitment and mentor relations for the 2020-21 academic year. Wright was awarded the Dean of Students Office Leader Medal due to his committed service to students, integrity, equity, trust and excellence. In hopes of pursuing a career in political activism, Wright looks forward to learning about policy making and the process by which change is enacted for the betterment of North Carolina.
As the System Office welcomes this new group of Presidential Scholars, it simultaneously bids farewell to last year's class. The UNC System wishes to thank Annalee Blanks, Liz Chung and Najawa Huntley for their service over the past year.