UNC Pembroke faculty member Dr. Ben Bahr, an internationally recognized expert on age-related, neuro-degenerative disorders, received the James E. Holshouser Jr. Award for Excellence in Public Service from the UNC Board of Governors.
Presented during the board's regular meeting in November 2013, the award is a first for UNCP. It was established by the Board of Governors in 2007 to encourage, identify, recognize and reward distinguished public service and outreach by faculty across the university system.
Dr. Bahr said it is gratifying to be recognized with such a distinguished award, and he credited the university and his laboratory team. He also thanked Board of Governors member Dick Taylor of Lumberton, who advocated for Dr. Bahr in the awards committee.
"This is great for the university, my team and Alzheimer's awareness in general," he said. "This is a team effort. We generally have 5-10 students in the lab at any time. Three students will be listed co-authors on my next publication, and Dr. Samuel Ikonne's name is on our patent."
The 2013 award carries a $7,500 cash prize and was presented by UNC President Tom Ross and Public Service Award Committee members. Dr. Bahr is the William C. Friday Distinguished Professor of Molecular Biology and Biochemistry at UNCP and was recruited to the university in 2009.
UNCP is known as a teaching institution, and Dr. Bahr's work has enabled undergraduate students to participate in groundbreaking research that has global implications for improving health and quality of life.
For Dr. Bahr, the award has resulted in phone calls to his lab in the Regional Center with requests for speaking engagements.
"The thing I hear most is 'I had no idea that things like this were happening in Pembroke,'" he said. "I've given three talks in days following the award. I am taking the opportunity to challenge individuals and businesses to support our research."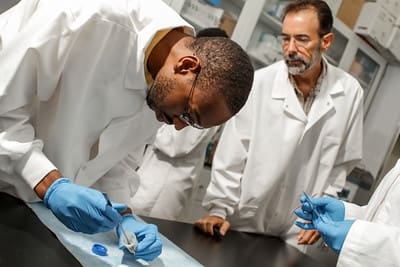 Dr. Bahr followed his own advice by depositing his prize winnings into a fund to support more research at the lab.
"President Ross and Chancellor Carter both advised me to keep the money, and they promised they would find money to help fund our research," Dr. Bahr said. "President Ross emailed me yesterday (November 21) with a pledge of $15,000 from his Strategic Initiative Reserve Fund. That's really good news."
Besides his outstanding research, Dr. Bahr has a remarkable ability for teaching. In 2011, he won the national Outstanding Mentor Award from the Council for Undergraduate Research.
He believes that to galvanize more support for this work, the public needs to know more about Alzhiemer's disease and ongoing research. "My phone has been ringing off the hook from caregivers of Alzheimer's patients," he said. "We have developed a packet of information and refer them to support groups."
Nearly everyone has a family member or knows a family touched by the memory-robbing disease. Deaths from heart disease, stroke and cancer are falling, he said, but Alzhiemer's disease is up 66 percent and rising, because people are living longer. "This is why this research is so critical," he said.
Dr. Bahr said he continuously works on better ways to explain the disease and his research. He has two computer monitors in his office, one for himself and one for visitors to view slides about the disease.
The UNCP lab works with a special strain of mice, which have the disease. By first identifying the pathways through which brain cells eliminate destructive proteins, Dr. Bahr has been able to create a molecule to accelerate that process. Research s
hows that removing these proteins improves cognition and memory in laboratory animals, potentially improving the long-term outlook for people suffering from or at risk for Alzheimer's and related disorders.
Dr. Bahr has since identified a molecular compound (PADK) that could slow or even reverse the course of the disease, and last year, he filed UNCP's first patent application.
"Our molecule has been known since the 1970s, but we have the patent," he said. "I am working with other UNCP scientists on new molecules, and we have a second patent application in the works."
At this stage in his research, Dr. Ben Bahr is transforming himself from scientist to entrepreneur as he seeks funding for clinic trials for his research. Last fall, he traveled Malta to attend the 23rd Alzheimer Europe Conference. Drug companies were in the audience.
"I have had valuable interactions with scientists and caregiver advisors from dozens of countries, together working towards a dementia-friendly outlook for our aging population, especially to eliminate the stigma for those who are the true experts on dementia – the people living with it," Dr. Bahr said. "Our findings from UNCP were presented with excited feedback. Scientists are looking forward to our future publications."
The demands of developing a drug from the lab to a cure are demanding new directions for his team. When Dr. Bahr sent his preliminary draft to the patent attorneys, he was advised to put as many options in the application as possible.
"This summer, I put our team of undergraduate students to work looking for publications that indicate other diseases may be helped by our protein clearance strategy," he said. "We had an interesting summer."
Among the diseases related to destructive protein buildup are mild cognitive impairment, Parkinson's disease, several heart diseases, traumatic brain injury, macular degeneration. Dr. Bahr offered 15-20 potential patent claims to the attorneys to cover his lab's initial application. When the attorneys finished the application, there were 128 claims.
Dr. Bahr holds undergraduate degrees in molecular biology and biochemistry, along with a doctorate in chemistry, from the University of California-Santa Barbara. He also completed postdoctoral work at the Center for Neurobiology of Learning and Memory at the University of California-Irvine.