Pinku Mukherjee, Irwin Belk Endowed Professor of Cancer Research at the University of North Carolina at Charlotte, and Behnam Pourdeyhimi, Klopman Distinguished Professor of Textile Materials at North Carolina State University, are the 2015 recipients of the O. Max Gardner Award — the highest faculty honor given by the Board of Governors of the 17-campus University of North Carolina.
The award, established by the will of NC Governor O. Max Gardner, recognizes faculty who have "made the greatest contribution to the welfare of the human race." It is the only award for which all faculty members on the 17 UNC campuses are eligible. The 2015 award carries a $20,000 cash prize and was presented today (April 10) by UNC President Tom Ross and Board Vice Chairman Lou Bissette.
While the board has traditionally chosen one winner per year, members were equally impressed with the work of Mukherjee and Pourdeyhimi, said Gardner Award Committee Chair Ann Maxwell. In addition to being world-class scientists and leaders in their fields, she said, the two are "outstanding teachers, unique mentors and tireless ambassadors for our state and our universities."
Pinku Mukherjee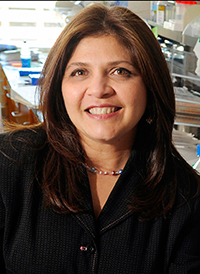 High resolution version.
Mukherjee, who joined the UNCC faculty in 2008 and teaches immunology and carcinogenesis courses in the biological sciences department, also conducts groundbreaking research that is transforming the diagnosis and treatment of certain cancers. She has devoted more than 25 years to the study of breast and pancreatic cancers and developed novel, more reliable early detection methods and therapies. Because of her discoveries, invasive breast biopsies may soon be obsolete and pancreatic cancer may be detected long before it can spread throughout the body.
In 2011, Mukherjee founded a spinoff biotechnology company through UNCC called OncoTab Inc. (previously CanDiag Inc.). The company aims to improve the quality of cancer care by identifying and measuring novel "markers" of cancer as a means of early detection. A simple and inexpensive blood test can identify patients with elevated marker levels, alerting doctors to the need for further imaging and appropriate treatment. The company will eventually offer a range of clinical products that will address cancer at multiple stages — from diagnosis to treatment to monitoring for recurrences.
Mukherjee believes that in the future, immune therapies and vaccines will be used to fight cancerous tumors, just as they are used today to prevent infectious diseases. Already, her research in collaboration with Mayo Clinic scientists has led to the development of a breast cancer vaccine that uses a patient's own immune system to destroy breast cancer cells. Designed to help patients who are in a state of remission, the vaccine has been offered as part of a clinical trial at the Mayo Clinic.
Mukherjee's innovations have already produced one U.S. patent and led to the filing of 12 others. Her research has attracted grants totaling $10 million from the National Institute of Health, Department of Defense, American Association for Cancer Research and Susan G. Komen Foundation.
Born and raised in India, Mukherjee received a bachelor's degree in microbiology/biochemistry from Bombay University and master's and doctoral degrees from the University of London. Prior to joining UNCC, she held faculty appointments at Pennsylvania State University and Indiana University Medical Center and spent a decade at the Mayo Clinic in Scottsdale, Arizona, where she began extensive work on pancreatic cancer.
Behnam Pourdeyhimi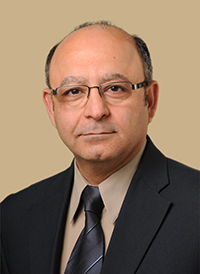 High resolution version.
As Associate Dean for Industry, Research and Extension in the College of Textiles at NC State, Pourdeyhimi has pioneered the field of nonwoven fabrics. His scientific and technical breakthroughs have contributed to better water purification and air filtration systems, safer vehicles, new drug delivery systems, improved agricultural production, and the development of protective materials for military and civilian security. His work has led to the creation of wound dressings and bandages that help stop the spread of antibiotic-resistant bacteria, barrier fabrics that provide protection from biological or chemical hazards, micro- and nanofibers for air and liquid filtration, and high-performance materials for shelter, among other applications.
Pourdeyhimi founded the Nonwovens Institute, a sustainable research and teaching center with global reach and impact. Situated on the NC State Centennial Campus and supported by 68 member companies, the NWI brings together academic leaders, graduate students and industry professionals from around the world to conduct research and develop new nonwoven products. Industry partners cover 98 percent of the Institute's $10-million annual budget and provide more than $30 million in equipment for use by NC State students and faculty.
Pourdeyhimi, who joined the NC State faculty in 1999, holds more than 80 U.S. and international patents and has published several books and more than 200 refereed articles. A popular teacher, he also has mentored more than 130 masters, doctoral and post-doctoral research associates, many of whom have become industry leaders.
A native of Iran, Pourdeyhimi earned his Ph.D. in textiles at the University of Leeds in the United Kingdom.