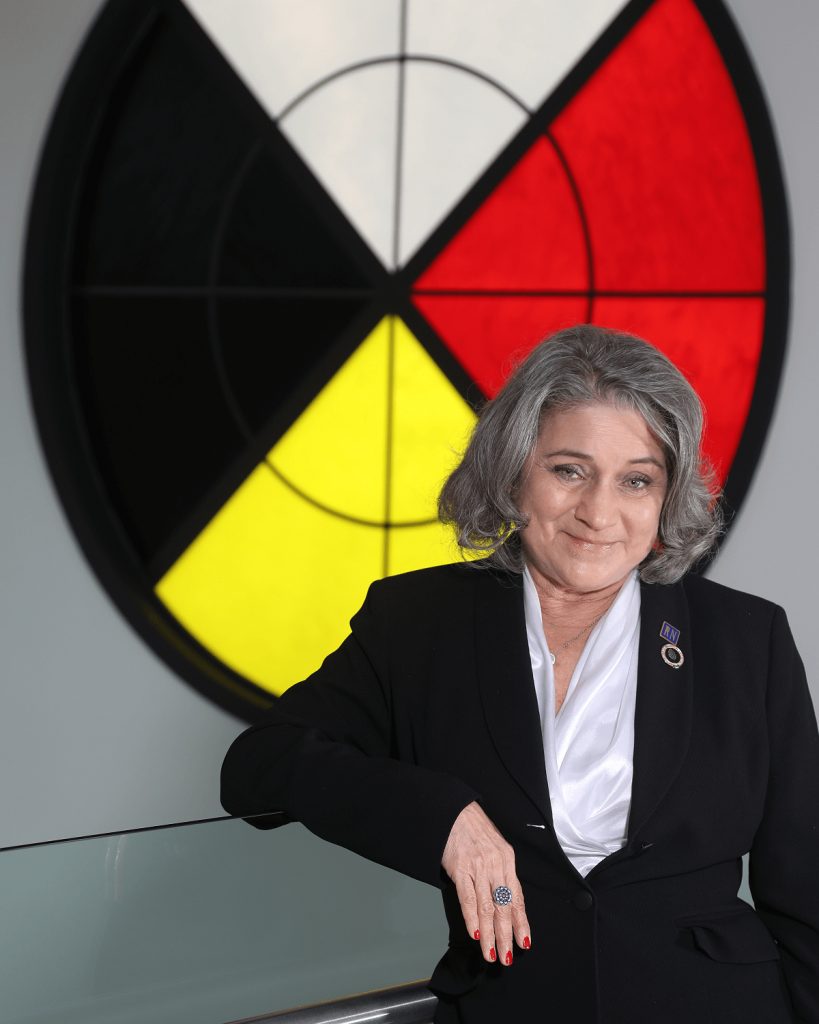 PEMBROKE, N.C. — Dr. Cherry Maynor Beasley of the University of North Carolina at Pembroke received the 2022 James E. Holshouser Award for Excellence in Public Service during today's meeting of the University of North Carolina Board of Governors.
The award honors faculty who exemplify the University's commitment to service and community engagement. Created in 2007 and renamed in 2013 to honor former Gov. James E. Holshouser, Jr., the award was designed to "encourage, identify, recognize and reward public service by employees of the University."
Beasley is the founding member of UNC Pembroke's Department of Nursing and served as the associate dean of health sciences and chief nursing officer of the McKenzie-Elliott School of Nursing, where she was also the Anne R. Belk Endowed Professor in Rural and Minority Health. Today she is the interim provost and vice chancellor for academic affairs.
Beasley has a rich history of family members who graduated from UNCP. She holds the distinguished honor of being the first Lumbee to have earned a baccalaureate, master' s and doctorate in nursing. After receiving her bachelor's degree from the University of Michigan in 1973, Beasley obtained a master's degree from University of North Carolina at Chapel Hill in 1978. She received a nurse practitioner degree from the University of South Carolina in 1998 and obtained a Ph.D. from East Carolina University in 2009. Today, she is an expert on the role of culture in health care decision making, rural health, diabetes, nursing and workforce issues and women's health.
She is passionate about health care and education for rural and underserved regions and has been instrumental in bringing high quality health care to her home in southeastern North Carolina. An educator since the 1970s, Beasley has taught at both North Carolina Central University and the University of North Carolina at Chapel Hill.
A veteran of the U.S. Army Reserve Nurse Corps, Beasley served her country for eight years from 1982 to 1990, rising to the rank of major in 1985. While in the service, she held positions as a school nurse with the Robeson County Health Department and served as a principal investigator for the Office of Minority Health.
In 1992, when UNCP launched its nursing program, Beasley became the school's first faculty member. Today, she is a prolific researcher, having written and administered multiple grants. In particular, she has focused her work on Lumbee health issues such as child development and breast cancer.
"The impact Dr. Beasley has made in this region is immeasurable," said UNC Pembroke Chancellor Robin Cummings. "With Dr. Beasley's education, expertise and work ethic, it's clear she's had options available to pursue, but she chose to come home — to southeastern North Carolina, to her Lumbee people — to make a difference in ways no one else could. She serves as proof to her colleagues of their ability to make significant contributions wherever they land in life."
Today, Beasley is a widely and internationally recognized expert in public health and has received many awards and accolades acknowledging her work. She was named the North Carolina Legislative Nurse of the Year in 2009. In 2017, she was honored with the Board of Governors Award for Excellence in Teaching. And in 2020, she was named a fellow in the American Academy of Nursing, one of the highest honors in the nursing profession. Beasley is the first UNCP faculty member to ever receive that award, joining an elite, worldwide group of only 2,700 nursing leaders.
"Through her life and work, Dr. Beasley has become an example of how our universities nourish the health of North Carolinians in the farthest reaches of our state," said UNC System President Peter Hans. "In an era of nursing shortages and other enormous challenges to public health, Dr. Beasley brings hope and light to her community. I thank her and congratulate her on this award."
"Dr. Beasley is a highly-trained and talented leader who chose to come home to serve the people of Robeson County," said Board of Governors Chair Randy Ramsey. "Her commitment to teaching, research and mentorship shows a deep passion for the wellbeing and development of her community — an attitude that represents the very heart of our University's mission. My sincerest congratulations to Dr. Beasley on this award."