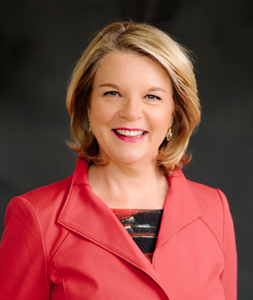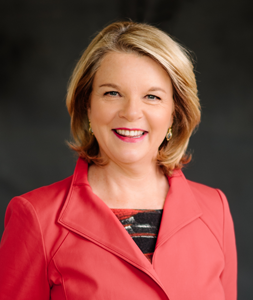 Margaret Spellings, President of the George W. Bush Presidential Center in Dallas, TX, and former U.S. Secretary of Education, was today (October 23) elected president of the 17-campus University of North Carolina during a special meeting of the UNC Board of Governors. Ann Goodnight and Therence Pickett, co-vice chairs of the 11-member Search Committee charged with bringing finalists to the full board for consideration, delivered the group's unanimous recommendation. Spellings, 57, will take office March 1, 2016, succeeding Thomas W. Ross, who is stepping down in January after five years in the post.
"Given her stature, proven intellect, skill set and passion for education, Margaret Spellings is perfectly positioned to lead the UNC system into the future," said Search Committee Chair Joan MacNeill, who was out of the country and unable to attend today's meeting.
Spellings has served as President of the George W. Bush Presidential Center since 2013. In that role, she oversees the operations of the former U.S. President's foundation, public policy institute, and, in collaboration with the National Archives and Records Administration, his presidential library and museum. Her work at the Bush Center includes the 2014 launch of the Presidential Leadership Scholars program, a one-of-a-kind leadership program born out of the first-ever partnership of multiple Presidential Centers. The nonpartisan George W. Bush Institute is focused on developing and implementing policy programs on leadership development, economic growth, education reform, human freedom and special initiatives focused on global women's issues and helping post-9/11 veterans and their families make a successful transition to civilian life.
Spellings was born in Ann Arbor, Michigan, but spent much of her childhood in Houston. She is a 1979 graduate of the University of Houston, where she earned a bachelor's degree in political science. She also received an honorary doctorate and Distinguished Alumna Award from the university in 2006.
Early in her career, Spellings served as legislative director and chief committee clerk for the Texas House of Representatives, special projects director for Austin (TX) Community College, and led governmental and external relations for the Texas Association of School Boards. From 1995 to 2000, she was senior advisor to then-Governor George W. Bush of Texas.
Following his election as President, Spellings served in key positions in the Bush Administration. As White House Domestic Policy Advisor, from 2001 to 2005, she led the development of the President's domestic policy agenda. Her areas of responsibility included education, transportation, health, justice, housing and labor. In that role, she oversaw the development of the U.S. President's Emergency Plan for AIDS Relief, the development of a comprehensive immigration plan, and numerous other initiatives.
From 2005 to 2009, Spellings served as U.S. Secretary of Education, the nation's senior policy official on all aspects of education—primary, secondary, and post-secondary. She oversaw an agency with an annual budget of nearly $70 billion and more than 10,000 employees and contractors. During her tenure she led the implementation of the No Child Left Behind Act, a national bipartisan initiative to provide greater accountability for the education of 50 million U.S. public school students.
As Secretary, she also launched a higher education national policy debate and action plan to improve the accessibility, affordability, and accountability of the nation's colleges and universities. In addition to developing and implementing international education agreements on behalf of the President, she also helped manage the federal role in the aftermath of crises including Hurricane Katrina, the credit crunch in the student loan industry, and the Virginia Tech shootings.
From 2009 until joining the Bush Center in 2013, Spellings was president and CEO of Margaret Spellings and Company, a Washington, D.C. consulting firm that provided strategic guidance on a variety of domestic policy matters, particularly those related to education and workforce issues. During much of this same period, she served as a president of the U.S. Chamber of Commerce Foundation, leading its initiatives to drive effective education and workforce training reform.
A U.S. Chamber of Commerce Fellow, Spellings currently serves on the Bill & Melinda Gates Foundation Education Advisory Board, the Goldman Sachs 10,000 Small Businesses Advisory Council, and the board of the National Endowment for Democracy. She also chairs the Board of Advisors for Ceannate Corp and is a director of the American Funds/Capital Research and Management Company and ClubCorp.
Spellings has two adult daughters.
Following her election as the UNC system's next President, Spellings told the Board of Governors: "I believe that there is no more important area of public policy than education. It is not an overstatement to say that education is not only fundamental to each individual North Carolinian, but to the success and future of this state, this country and to peace and stability in the world. I believe this with every fiber of my being, and that is why I will work tirelessly with all of you to ensure that each and every student in North Carolina has not only access to higher education, but the skills and abilities to fully access the American Dream."
Spellings' election was the culmination of an exhaustive, three-part search process that spanned seven months. A Leadership Statement Committee gathered input from faculty, staff, students, alumni, boards of trustees, the military, and others through four live-streamed regional public forums, an online survey completed by more than 4,400 individuals, a dedicated email address, and many informal consultations.
A Screening Committee then worked with Isaacson, Miller, an executive search firm, to conduct a nationwide review of potential candidates. More than 230 prospective candidates from the private sector, academia, government, and the military were screened. In September and October, a Search Committee interviewed 14 candidates and submitted four finalist names to the full Board of Governors for consideration.