University of North Carolina System remains committed to higher education affordability
In-state undergraduate tuition will remain frozen across the University of North Carolina System in 2023-24. This will mark the seventh year of flat, affordable tuition for North Carolinians at the System's 16 universities.
The University of North Carolina Board of Governors on Thursday approved tuition and fee proposals for the 2023-24 academic year, voting to continue holding undergraduate tuition flat for all North Carolinians. In-state students will also continue to benefit from NC Promise, a program that guarantees tuition of $500 per semester at Elizabeth City State University, Fayetteville State University, the University of North Carolina at Pembroke and Western Carolina University.
"Affordability is a bedrock value of the UNC System and an integral part of our strategic plan," said UNC System President Peter Hans. "Every qualified North Carolinian should be empowered to attend our world-class universities, to enrich their lives and build a brighter future for their families. I applaud our institutions, boards of trustees, and Board of Governors for supporting this vision and maintaining low tuition for our in-state undergraduates."
Some tuition increases were approved for graduate students and out-of-state students. Information can be found in the charts below and in the public materials on the Board of Governors website.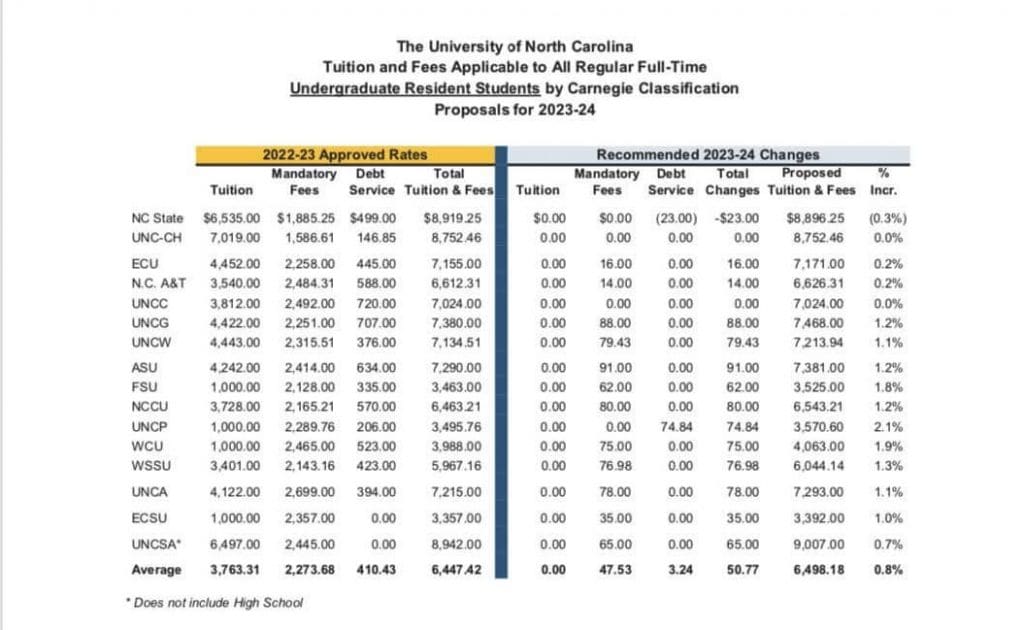 About The University of North Carolina System The University of North Carolina System enrolls 240,000 students at 17 institutions, including the state's 16 public universities and the nation's first public residential high school for academically gifted students. The UNC System is among the strongest and most diverse higher education systems in the country, with more than $1.8 billion in research expenditures and campuses that serve every region of the state. Affiliate organizations include UNC Health and PBS North Carolina, with its 12-station broadcast network.