Alternative Spring Breaks Give Students a Chance to Give Back
Contrary to what routinely plays out across TV and cinema screens, not every college student's idea of a spring break is to baste in SPF 30 under the scorching Florida sun.
Every year, students across the UNC System prove that fun and hard work aren't mutually exclusive pursuits. Rather than orchestrating the mid-semester break as a getaway blowout, these students use their time off to give something back in the form of service.
Many UNC System institutions organize formal "alternative breaks" for students who want to help others. Spring and fall breaks are critical to student success. The respite from classes always gives students a much-needed opportunity to catch up and recharge before the end-of-semester pile up of projects, papers, and exams. But people recharge in different ways, and the alternative break experience appeals particularly to those students who get energized when they contribute to bettering communities … those nearby and sometimes those in distant lands.
Spring Break 2019 was no exception.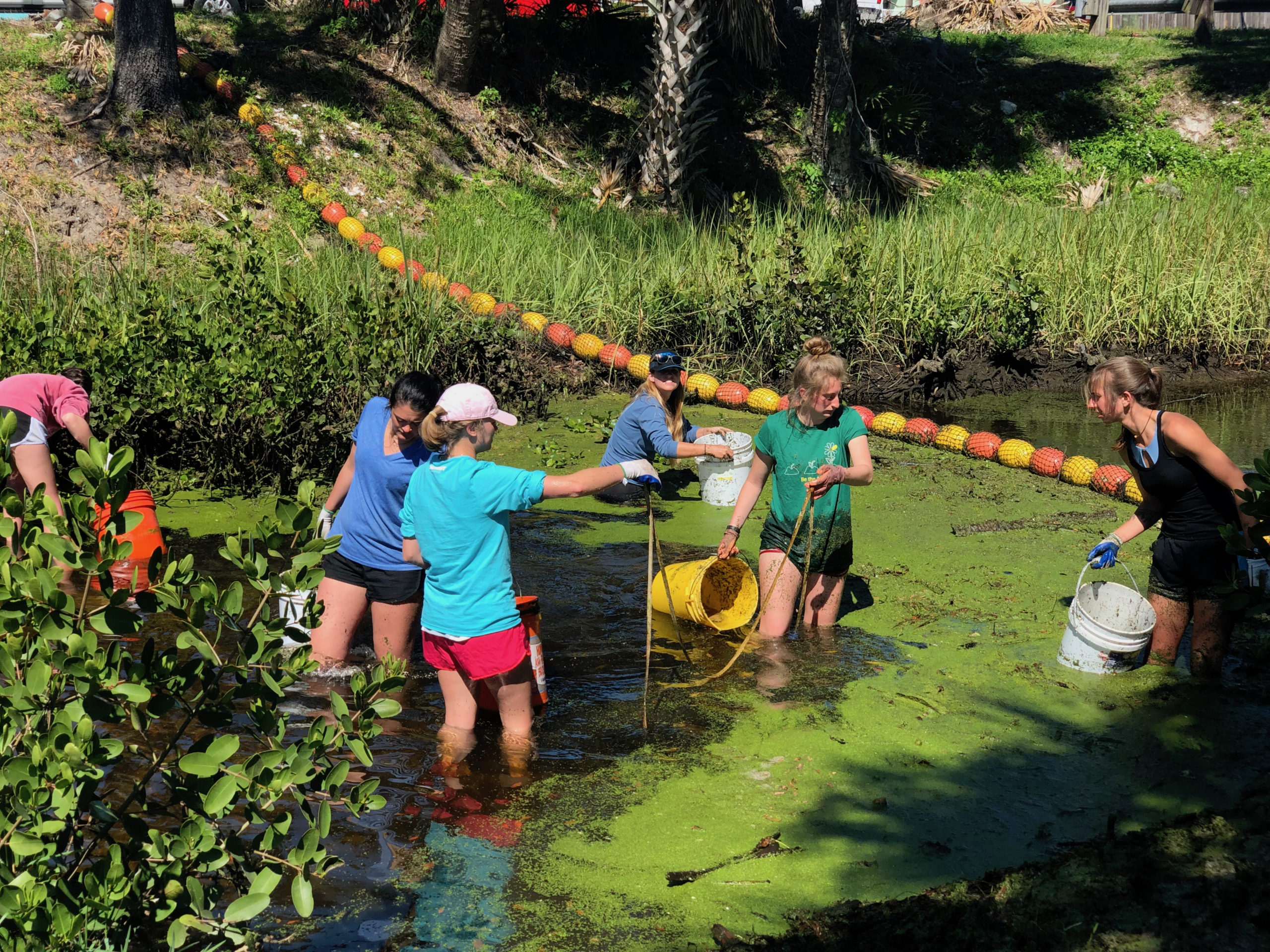 Mountaineers from Boone headed to the beach in Florida. But volleyball and suntans weren't their priorities. These Appalachian State University students worked alongside community partners from the Marine Discovery Center to remove trash and invasive plant species from a local waterway in New Smyrna Beach, Florida. The students learned how to clean a Watergoat — the yellow and orange floating device pictured in the background, which uses a net to collect trash while still allowing fish to swim through. As if climbing in the mucky water weren't enough, they also helped to organize, sort, and track the trash that was collected.
Service-minded Pirates from East Carolina University spent part of their spring break on a blustery, overcast Monday cleaning up Old River Road, near the Tar River. To organize the cleanup project, ECU partnered with AMEXCAN, a Greenville-based group that serves the Latino community across North Carolina. Another band of Pirates worked in a community garden; their efforts helped promote access to healthy foods in Wilson, NC. Still others ventured further afield to Puerto Rico. There, resident scholars spent their break repairing rooftops damaged by hurricanes.
More than 30 North Carolina Central University students traveled to Burgaw, NC, in Pender County, where they helped residents affected by Hurricane Florence clean up and rebuild. The students worked in and around homes, local churches, and businesses. The rebuild project was sponsored by the Pender Baptists on Mission Warehouse and arranged by the NCCU Office of Community Engagement and Service.
North Carolina State University students roamed to several locations, far and near. In Rwanda, students focused on cultural exchange and educational outreach. The Wolfpack visited a local school to get the children there excited to study STEM (Science, Technology, Engineering, and Math). Other members of the pack made an annual migration from Raleigh to Hoonah, Alaska. There, they gained a greater understanding of indigenous Tlingit history and culture by working in the local public school, the Hoonah Boys and Girls Club, and in a senior center. Closer to home, students travelled to Rutherford, NC, to help families in-need make urgently needed repairs on their houses.
Students from UNC Asheville travelled to Disneyworld. But these Bulldogs didn't spend all their time frolicking with oversized mice in a princess's castle. They participated in a rigorous leadership training program. In the program, the students focused on the issue of hunger and homelessness in Orlando, FL. They worked closely with United Against Poverty, an organization that provides Central Florida's working poor with educational opportunities, case management help, and job placement services to help them rise above poverty. Part of that work focused on helping to stock and reorganize the United Against Poverty store, which provides essential goods to those in need.
Over spring break, 50 students from UNC-Chapel Hill traveled across North Carolina and Alabama to help address social issues impacting various communities. Their projects ranged from assisting with hurricane relief in Belhaven to serving at a food pantry in Lumberton. The trips were part of the Carolina Center for Public Service's Alternative Spring Break course, which aims to enhance and deepen learning through meaningful collaborations with community organizations.
UNC Greensboro Spartans helped lead the fight against hunger in Washington, DC. There, students sorted through donations to the Capital Area Food Bank as part of the 2019 Alternative Spring Break trip, organized by UNCG Housing and Residence Life.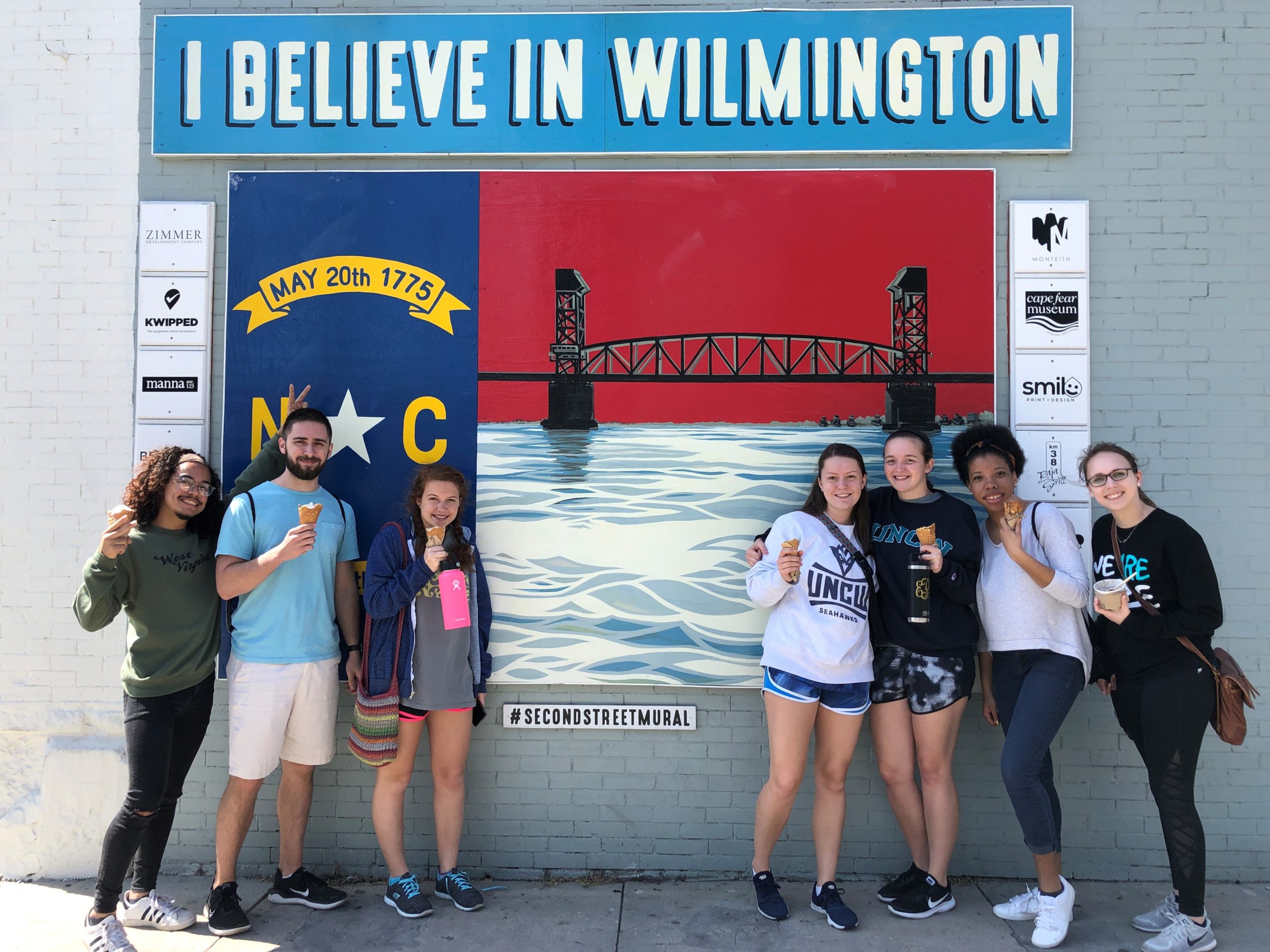 At UNCW, 14 students participated in two alternative spring break trips organized by the Office of Student Leadership and Engagement (OSLE). Half of them journeyed to Atlanta to serve at an emergency and transitional facility for homeless women and children through Restoration ATL, a nonprofit focused on mission experiences in the city.
The other half remained in Wilmington to continue OSLE's commitment to helping organizations in their long recovery from Hurricane Florence. These Seahawks tackled hands-on projects for the Good Shepherd Center and Cape Fear Habitat for Humanity. In the process, these students explored the community the university calls home.
Whether participating in formal alternative break experiences or striking out on their own to volunteer in their hometowns, those who took service breaks in spring 2019 demonstrated a powerful lesson: rejuvenation, learning, and community engagement can all go hand in hand.
As ambassadors of the UNC System, their hard work reflects how North Carolina's public universities remain committed to helping communities in all 100 counties … and beyond.