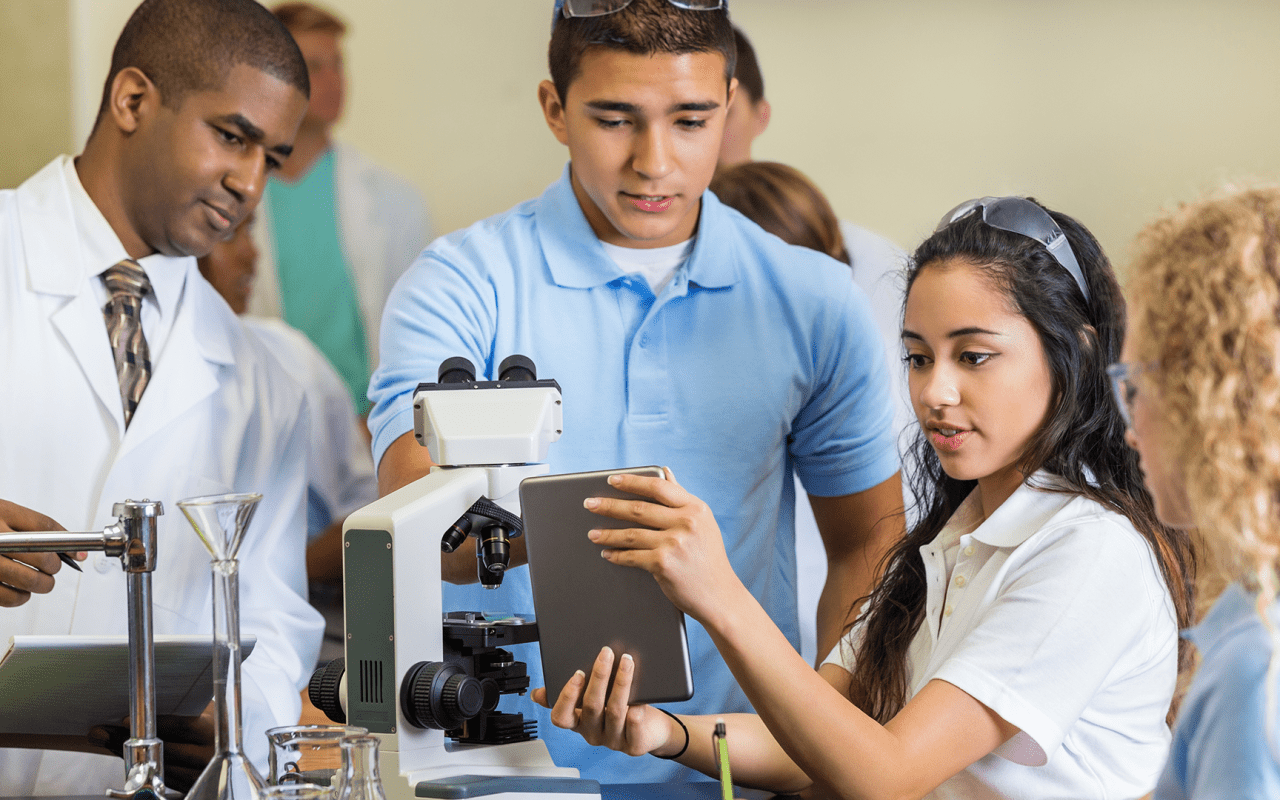 NC Teaching Fellows Program Accepting Applications
Ally Gagnon is a first-year student at North Carolina State University with a penchant for the sciences … all of them. With her talents and a particular interest in biology, she could easily settle into a plumb career in pharmaceuticals somewhere in the Research Triangle Park. Instead, her professional ambition is to teach high school in rural North Carolina, perhaps in her hometown in Summerfield.
She is passionate about learning, and she wants to pass that passion on.
"In high school," she explained, "a lot of students would say, 'I hate school … I hate class.' But I've always loved learning, and I'd sit there confident that I could teach things differently. I could make lessons so much more fun for students to learn."
Passion for teaching is one thing. Following through on those dreams is quite another. When she was making college plans, Ms. Gagnon knew she wanted to teach, but she didn't know if a career in education was worth the investment of tuition dollars. Serendipitously, the North Carolina General Assembly reinstated the popular North Carolina Teaching Fellows Program just as Ms. Gagnon was contemplating her higher education options.
"It seemed like fate that they rebooted the program just as I was making my plans, and it pushed my final decision."
Administrators for the Teaching Fellows Program hope to see more students like Ms. Gagnon apply to the program this year. Applications for the 2019-20 academic year need to be submitted by January 7, 2019.
Support for Tomorrow's Classroom Leaders
The North Carolina Teaching Fellows Program offers merit-based, competitive forgivable loans to students interested in pursuing careers in teaching. Fellows must commit to teaching in a STEM field (Science, Technology, Engineering, and Mathematics) or special education licensure area. In return, they receive $4,125 per semester for up to four years as they complete their teacher preparation program at one of three UNC System partner institutions: UNC Greensboro, NC State, or UNC-Chapel Hill. Elon University and Meredith College are also partnering institutions.
Recipients have ten years to repay the loan, but this loan is wholly forgiven once fellows complete at least two years of employment at any North Carolina public school or one year at a North Carolina public school identified as low performing for each year that a recipient received an award.
Fellows reap more benefits than just the substantial forgivable loan. The program also provides a variety of leadership development opportunities.
Fellows reap more benefits than just the substantial forgivable loan. The program also provides a variety of leadership development opportunities. These include seminars, enrichment opportunities, and service learning activities.
"Even without the forgivable loan, I would still love to be a teaching fellow because of all the experiences," said Ms. Gagnon. "The speakers get us excited about being there for our students, and being part of a community with others who want to teach gives us a network to bounce ideas off of."
Extending Benefits to All North Carolinians
Ms. Gagnon is just the sort of teacher North Carolina needs today: studious, skilled in STEM disciplines, and eager to serve low-performing schools in underserved regions of the state. By attracting talent of her caliber, the Teaching Fellows Program has an impact that reaches well beyond the recipients of its loans. It benefits North Carolinians in every corner of the state.
Originally established in 1986 and re-established in 2017 with a new emphasis on recruiting and retaining teachers in STEM and special education, the program offers top students measurable incentives to teach in the subject areas of most need.
In addition, by adding incentives to teach in low-performing schools, administrators expect the program to encourage the next generation of teachers to embrace work in these schools as a rewarding, career-defining choice, not as a short-term service obligation.
To bolster these efforts, the General Assembly also forged a partnership between the Teaching Fellows Program and the North Carolina Teacher Support Program (NCTSP) to capitalize on the work that NCTSP has done to ensure that beginning teachers have access to the resources they need to be effective in the classroom. This professional support will play a critical role in helping school districts retain their best talent.
The UNC System's deep involvement with Teaching Fellows reflects the University's ongoing commitment to Higher Expectations, particularly the Strategic Plan's goal of increasing the number of high-quality K-12 educators for North Carolina, especially in underserved areas.
"Our collaboration with the NC Teaching Fellows Program is vital to the University's work on its most critical priorities: making sure that students in all 100 counties have access to high quality public education at every level and preparing future generations to succeed in the STEM fields that drive so much of our modern economy," said UNC System President Margaret Spellings. "Science and technology industries are transforming our state. The Teaching Fellows program will ensure that, from a young age, every North Carolinian is primed to succeed in these rapidly evolving industries."
The Most Important Career
In its effort to strengthen teacher recruitment in North Carolina, the Teaching Fellows Program is open to a diverse pool of applicants: high school students, college and college transfer students, and individuals who already have a bachelor's degree and who wish to pursue coursework for teacher licensure.
"North Carolina Teaching Fellows is not just a teacher recruitment program," said Sara C. Ulm, director of the NC Teaching Fellows Program. "It is a hallmark for teaching excellence in our state, one that ignites the passion of aspiring educators and fuels their abilities as leaders. Teaching Fellows are prepared to serve and make their mark in areas of critical need. To be a Teaching Fellow is to be a life changer."
As an aspiring teacher looking at the program from another angle, Ally Gagnon agrees. It takes a certain type to lead a classroom—someone with creativity; someone with dedication; someone with passion.
"A lot of people view teaching as a fall back option," she said. "They tell themselves, 'I don't know what else to do with my degree, so I guess I'll teach high school.' But teaching shouldn't be like that. It's an important career, if not the most important career. You need a little bit more than a college degree to become a teacher."
By opening doors for a wide array of applicants, at different stages in their academic pursuits, the program will ensure that future K-12 students encounter many diverse faces, each embodying North Carolina's teaching excellence in a different way.
Aspiring teachers interested in applying for a fellowship or finding out more information are encouraged visit the program's website and complete their application by January 7, 2019.