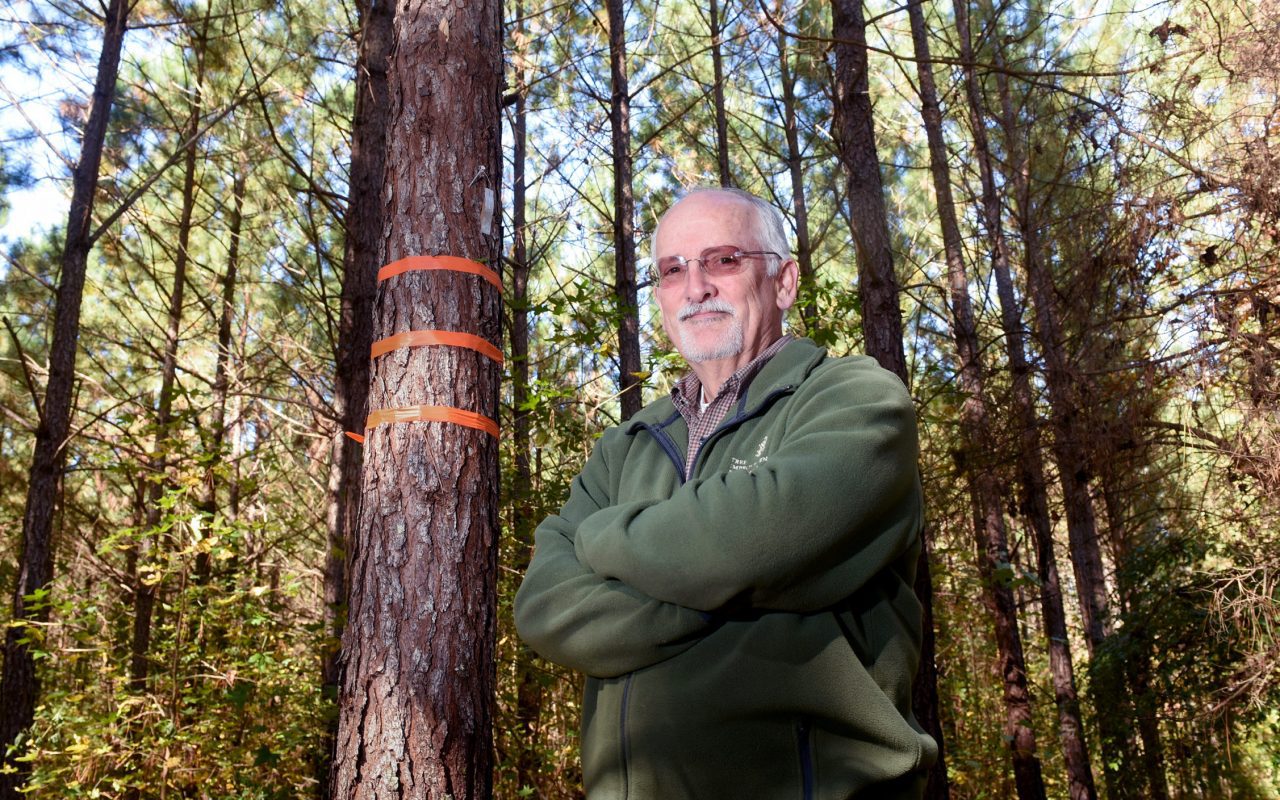 CHAPEL HILL, NC – Steve McKeand, professor of forestry and environmental resources at North Carolina State University, has devoted his long academic career to making the state greener – in both an ecological and economic sense.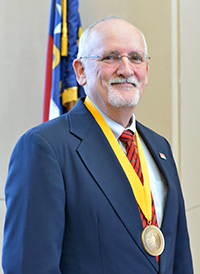 High Resolution Download
His long record of service inside and outside of the classroom has earned McKeand the James E. Holshouser Jr. Award for Excellence in Public Service from the University of North Carolina Board of Governors. The award, named in honor of the late North Carolina governor, was established in 2007 to encourage, identify, recognize and reward distinguished public service and outreach by faculty across the University system. It includes a $7,500 cash award.
"I'm surprised and thrilled," McKeand said. "Considering how many faculty members in the system are committed to public service, I couldn't believe it at first."
In addition to his faculty role, McKeand serves as the director of NC State's Cooperative Tree Improvement Program. He has dedicated more than three decades to basic and applied tree genetics, helping to make NC State the world epicenter for tree improvement and tree breeding.  North Carolina's forest industry has benefitted from McKeand's work through larger, healthier harvests and more sustainable forests.
NC State is the only university in the United States where formal classes in forest genetics are taught.
"Dr. McKeand is first and foremost a gifted teacher in both the classroom setting and public forums," said NC State Chancellor Randy Woodson. "He is an outstanding scholar whose research has provided him with the intellectual grounding for an extraordinary public service record and long-term impact on the state's economy."
The forestry products industry remains North Carolina's top manufacturing industry. There are more than 1,000 companies directly contributing to North Carolina's forest economy, employing over 70,000 individuals. Industrial output from the forestry sector contributes $18.5 billion in gross sales, and pays a total of $912 million in local, state and federal taxes. Factoring in the multiplier effect commonly used in economic studies, the forestry products industry has an estimated $29.4 billion impact on the state's economy.
McKeand's Tree Improvement Cooperative Program, or TIP, has hosted post-docs and visiting scientists from 34 countries on five continents. His program has impacted commercial forests across the globe by breeding superior trees. Working with scientists from across the world has helped McKeand increase the technical knowledge in breeding programs that benefit forest owners and managers in North Carolina.
"We talk all the time about the impact of research and service from our faculty, and in the case of Steve McKeand, that impact is literally growing every day," University President Margaret Spellings said. "There are forests across our state and across the world that are healthier, more productive, and more sustainable thanks to the patient and dedicated scholarship of Dr. McKeand. He has a willingness to get out into the field and make public service a way of life. Dr. McKeand isn't just one of the finest tree geneticists in the world – he's also a highly effective teacher and advocate for better forestry practices."
McKeand routinely engages the public through lectures at regional, national and international scientific conferences, as well as workshops and short courses tailored to the public. He spends up to 25 weeks a year visiting with clients and landowners on various tree improvement and forestry activities.
McKeand earned his doctorate in forest genetics from NC State in 1983 after receiving his bachelor's and master's degrees from Purdue University. He has spent his entire teaching career at NC State, rising through the academic ranks to full professor. He served as director of graduate programs in the Department of Forestry from 2000-2003 before becoming director of TIP in 2005.
He has received numerous honors and professional recognitions, including the NCSU Norman E. Borlaug Excellence in Service to Society and the Environment Award (2006); the NCSU Outstanding Extension Service Award (2014); and the Forest Landowners Association Extension Forester of the Year Award (2016). He also was inducted into the NCSU Academy of Outstanding Faculty Engaged in Extension and Engagement in 2014.
McKeand and his wife, Louise, a science teacher at Millbrook High School in Raleigh, plan to donate the award money to start a scholarship fund that encourages Millbrook students to attend NC State's College of Natural Resources.