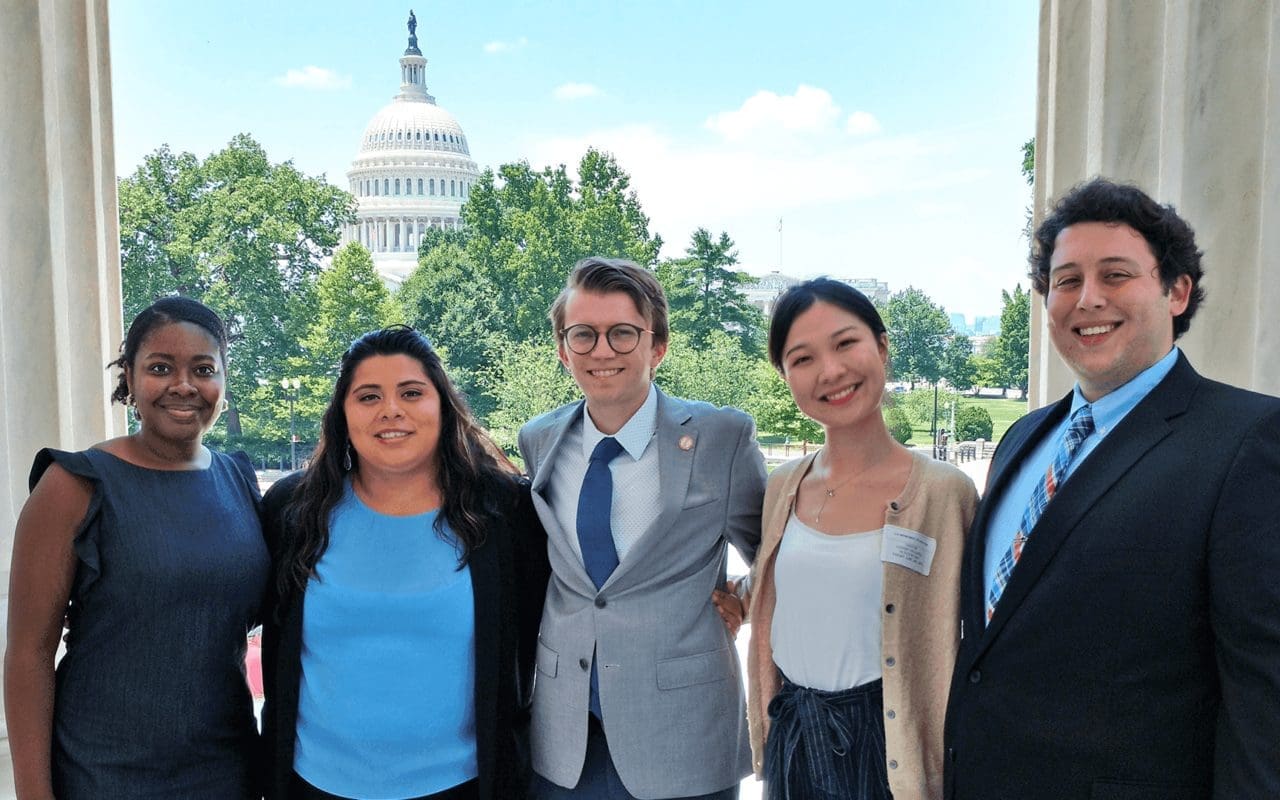 The lobby at the UNC System Office tends to be a rather solemn space. The space features a baby grand piano, but it stands silently. Visitors and staff hastily breeze through on their way to meetings, but they rarely stop and talk. Even when they do pause to chat, the conversation is typically conducted in half-whispers. But on July 12, a bustle of activity replaced the usual quiet. Five resourceful and charismatic students from the UNC System came to share ideas about how to strengthen North Carolina's education systems.
The Marian Drane Graham Scholars Program provides rising juniors and seniors in the UNC System with an immersive learning experience designed to help them develop leadership skills and gain a better understanding of key issues facing public higher education. This year's five scholars had spent eight weeks embedded across different state agencies. Over the course of their internships, they worked closely with site supervisors and System Office staff. In addition, visits with key policy leaders in North Carolina and in Washington, DC, provided them with insight on how to launch a career in public service.
The scholars didn't just acquire boots-on-the-ground experience working at their placement sites. They also spent the summer collaborating with members of the System Office staff and a faculty advisor from their home institutions to develop a final research project.
On this sweltering July morning, the Marian Drane Graham Scholars reported their findings. System Office staff, administrators and faculty, and family members gathered around to hear what they had to say. The scholars had spent eight summer weeks learning about innovative leadership; at the convening, they clearly relished the opportunity to demonstrate their innovative leadership.
Tomorrow's leaders rethink today's challenges
The program, which began in 2013, is named for Marian Drane Graham, the wife of Frank Porter Graham, the first president of the state's consolidated university system, who led the University from 1930 to 1949. The program's namesake reflects its emphasis on pairing scholars who are passionate about education policy and public service with agencies in North Carolina.
This year's scholars are an impressive and diverse group indeed. Embedded in five different offices across the state, they represent four different System institutions and three unique degree majors. Collectively, they embody the optimism, insight, and leadership North Carolina will depend on to lead its schools into the mid-century.
Matthew Angerson majors in political science and peace, war, and defense at UNC-Chapel Hill. He spent his summer working at the NC Community College System Office and researching how the UNC System could make better use of assistive technology systems to create more accommodating class space for students with disabilities.
Nya Anthony studies political science and communications at UNC-Chapel Hill. She worked with the NC Department of Military and Veterans Affairs and focused her research on measuring how student retention rates at the UNC System's Historically Black Colleges and Universities (HBCUs) compare with data from the System's predominantly white institutions.
Jennifer Gamez studies middle-grades education at UNC Wilmington. Gamez, placed at the Department of Public Instruction, focused her research on measuring the percentage of Hispanic/Latinx teachers throughout North Carolina's local education agencies.
Lorcan Neill studies political science and communications at NC State University. He was positioned with the NC Business Committee for Education through the NC Governor's Office, where he became interested in researching the effectiveness of NC State's academic and professional support systems for students with autism spectrum disorder.
Ruohong (Katherine) Wang studies finance at UNC Pembroke. While placed at Go Global NC, she researched the effectiveness of institution-level engagement initiatives designed to integrate international students into the campus community.
"When we work with Marian Drane Scholars, we really think about what we can do to benefit them … to help them discover what their scholarly and professional interests are," explained Dr. J.J. Evans, the NC Community College System's associate director for student life. For many years, Evans has mentored scholars in the program, and this year he worked closely with Matthew Angerson. "We are really interested in exposing the scholars to all the problems and possibilities in education. The experience might just open new doors and expand their options."
But the students aren't the only ones who benefit from this working arrangement. These five recipients represent the University's finest, all of them rising to the top of a highly competitive pool of applicants. Naturally, the crème de la crème adds a new, complex flavor to whatever it's added to.
Any agency can become stagnant with time, and these students inject a youthful viewpoint," explained Joseph Foster, the NC Department of Public Instruction's (DPI) coordinator for district human resources. "They are in education. They are living these concerns, so they bring passion and fresh opinions with them.
"For example, I was Jennifer Gamez's point of contact at DPI," Foster continued. "She was inspired to do her research when she realized that that, over the course of her K-12 career, she'd not had a single Hispanic teacher. Her research got us thinking in new ways about how our state's teachers need to reflect the state's diverse student body."
HOW EDUCATION WORKS, AT EVERY LEVEL
The scholars had plenty to keep them busy this summer, alternating their time between working individually at their placement sites and gathering together to share professional development days.
These professional development days unfolded at a variety of locations, where the scholars accumulated sage advice on how to pursue a career in leadership and education. The group gained exposure to the complexities of University operations at every level after meeting with UNC System Office staff, visiting East Carolina University, and attending a meeting of the Board of Governors of the UNC System.
In one event-filled day in Washington, DC, the scholars met Kathryn Walker—a former UNC System Presidential Scholar, who now works at the Department of Education—and with staff members in Rep. Virginia Foxx's office. Later in the day, the scholars toured the Supreme Court, the Library of Congress, and Smithsonian Museums.
Altogether, these professional development days helped the scholars develop a more comprehensive vision of the public education landscape.
AN EXCHANGE OF IDEAS
This year, the System Office staff overseeing the Marian Drane Graham Scholars Program instituted some significant changes to make the scholars' experiences more rewarding.
The program was extended from six weeks to eight, allowing the scholars more time for rigorous research and more experience in the field. More noticeably, this year the research presentations took the form of poster board kiosks rather than formal presentations.
"We liked the idea of giving the students a chance to interact one-on-one with their audience," explained Kimberly Mitchell, UNC System director for Student Development and Association of Student Government advisor. "This new forum gives them more flexibility to present their findings and answer questions, and it also gives System Office staff a better sense of all the hard work that went into each of these capstone projects."
On July 12, the benefits of this new arrangement became obvious. For three hours, the din of conversation filled the UNC System Office lobby space, which typically functions as a public thoroughfare. Scores of curious visitors stopped, listened, and talked.
The lively dialogue brightened the building more ways than one. The presentations all touched on central goals of the UNC System Strategic plan: college access and affordability, student success, and educator preparation. The insight, creativity, and hard work on display made it abundantly clear that, with these five individuals leading the way, the North Carolina's future will be in good hands.
Mentors came to support the scholars. Experienced System Office staff came to hear new perspectives on how to improve public education for future classes. In this way, the convening embodied a driving principle animating the Marian Drane Graham Scholars Program specifically and the UNC System more generally: the belief that "the opportunity to learn and achieve is the fundamental promise one generation makes to the next."