Taking a cursory look at his neighborhood of Warnersville in Greensboro, it's very easy to see why James Griffin has had a lifelong passion for serving his community.
It's a passion for which Griffin, 50, who serves as the special purchasing agent for North Carolina Agricultural & Technological State University, has been awarded the 2015 Erskine Bowles Community Service Award.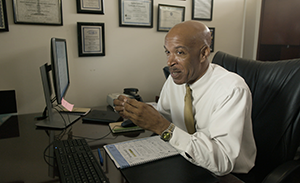 "It means a great deal to me, because a lot of times I do things for the community and for the university. I just do them; to be recognized by my peers is just tremendous," said Griffin, a graduate of North Carolina Central University. "You don't do it for the recognition."
At the end of the Civil War, some 35 acres of land was purchased south of Greensboro as the first African-American neighborhood in the state. Griffin's family owned land in the neighborhood for a century, and growing up in Warnersville shaped him in a variety of ways.
Griffin learned to have a passion for serving the community through his mother, Constance, who served as a community leader for decades. She worked as an assistant director with the city's parks and recreation department until her retirement, and the community center served not only as a place for meetings and recreation, but also where a sense of unity was fostered. Today, a softball field in the community is named in her honor.
"I pretty much watched her all my life, taking all that in," Griffin said. "In college, I noticed I began to take a leadership role, be involved in community service events. And from there it just grew. Whenever I worked somewhere, I'd always take on that extra role for involvement in the community. It was prominent to me at a young age from my mother's activities."
That sense of community prospered even as Warnersville underwent massive changes during the 1960s as part of forced urban renewal by the government. Griffin and his family were forced to move from the house he grew up in to a different residence located on the same street.
That experience continues to have a profound effect on Griffin, whose job it is to acquire land to help North Carolina A&T grow its footprint in Greensboro. Sometimes, doing his job means acquiring property from a family still living in a residence in an area where the university hopes to expand, and Griffin said he's very sensitive to the needs of that family.
"When I'm buying real estate sometimes, I think about that," he said. "I'm more sensitive to people's needs and concerns, because I never force or try to get anybody to do anything that they don't want to do."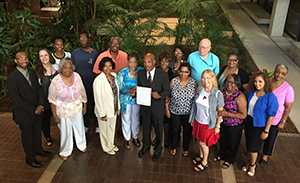 Man With a Plan
Griffin often is able to convince his colleagues and administration to go along with his plans and ideas because he spends so much time preparing to make his case. Once he commits an idea to paper, he sets about getting it accomplished.
"If I write something down, it has to be done," he said with a laugh.
North Carolina A&T Chancellor Harold Martin said it's that sense of determination that has made Griffin so effective in his duties and such a leader on campus. In addition to his regular job and his volunteer work, Griffin currently serves as chairman of the staff senate.
"James rarely takes no for an answer. He's pretty persistent, quite honestly. In all of our meetings, he would always have an agenda. He's always organized. He's very clear about what he's trying to accomplish, and I like that about him. I'd say he borders on the side of pushy and demanding, attributes I like very much in a leader."

North Carolina A&T Chancellor Harold Martin
Not only does Griffin use that side of his personality for work projects, but also to convince fellow staff to work within the community.
"He utilizes those talents and that leadership to connect our university as chair of our staff senate, and utilizes the talents of our staff senate to volunteer extensively in this community," Martin said of Griffin's work with parents, students and teachers in the Greensboro school system. "He also works very closely with our staff to give of their time and their treasure in collecting food and money to invest in those communities for those who are hungry, those who are homeless — again to help support this community in general. James brings the very best of values and experiences to our community and university."
Shalane Griffin (no relation to James), service contract manager at the university, is one of the staff members who nominated him for the Erskine Bowles Award.
"I saw that his passion for giving back and community service spilled over in the workforce," she said. "When I heard about the Erskine Bowles Award, knowing you have people who do great things in the community, I thought that's a great fit. … I didn't seen how they could choose anybody else with his name (on the ballot)."
Shalane Griffin and James Griffin grew up together in the Warnersville neighborhood as children, and she knows where he gets his sense of community spirit.
"I knew his mother, and I knew how she worked in the community, and I see her in him every time he's talking and striving toward something," she said.
In her nomination letter, Shalane Griffin wrote: "…that those leadership attributes were ingrained in James because he has continued to render exceptional service to that same community today."
She said James Griffin is clear when he wants the staff to know his expectations of them.
"He's one of those leaders who can motivate," she said. "He can give (an assignment) to you to do, and he expects it to be done. As far as it being in a leadership capacity, I see it carrying over to his job. … He makes his goals very clear. You want to do what he says, because he has a purpose behind them. He's not doing stuff to be seen, he's doing stuff to lead to something bigger."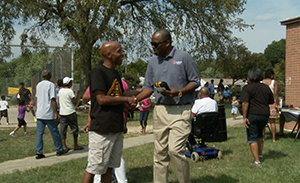 Preserving His Passion
Beyond the volunteer hours he gives to the community each year, Griffin was also instrumental in making certain that Warnersville gets its just due.
He founded the Warnersville Historical and Beautification Society to help maintain the neighborhood, and helped create an award-winning exhibit at the Greensboro Historical Museum.
Griffin and others helped establish the Shalonda Pool Memorial Site in the neighborhood, honoring the memory of a 7-year-old murder victim who lived in Warnersville. He also helped create a music festival for the community.
"James is obviously very involved in the Warnersville community," said Jon Zachman, curator of collections for the museum. "There's been a resurgence of interest in Warnersville because of James spearheading the effort."
Zachman said Griffin was key in bridging the gap between the neighborhood residents and those putting together the exhibit, encouraging people to loan the museum old photographs and artifacts as well as share their stories.
"I think the establishment of the Warnersville community museum to me is definitely one of the highlights," said Griffin, the youngest of six siblings to grow up there. "The Warnersville community is 150 years old. It's the first African-American community planned for the city of Greensboro. Eight years ago, I started the Warnersville Historical and Beautification Society with the goal of making Warnersville a nationally recognized community. This year, the city council approved Warnersville as the first heritage community in the state of North Carolina. So that was a big achievement."
A Giant Footprint
Under Griffin's leadership, the North Carolina A&T campus has grown by about 35 acres over the past decade, with little plans to slow down any time soon.
To judge Griffin by the merits of how he does his day-to-day job would be impressive enough, but in fact he concerns himself in many different aspects of life at North Carolina A&T.
That includes everything from encouraging staff and faculty with music talent to participate in the music festival to coming up with ways to support the school's student-athletes in sports that are less visible than the football and basketball programs.
"James has been involved in our staff for many, many years, but in the last six years or so, he has been a leader among members of our staff senate, now serving as chair of our staff senate," Martin said. "For James to be recognized for his significant leadership role in community engagement, both in this community, our campus and through our system with the staff senate, it's very meaningful to our campus, especially being a good example for our staff senators in the future."
Griffin said he looks for ways to link the university's Mission 2020 strategic plan with the Greensboro community.
"Part of the chancellor's Mission 2020 was to engage the community," he said. "I took that to heart. So just about in every way, I think of ways I can involve the university in some way."