East Carolina University has signed co-admission agreements with five more North Carolina community colleges this spring, bringing the total number of Pirate Promise partner colleges to 35.
Aimed at improving transfer student access and success, the program allows students to apply to a participating community college and ECU simultaneously. Upon completing an associate degree at the community college, they can seamlessly transition into degree-completion programs at ECU.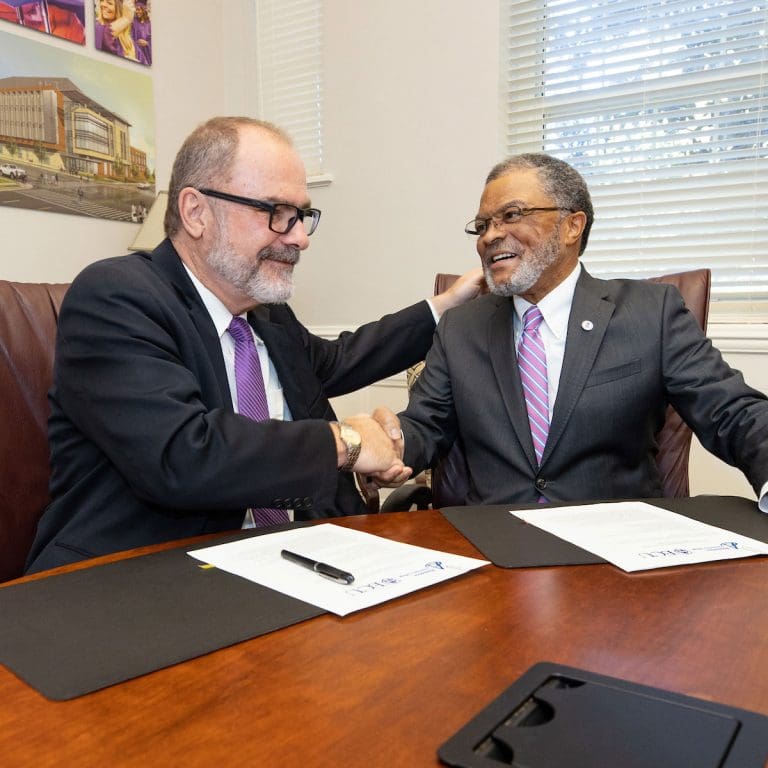 Fayetteville Technical Community College, Rockingham Community College, Robeson Community College, Southeastern Community College and South Piedmont Community College all joined the program during the spring semester.
Interim Chancellor Ron Mitchelson said ECU has had longstanding and productive partnerships with many of the colleges in the program, which was created in 2018 and represents the next step in ensuring that all North Carolina students have access to a college pathway that meets their needs.
"The transfer pathway is a great option for students, who stand to save a significant portion of their overall cost for earning a four-year degree, and it benefits both ECU and its partnering colleges," Mitchelson said. "We find transfer students to be well prepared for life and class at ECU, and we welcome them as Pirates!"
Transfer students make up about 30% of ECU's student body, Mitchelson said.
A national report from the Educational Advisory Board found that completing the first two years of a four-year degree at a community college can save a student $43,000. Other benefits to students include access to ECU libraries and programming through the ECU Office of Student Activities and other organizations, ECU 1 Card eligibility, joint financial aid counseling and micro-scholarship opportunities, joint academic advising, and a waiver of the ECU transfer application fee.
"A relationship has been created that provides far more opportunities for our students early on to engage with ECU faculty and staff as they continue forward in the latter two years in the baccalaureate process," FTCC President Dr. J. Larry Keen said. "They get a great start here and then, with ECU, their success is almost assured."
In addition to the five colleges that signed on this spring, the Pirate Promise program includes the following community colleges: Beaufort County, Central Carolina, Carteret, College of the Albemarle, Craven, Edgecombe, Halifax, Johnston, Lenoir, Martin, Nash, Pamlico, Pitt, Roanoke-Chowan, Sampson, Wayne, Wilson, Brunswick, Cape Fear, Wake Tech, Montgomery, Richmond, James Sprunt, Blue Ridge, Coastal Carolina, Piedmont, Alamance, Bladen, Gaston and Vance-Granville.