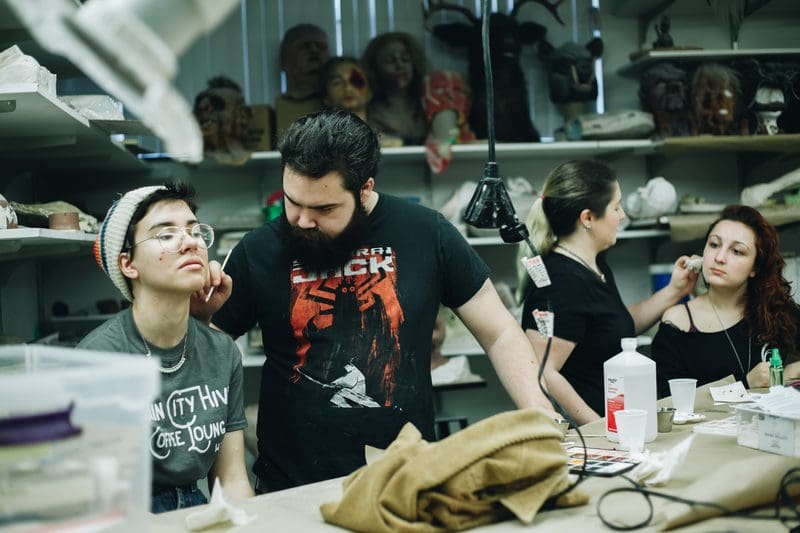 It's safe to say that Halloween will look eerily unfamiliar this year, and many North Carolinians will simply decide to mothball their costumes until 2021.
What's a soul to do, faced with the prospect of trying to celebrate one of the most social of holidays while maintaining safe distancing protocols?
Not to fear. The UNC System is helping to kindle the thrills and chills that North Carolinians can enjoy from the safety of their own homes … if they dare.
UNCSA Horror Makeup Effects Aren't Just Hair Raising … They're Also Lifesaving
This autumn, North Carolinians with a taste for the macabre have probably already had their eyes fixed on the work of Jonathan Majors. The UNC School of the Arts alumnus has earned hefty praise for his lead role in Hulu's new horror series, Lovecraft Country.
But UNCSA students don't just learn how to scare us with compelling performances in front of the camera. They also play critical roles behind the scenes. Take, for example, Tanase Popa, producer of the much-talked-about Netflix series Ratched; and director David Gordon Green and Danny McBride, executive producers of the highly successful 2018 reboot, Halloween.
October is the month when the work of makeup and prosthetic artists, in particular, plays a front-and-center role, transporting viewers into strange and terrifying realms.
Recently, Holland Berson, director of the Wig and Makeup program in the UNCSA School of Design and Production, offered her list of ten films every makeup artist should see. The films, which run the gamut from horror classics to political dramas, give some indication of the broad range of skillsets her students learn.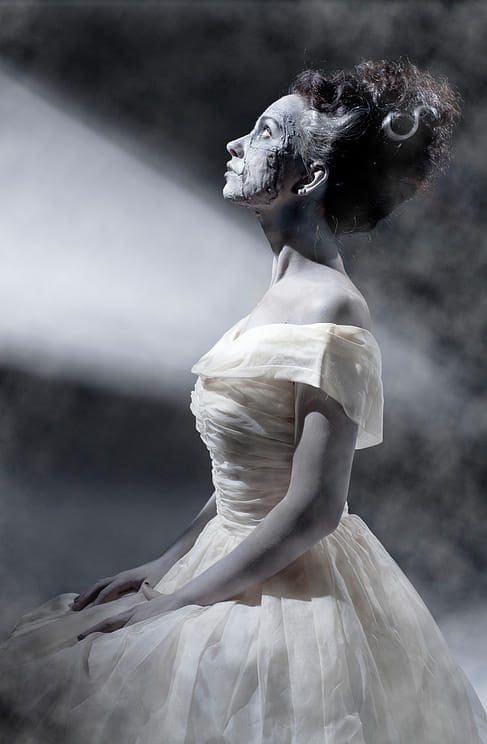 Undergraduate students in the program study everything — wig making, hairstyling, makeup, and prosthetics — up until their senior year, when they choose a concentration. This structured movement from broad knowledge to concentrated specialization gives each student an opportunity to build up a portfolio that highlights an area of expertise. MFA students in the program culminate their studies by running a show and creating a thesis project.
While none of the undergraduate program coursework focuses specifically on horror effects, the grotesque and the bizarre is woven into every class, so students understand the full potential of their craft. To this end, Berson encourages all of her students to study two horror films that stand as quintessential examples of all that's possible through makeup design.
She singles out Tim Burton's comedy-horror classic Beetlejuice (1989) as an example of work done at such a large scale that the makeup and prosthetic effects veer into puppetry. The visual effects completely immerse viewers in a strange, fantastical world. Berson also notes that Beetlejuice is one of the first prosthetic-focused films to be designed by a woman, a bit of trivia she hopes can serve as an inspiration for her female students.
Berson's second recommendation "falls on the creepier end of the spectrum": John Carpenter's version of The Thing (1984).
"Carpenter had a small crew and not a lot of time, but the effects are so big and weird. What I want students to appreciate is that, if you know what your options are, you will be prepared to make something out of nothing. Be prepared to make do. If you play around with what you have, you can create some really big effects," Berson explained.
UNCSA students whose tastes lean toward the shocking no doubt feel awestruck when they get to work alongside one of the masters of the genre. Before stepping in as director of Visual Effects and Immersive Media in the School of Filmmaking, Bob Keen supervised the visual and makeup effects on a number of horror classics, including the Hellraiser franchise, Little Shop of Horrors, Candyman, Waxwork, and others.
Of course, not every student shares Berson's and Keen's fondness for the bizarre, so the program is designed to harness every student's interests.
"Project assignments give students guidelines as far as the materials they use, but beyond that they can choose where their projects lead and where their portfolios go," explained Berson. "If students are interested in gore and horror, their portfolios can focus on that. If their tastes are more serene, they can explore other styles and effects … like changing Charlize Theron into Megan Kelly [for the film Bombshell]. I want them to explore and figure out what their work can look like before they go out into the field."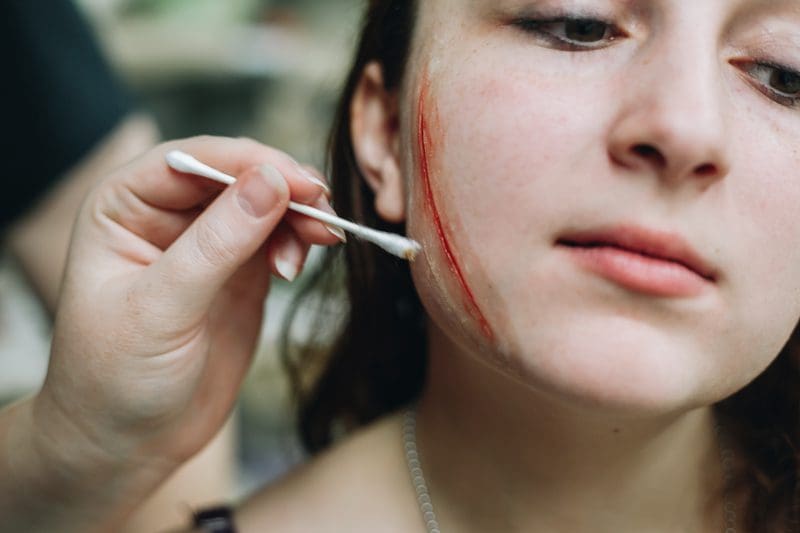 Berson is quick to point out that the skills the program's students acquire can be used to do much more than entertain. They can help save lives as well. Horror makeup artists are masters of creating the illusion of bodily decay and dismemberment — a craft that is playing an increasingly important role in the training of medical professionals.
As more and more training hospitals move away from using cadavers and animals for teaching and practice, they become more reliant on models and simulators. Prosthetics experts are adept at creating these tools.
In addition, first responders and emergency room personnel rely on event exercises to hone their skills. During these exercises, makeup artists work with actors to simulate illnesses and injuries – a practice known as moulage – giving medical professionals the opportunity to practice identification and treatment protocols. Beyond regularly supporting the artistic productions across all of the UNCSA schools, Wig and Makeup students have also supplied talent to help the campus implement active shooter and other emergency preparation exercises. Holland and her students have even helped a US Special Forces unit conduct similar events in the region.
UNCSA Wig and Makeup students graduate prepared to work anywhere in the industry: in effects shops, backstage, or on set. But these skills transcend entertainment. Alumni have also discovered rewarding careers that advance medical knowledge and help keep North Carolina safe and secure.
Serving Up Literary Frights, Crafted to Make Us Think
Peaking and shrieking at a screen through fingers and clinched eyelids isn't necessarily every person's idea of fun. But who doesn't like settling into a good ghost story? For those among us who prefer chills of fright delivered while we read, quietly nestled on a couch, UNC Press has published an array of literary ventures into the gothic.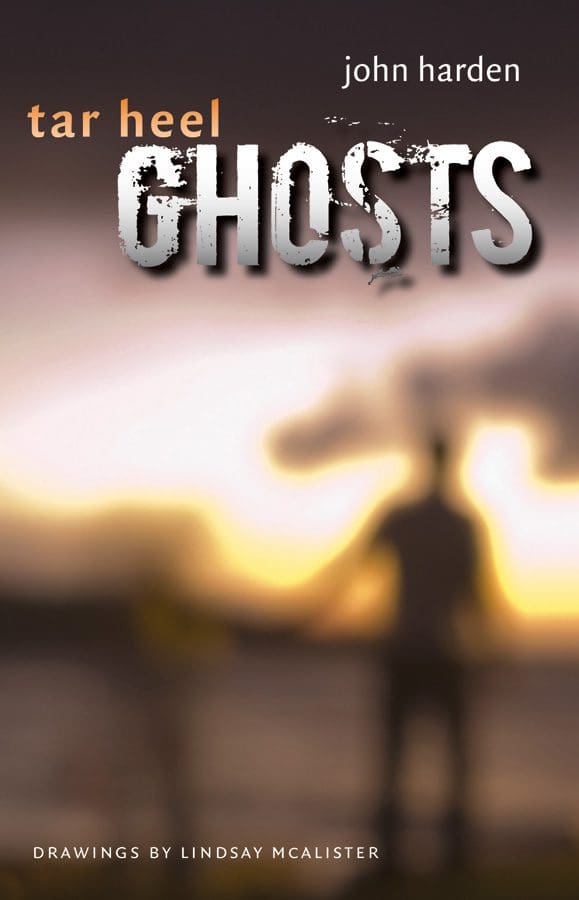 Not surprisingly, every year around this time, sales tick up for Nancy Roberts's Ghosts from the Coasts. This acclaimed anthology, featuring thirty-three ghost stories and legends, takes the reader on a haunted tour of coastal North Carolina, South Carolina, and Georgia.
John Harden's Tar Heel Ghosts focuses more narrowly on North Carolina's haunted terrain. Its tales unfold in mountain cabins and antebellum mansions; on Indian trails and river steamboats; from mountain bootlegging sites to haunted suburbia.
Certainly many other UNC Press titles are deep works of scholarship, with significant influence for important areas of knowledge. But these perennial Halloween favorites, published as part of UNC Press's mission to serve the people of the state, reflect how UNC Press speaks to all North Carolinians.
That said, these anthologies are far richer than your average potboiler ghost stories. They are rooted in our state and regional folklore. Gathered through fieldwork and research into local customs, these stories capture how North Carolinians share and reflect on their experiences in imaginative ways.
"The stories are absolutely riveting, so it's no surprise that these books of strange and weird stories have done well year after year," said Executive Editor Elaine Maisner. "But these stories also tell us something about the South and our traditions. As examples of folklore—collected in the field by the authors—these anthologies invite readers to ponder why Carolina ghost stories are important and what they tell us about our cultural attitudes and traditions."
"I would love to see people making costumes based on North Carolina's ghosts and folklore," she added enthusiastically.
More than that, through these gripping yarns, North Carolina's history, traditions, and rich landscape come to life in highly compelling ways. Having sold more than 70,000 copies since its first printing, Harden's book alone has surely encouraged more than one brave reader to venture off the beaten path and into North Carolina's more isolated corners.
Other titles in UNC Press's catalog overtly explore ghostly folktales from a more historical position. Gladys Marie Fry's Night Riders and Black Folk History studies how slaveowners and overseers planted rumors of evil spirits, haunted places, body-snatchers, and "night doctors"—and even masqueraded as ghosts themselves — to discourage the unauthorized movement of Blacks, particularly at night.
Bland Simpson's Ghost Ship of Diamond Shoals weaves together FBI reports, newspaper coverage, ships logs, and personal correspondence to explore an eerie maritime mystery: in January of 1921, a Hatteras rescue crew rowed frantically out to save the lives on board a ship that had wrecked on the treacherous Diamond Shoals. The rescuers were baffled to discover that the ship was completely deserted.
Emily Clark's award-winning A Luminous Brotherhood explores the Cercle Harmonique, a group of African-descended men in New Orleans during Reconstruction. As part of a larger religious movement called Spiritualism, the Cercle Harmonique regularly held rituals to contact the dead. Clark draws on records of actual séance practices, the lives of the mediums, and larger citywide and national contexts to reveal how the messages that the Cercle received from the spirit world offered its members rich religious experiences, as well as a forum for political activism.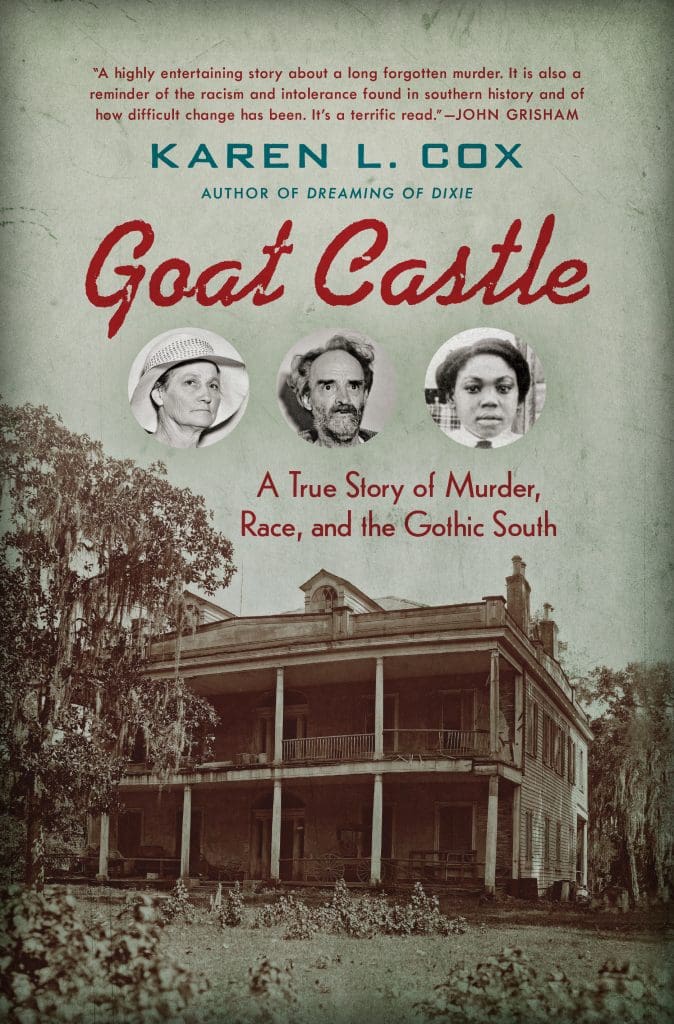 In Goat Castle, Karen L. Cox unpacks "a true story of murder, race, and the Gothic South." In 1932, Richard Dana and Octavia Dockery, living with goats and other livestock in a decaying antebellum mansion, plot to rob their neighbor. When the neighbor dies during the bungled break-in, a Black woman is blamed for the murder … while Dana and Dockery remained free to profit from the notoriety of the murder by opening their derelict home to tourists.
By no means is this an exhaustive list of the books published by UNC Press that are suitable for the season.
True crime, folkloric medicines, murder mysteries, ghost tourism — whatever your preference for the ghastly and the gruesome, UNC Press has something that will send just the right shiver up your spine this Halloween.
Across this broad array of haunted holdings, one thematic current flows — that ghosts are the manifestation of how the past has a firm grip on the present.
"Religion and culture tell us a lot about how people make their way in the world … and sometimes it seems to be about the idea of connecting with ghosts. That idea has not gone out of style," observed Maisner. "Without addressing the question of whether ghosts exist or not, the common belief in them is very real. All the titles in our collection that focus on hauntings and the supernatural dig into this idea. Ghosts aren't just important emblems of history … they have been important to people making history."
Keeping NC's Cultural History Vibrant
UNC School of the Arts and UNC Press aren't the only institutions in the UNC System contributing to our Halloween fun and enlightenment.
Our faculty, students, and staff — from North Carolina's remote mountain hollers to its haunted coastline — do the vital work of creating, curating, and studying the art and culture we love to consume as fallen leaves rustle in the wind, the days get shorter, and Jack-O-Lanterns illuminate the dusk.
This work isn't just entertaining. It helps us understand more about ourselves and our history, and sometimes it can literally help save lives.