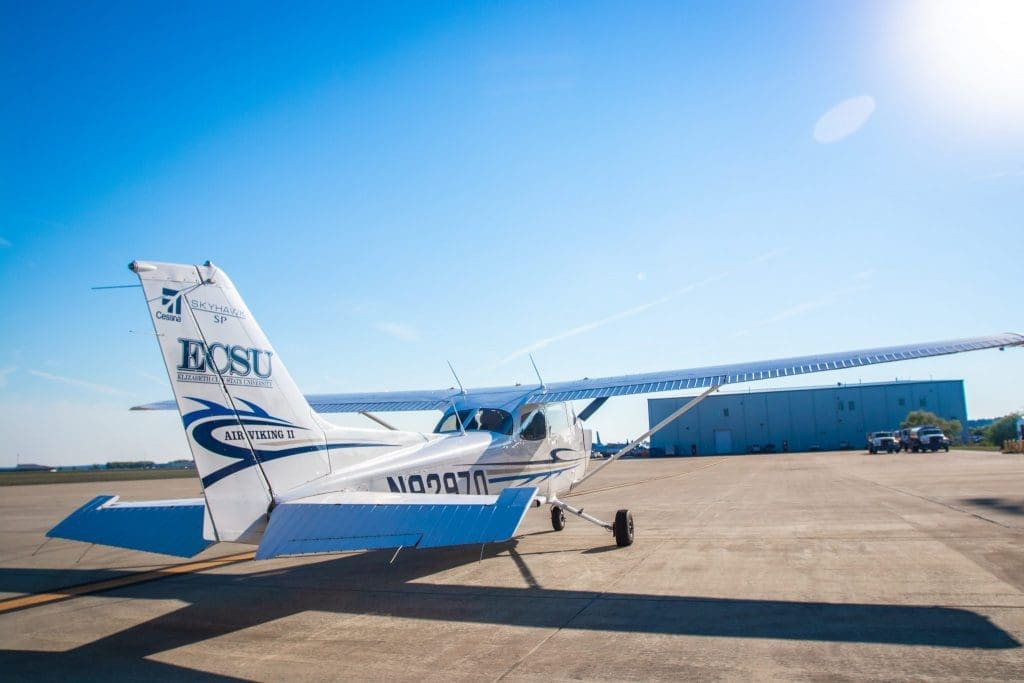 Elizabeth City State University and United Airlines Aviate pilot career development program have partnered to train a new generation of pilots. On Friday, Aug. 27, on the ECSU campus, university officials will be joined by United Airlines representatives to launch a partnership that seeks to not only train future pilots, but also bring more women and people of color into the ranks of commercial aviation.
"This partnership is an exciting next step for our aviation program and for our aviation students," said ECSU Chancellor Karrie G. Dixon. "Through this partnership with United Airlines, ECSU is able to establish a pipeline to commercial aviation for our students, offering them unprecedented access to careers in aviation."
According to ECSU's dean of the School of Aviation, Emergency Management, Health and Technology, Dr. Kuldeep Rawat, this exclusive partnership with United Airlines brings the most direct route to a job offer for ECSU aviation students with United Airlines.
"United Airlines staff will provide support and coaching to help our students on their journey to become a United Airlines pilot, which includes access to senior leadership, site visits and tours, and certain travel privileges."
On Friday, Aug. 27, ECSU and United Airlines officials will gather at the university's Mickey L. Burnim Fine Arts Center at 10 a.m. to celebrate this new partnership. Among the United Airlines representatives present at the ceremony, will be the first the African American female pilot for the U.S. Air Force, Capt. Theresa Claiborne, now a United pilot.
In April, United Airlines announced its plan to hire and train 5,000 new pilots through the United Aviate Academy with at least 50 percent women or people of color.
"We are pleased to partner with Elizabeth City State University to identify and train the next generation of United pilots," said Capt. Curt Brunjes, United's managing director of pilot strategy and Aviate. "Though this partnership, aspiring ECSU aviators will connect with dedicated mentors to learn, train and pursue a direct path to a United flight deck."
ECSU's signature aviation program is the only four-year aviation degree in North Carolina. Students enrolled in the program earn their bachelor's degree in aviation science while receiving flight training and earn their private and commercial pilot's license. ECSU aviation graduates go on to serve as military and commercial airline pilots.
By partnering with United Airlines, ECSU aviation students will gain access to:
A direct path to United. Aviate participants transition to United as a First Officer upon successful completion of the Aviate program and hiring requirements;
Travel privileges. Aviate participants enjoy travel privileges to hundreds of United destinations;
ECSU students participating in Aviate program will be paired with United pilots, creating a structured format for critical leadership and career development opportunities for ECSU students;
ECSU students will have opportunities for professional development events and programs providing a breadth of resources to learn and grow throughout the Aviate network.
Aviation Science flight students can now apply to join United's Aviate program and prepare for a structured career pathway path leading to potentially becoming a United Airline pilot, said Dr. Rawat.
Elizabeth City State University is a UNC System constituent university in Northeastern North Carolina. ECSU offers 28 bachelor's degrees and four master's degrees and has received numerous top rankings including U.S. News and World Report's Best Colleges for the Regional South, Washington Monthly's Best Bank for the Buck Colleges, and Best Colleges Top 10 Best HBCUs.