Fayetteville State University
In January 2017, the Board of Governors of the University of North Carolina unanimously approved Higher Expectations, a five-year Strategic Plan for the UNC System. The Plan calls on the UNC System to achieve ambitious goals in access, student success, affordability and efficiency, economic impact and community engagement, and institutional excellence and diversity.
Progress on these goals and metrics will be achieved through the hard work and commitment of institutional leaders, faculty, and staff. In that spirit, Fayetteville State University has identified these contributions that FSU aspires to make to the UNC Strategic Plan over the next five years.
---
Prioritize
Rural Enrollments
By fall 2021, FSU will enroll 4,429 rural students, a 9.2% increase over 2016 levels (373 additional rural students over a base of 4,056).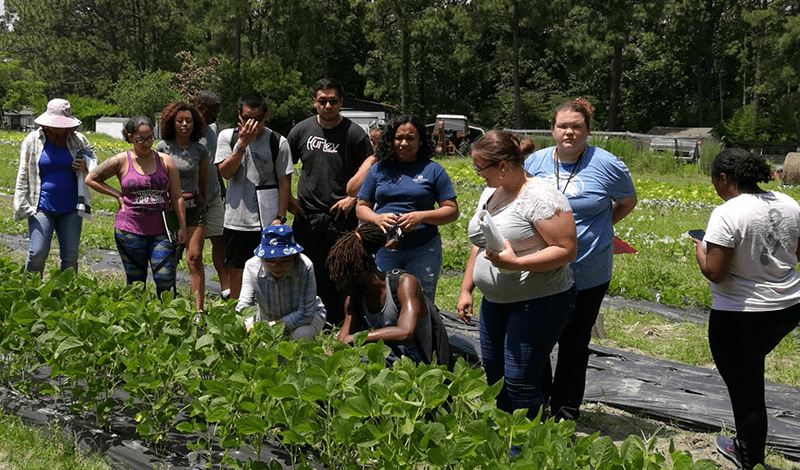 From Fayetteville State University: As an institution of opportunity and diversity, Fayetteville State University is fully committed to providing increased access to exceptional-quality higher education for all North Carolina residents. A particular emphasis has been placed on improving accessibility for students from the 80 North Carolina counties designated as rural that have experienced high levels of economic hardship. In 2022, FSU was designated as one of the UNC System's four 'Promise Schools', with specially subsidized tuition rates of $500 per semester. Due to this designation, the university expects to see an increase in rural enrollment in Fall 2022. Prior to 2021, FSU experienced declining rural enrollment, mirroring the general trend across the UNC System.
On net, enrollment at FSU from economically distressed rural counties began Combining high affordability with high quality academics, many of Fayetteville State University's academic programs have been ranked by third parties as among the best values in the nation. FSU recently announced two major scholarships that will also positively impact enrollments. The first scholarship will provide two years of free tuition at FSU for qualified Fayetteville Technical Community College students who earn an associate degree at FTCC. The FTCC Keen Scholarship, named in honor of FTCC President J. Larry Keen, will be available to 150 FTCC graduates in 2022-23; 200 FTCC graduates in 2023-24; 250 FTCC graduates in 2024-25; and 300 FTCC graduates in succeeding years. In its first four years, the scholarship can serve 900 students, with a total investment by FSU of $900,000. Fayetteville State University will also offer a military-connected scholarship each academic year, beginning in Fall 2022, to provide free tuition for FSU undergraduate students who are connected to the military. To qualify for this scholarship, an individual must be an active-duty service member, member of the National Guard/Reserves, veteran with an honorable discharge, or military spouse or dependent. They must also have a GPA of at least 2.5 from an accredited university or high school, submit all application materials on time to FSU, and meet all requirements for admissions to FSU.
---
Low-income Completions
By 2021-22, FSU will produce 853 low-income graduates, an increase of 30.0% (197 additional low-income completions over a base of 656).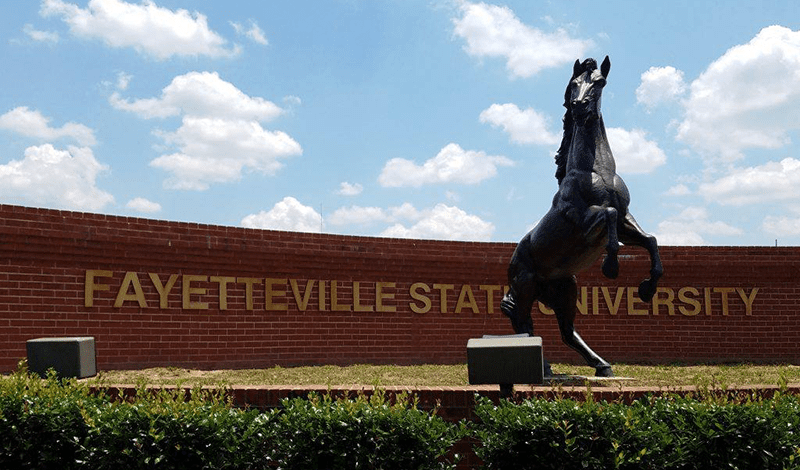 From Fayetteville State University: Increasing degree attainment for all students is a top priority outlined in FSU's strategic plan. This priority is consistent with FSU's history of providing educational opportunities that open new paths for students who are historically underserved by institutions of higher learning. To facilitate success of students from families with limited financial resources, FSU has maintained tuition rates that are ranked as among the most affordable in the nation for high-quality, well-accredited institutions. Additionally, the university has engaged in extensive fundraising to help students overcome the financial barriers that so often impede progress.
FSU also offers a comprehensive set of support programs to help students fill gaps in their learning that peers may have acquired earlier in their academic journeys. These support programs and initiatives include Bronco One Stop, an inclusive hub for managing all business as a student at Fayetteville State University. Located in the Charles W. Chesnutt Library, Bronco One Stop is students' destination to get answers to all questions related to financial aid, billing, registration, student records, and advising. This program also provides extensive tutoring services, on-demand online academic assistance, professional academic advising, and academic coaches to help students navigate the college environment.
FSU's number of low-income completions has declined in recent years, following a similar trend across the UNC System. This decline is likely due to several factors, including low-income population decline, enrollment challenges related to the COVID-19 pandemic, and the availability of low-cost, four-year options through the NC Promise program. As FSU joins the NC Promise program this fall, the university expects these trends to improve.
Although the number of low-income completions has declined, FSU has steadily increased its five-year graduation rate for first-time Pell students over the past five years to a high of 40.5%, a 10.3% increase over the past five years.
---
Rural Completions
Rural completions: By 2021-22, FSU will produce 1,000 rural graduates, an increase of 25.3% (202 additional rural completions over a base of 798).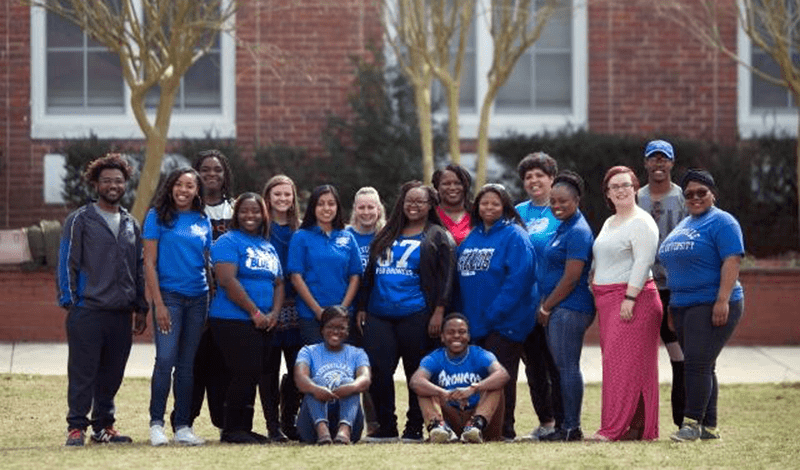 From Fayetteville State University: Fayetteville State University is fully committed to increasing degree completions by students coming to the university from homes throughout the state of North Carolina, including those from economically challenged, rural counties, who may not have had a wealth of resources to draw upon prior to college. The previously described student success resources that are available to low-income students are also available to help students from resource-constrained, rural backgrounds accelerate their learning and achieve their objectives.
Like the decline in low-income completions, Fayetteville State University did not meet growth targets for the number of rural completions, but the university did increase its five-year rural graduation rate by 11.4% over the past five years. This led to a new high five-year graduation rate of 41.4% for first-time rural students.
---
Five-year Graduation Rates
By 2022, FSU will improve its five-year graduation rate from any accredited institution to 36.0%. This is an improvement over a base of 29.9% for FSU's 2010 cohort.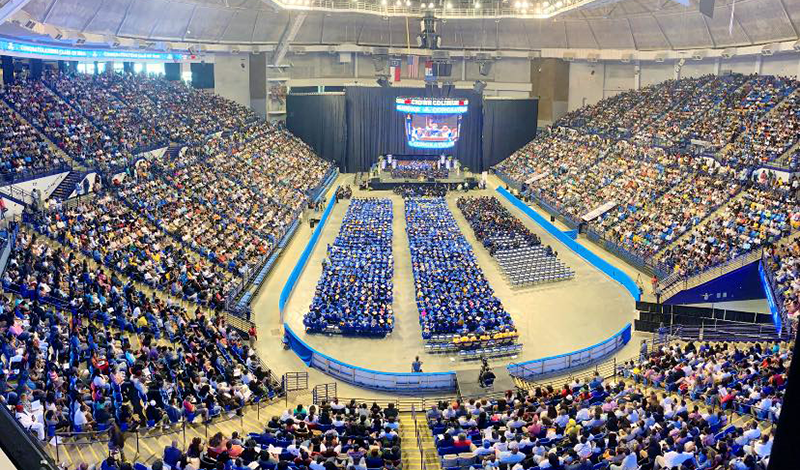 From Fayetteville State University: The five-year graduation rate metric refers exclusively to students for whom FSU is the first postsecondary institution they attended after graduating from high school. Improving graduation rates is another top priority highlighted in FSU's strategic plan. In addition to the academic support initiatives described above, the university helps students maintain steady progress toward graduation by maintaining an engaging, caring, multi-faceted student environment that affirms diverse student perspectives. Readily available counseling and support through the Counseling and Personal Development Center are offered when challenges arise. The university works to further strengthen persevering spirits by highlighting the expansive range of career trajectories made available to those who complete their academic journeys. A wide range of employers and speakers are invited to campus to connect with students and to help inspire success. Progress toward graduation is also enhanced by the Bronco One Stop and the addition of the EAB software platform, which makes it simple to register for classes and includes advisors and systems which proactively assist in selecting the classes that will enable students to graduate as expeditiously as possible.
Through these multiple initiatives, FSU has exceeded the five-year graduation rate goal with a graduate rate of 42% for the 2016 cohort, compared to an interim 2021 goal of 34.6%. The entire university community continues to work hard to help students maintain rapid improvement in this important metric.
---
Undergraduate Degree Efficiency
Undergraduate degree efficiency: By 2021-22, FSU will improve its undergraduate degree efficiency to 22.1 over a base of 19.8.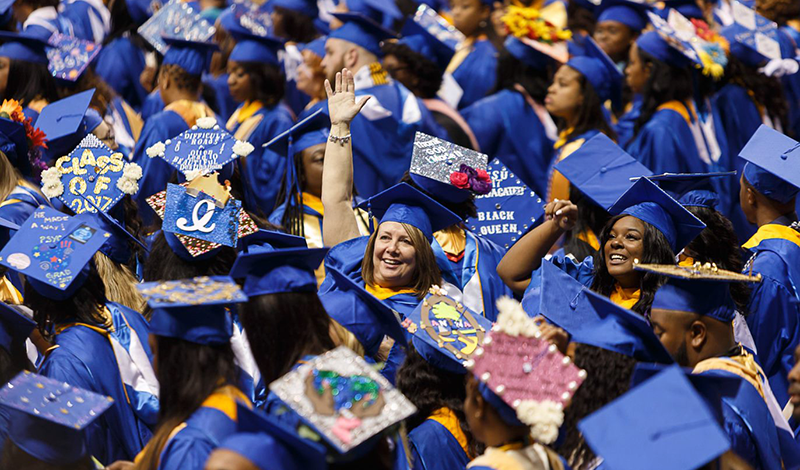 A significant portion of FSU's students are transfer students and are not included in traditional graduation rates (priority metric 4). Hence, undergraduate degree efficiency, which is the number of undergraduate degrees awarded per 100 full-time-equivalent students, is a more appropriate measure of student success at FSU than traditional graduation rates. The university has established an extensive set of resources and initiatives to help expedite the path to bachelor's guide for those coming to FSU from community colleges or from the military. These resources include: (a) program-specific curriculum guides to help community college students select the community college courses that will best fit their 4-year degree goals; (b) a dedicated team in place to assist military-affiliated students in getting college credit for relevant training gained through military service; (c) professional advisors able to help assess transfer equivalencies of courses taken elsewhere; (e) an Office of Adult Learners to serve as a general resource and single point of contact for undergraduates beginning their matriculation at FSU after a period of work and/or study elsewhere; and (f) a wide range of online course options (even prior to COVID-19) to facilitate convenient, timely access to classes. In addition, of course, the online, on-demand tutoring and other academic support resources included in the description of Low-Income Completions are key in facilitating timely graduation rates for transfer students as well. To further improve graduation efficiency, FSU is exploring expanded strategies for assessing and granting credit for prior learning.
The university did not meet its interim 2020-21 goal for undergraduate degree efficiency of 21.6%. Our efforts yielded an actual rate of 21.2%, which is an increase over the prior year.
---
Improve
Low-income Enrollments
Low-income enrollments: By fall 2021, FSU will enroll 3,447 low-income students, a 11.2% increase over 2015 levels (346 additional low-income students over a base of 3,101).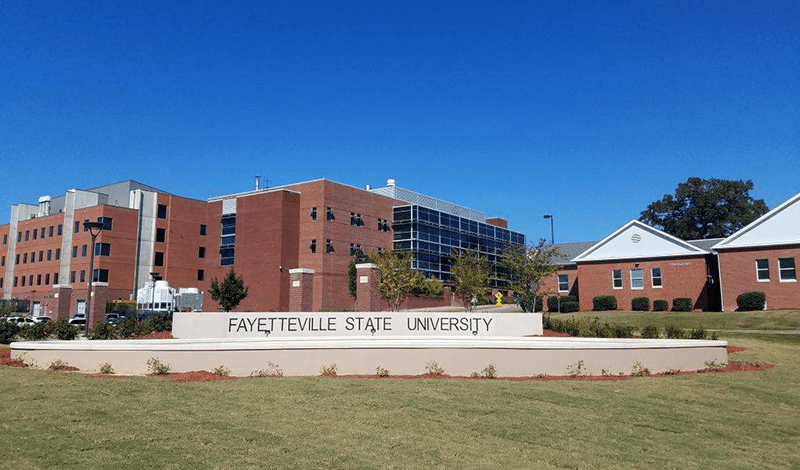 From Fayetteville State University: As noted previously, at its core, FSU is an institution of opportunity and diversity, fully committed to providing increased access to higher education of exceptional quality for North Carolina residents throughout the state—independent of family income levels. Many Fayetteville State University academic programs have been ranked by third parties as among the best values in the nation, combining high-affordability with high-quality academics. In 2022, FSU was designated as one of the UNC System's four 'Promise Schools', with specially subsidized tuition rates of $500 per semester, which will assist college ready students from low-income communities. The University continues an aggressive fundraising campaign to make more scholarship resources available for students who need additional financial support to enroll and succeed. The university has also revamped the structure as it pertains to the awarding of scholarships to attract students who need additional funding to attend FSU.
As a result of FSU's strategic adjustments, overall enrollment has continued to increase, fueled by those for whom the highly-regarded value of our offerings fits well with their objectives.
---
Critical Workforces
By 2021-22, FSU will produce 421 critical workforce credentials, an increase of 49.3% (139 additional critical workforce credentials over a base of 282).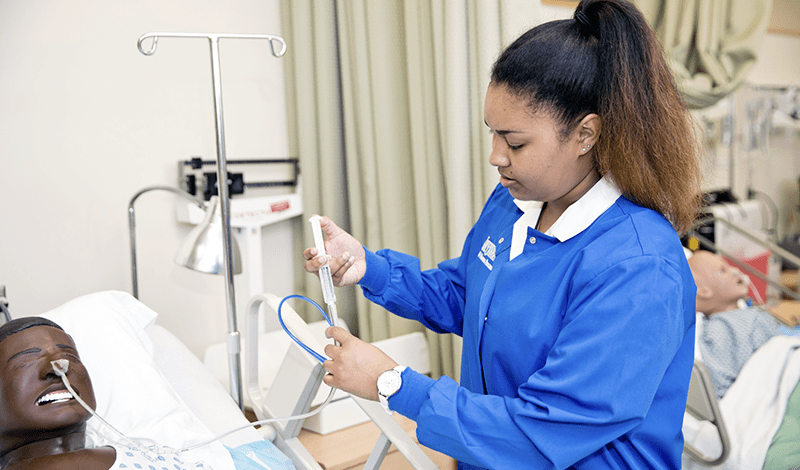 From Fayetteville State University: The UNC System Strategic Plan established a goal of significantly increasing the number of degrees awarded in fields deemed critical to meet the state's workface needs in the face of potential labor supply shortages. Key disciplines, considered critical for these purposes, included education, STEM, and healthcare—each of which represent important centers of competency at Fayetteville State University. Founded as a teacher education institution, FSU has maintained its longstanding commitment to preparing teachers, principals, and school district leaders. FSU graduates are frequently recognized as teachers and principals of the year in this region of the state. Programs in the health professions are among our strongest. FSU now graduates more nurses than any other major, and the percentage of pre-licensure students who pass the NCLEX, the national nursing licensing exam is among the best in the Southeast US. To help support the success of students in STEM fields, FSU has competed for, and won, many grants that have supported leading edge instruction and research opportunities for faculty and students in the sciences. FSU students regularly earn recognition in national scientific research endeavors. Recognizing the need to continuously invest in course development that is responsive to emerging new fields, the university has recently established new offerings in such fields as Healthcare Patient Quality Assurance, Artificial Intelligence, Data Analytics, Materials Sciences, Geospatial Intelligence, and Disruptive Technologies, to name a few. Through such investments, FSU became the first university in the Southeast U.S. to be designated a NextGen Lab by SAP, the global leader in supply chain software used by more than 90% of the top corporations in the world, as well as the US Army. Collaboration with the private sector has also enabled FSU to offer professional certifications in such high demand fields as cybersecurity, project management, data analytics, and artificial intelligence.
Fayetteville State University is exceeding its goals for critical workforce credentials, with 466 critical workforce degrees awarded in 2020-21 compared to a goal of 390 such degrees.
---
Achievement Gaps in Undergraduate Degree Efficiency
Achievement gaps in undergraduate degree efficiency: By 2021-22, FSU will reduce by 75% the achievement gap in undergraduate degree efficiency between male and female student.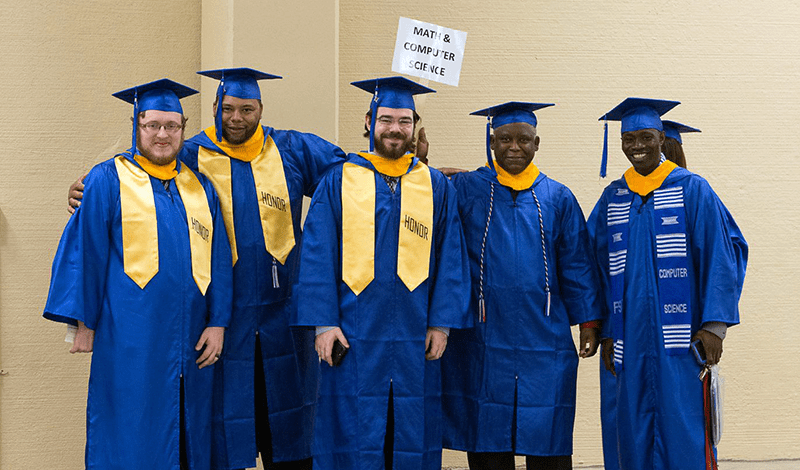 From Fayetteville State University: Female students are performing well at FSU, but it is the university's goal to improve overall degree efficiency by providing targeted programs for males and improving academic support for all students. Bronco Men is a student organization that provides male students with a supportive learning community. A peer coaching initiative will help males develop the skills and habits of successful students. The Bridge Builders mentoring program will connect male students with faculty, staff, and community role models to create relationships that will sustain students through the first two years. Faculty mentoring will be expanded to help guide male and female students through their junior and senior years.
Fayetteville State University dipped with its goal of improving male undergraduate degree efficiency. A male degree efficiency rate of 18.3 bachelor's degrees per 100 male undergraduate students was achieved in 2020-21.
---
Sustain
Research Productivity
Research productivity: By 2021-22, FSU will receive $12,045,258 in research and development sponsored program awards and licensing income, an increase of 10.2% ($1,114,897 additional over a base of $10,930,361).
From Fayetteville State University:
Fayetteville State University recognizes that support for research is essential for sustaining faculty professional development, maintaining instruction that is relevant and impactful, and helping students prepare for graduate school. Given the limitations of state funding, the university must seek out external support for research endeavors. Toward this end, FSU has established an Office of Sponsored Research and Programs to help connect faculty with grant-funded research opportunities. Regular workshops are given by this Office to assist faculty in identifying appropriate grant opportunities and writing successful research proposals. To help make more time for faculty to pursue research and to help mentor students in the process, faculty teaching workload expectations were reduced from four courses in the Fall and Spring to three courses each semester.
Fayetteville State University has exceeded its Research Productivity goals, winning total grant awards of $12.7 million in FY 2021.