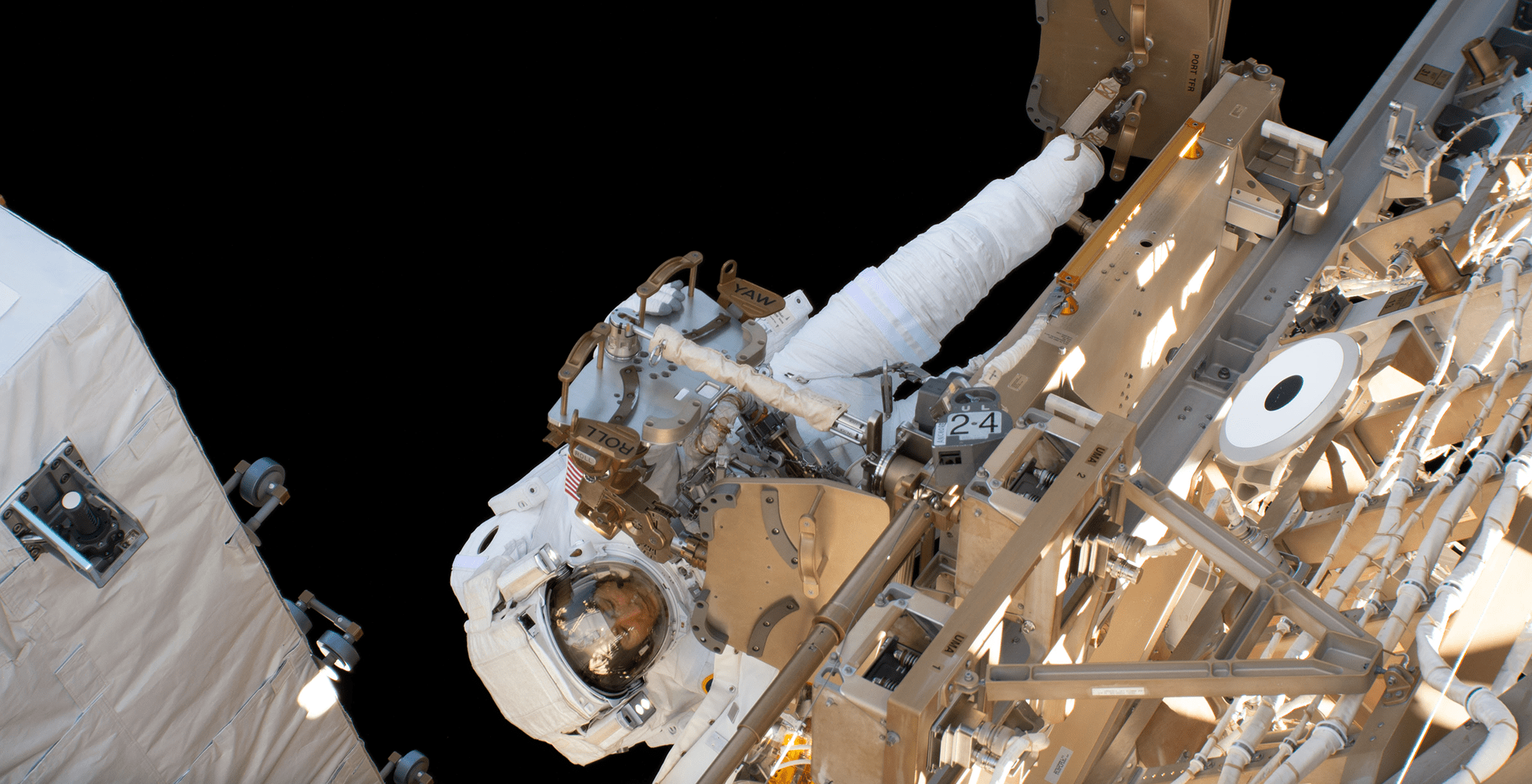 How the UNC System Propels Space Exploration
In the summer of 1969, Neil Armstrong's pronouncement reached Earth from across the void: "One small step for man. One giant leap for mankind." Space had become a little less empty. Fifty years later, Christina Koch's record-breaking stint aboard the International Space Station underscores how outer space continues to fascinate. Our footsteps have led us deeper and deeper into this mysterious realm.
As an alumna of both the North Carolina School of Science and Mathematics and North Carolina State University, Koch (seen taking her first spacewalk in the banner image) is a powerful testament to the fact that UNC System institutions have been integral to our exploration of space.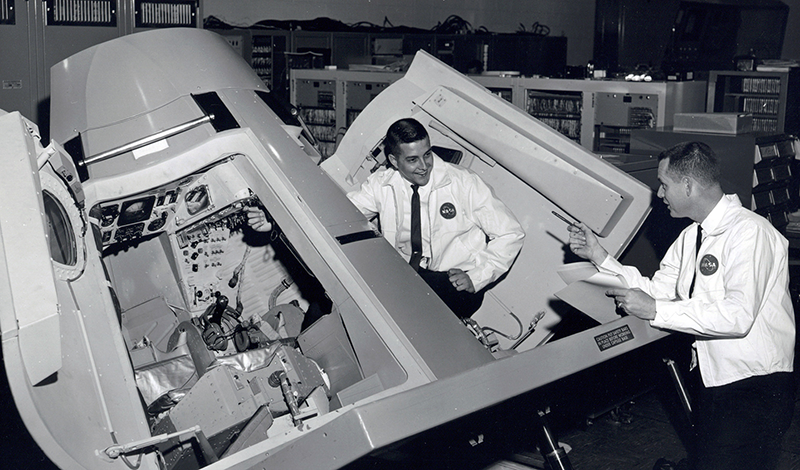 As home to one of the nation's largest and most distinguished aerospace engineering programs, it's no surprise that NC State has been giving NASA lift since the beginning. More than two dozen NC State graduates were NASA employees at the time of the moon landing: 14 at the Manned Flight Center in Houston; seven at the Marshall Space Flight Center in Huntsville, Alabama; three at the Kennedy Space Center in Cape Canaveral, Florida; and two at the Goddard Space Flight Center in Greenbelt, Maryland.
Some were vitally important to the mission. George Colton was one of three authors of the original Apollo 11 flight plan. Harold Draughon of Zebulon was an assistant flight director, sitting in the mission control room in Houston while Armstrong and Buzz Aldrin landed on the moon. Tom McPherson helped develop the parachute system on the command capsule that was used to safely return astronauts home for all manned flights.
The university's influence on space exploration has continued into the modern era, from one faculty member's work as NASA's pioneering veterinary astronaut, to an NC State alumnus' election in 2019 as the president of the American Institute of Aeronautics and Astronautics, to Koch's celestial sojourn.
Crucially, when it comes to leading the trek into space, NC State is hardly the only pioneering force in the UNC System. Numerous institutions across the state contribute to NASA's work in a variety of ways, helping to propel U.S. space exploration efforts from the ground up.
Getting To the Stars
Humans have been looking up at the stars and dreaming about space for millennia, but it took generations of accumulated knowledge to get humans there.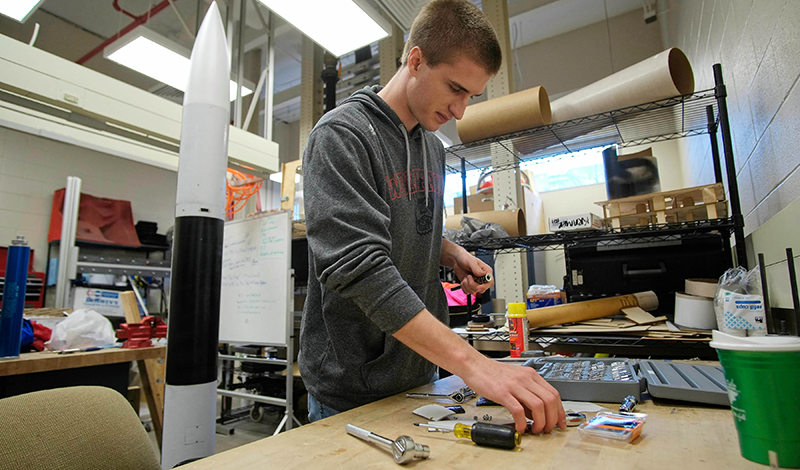 "You think about all the pieces of the puzzle that had to come together to make it happen," said Tom McPherson, one of the NC State alumni who helped engineer the Apollo 11 flight. "There was orbital dynamics. Flight mechanics. Communication. The infrastructure to put into place to get something like that done. People talk about going to Mars. They don't realize what a monstrous task that is. They think it's some casual thing. You don't have to just build a rocket to get you there. You have to land. You have supplies. All the pieces of the puzzle have to be engineered. It was a step-by-step process that got you to the moon."
NC State engineering was critical to this process, but the UNC System contributed to this effort in another, less obvious way: before their history-making Apollo 11 mission, Armstrong, Buzz Aldrin and Michael Collins learned to navigate the stars at UNC-Chapel Hill's Morehead Planetarium. Armstrong alone spent more than 125 hours training with Morehead educators before his giant leap.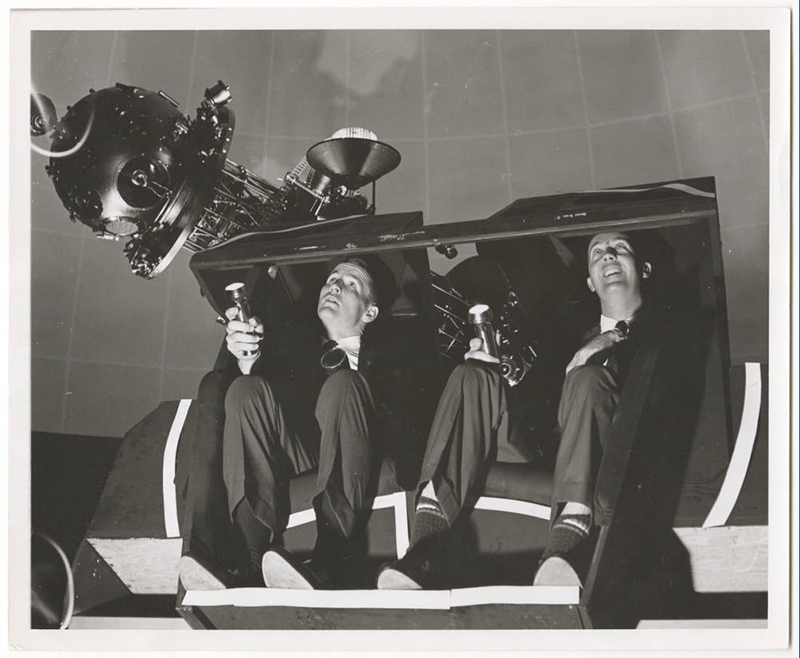 "When you walk into our planetarium," said Todd Boyette, director of the facility now known as the Morehead Planetarium and Science Center, "you're walking in the footsteps of men who walked on the moon."
For a decade, Morehead helped prepare 62 astronauts from the Mercury, Gemini, Apollo, and Skylab programs for space flight with star navigation training. Astronauts needed to be able to recognize a constellation of stars just by glancing out the window to steer themselves to safety if the technology failed.
"Our astronauts needed a rock-solid mental picture of the star field and had to know the procedures for celestial navigation because they served as part of the navigation system of our early spacecraft," William Barry, NASA's chief historian, said in 2016. "This was an essential part of the training of our astronaut corps and proved important to their survival on a number of occasions."
The UNC System's influence on space travel isn't just historical. Talent produced by the UNC System contributes to ongoing exploration efforts, and it isn't just coming out of the University's major engineering and physics programs, either.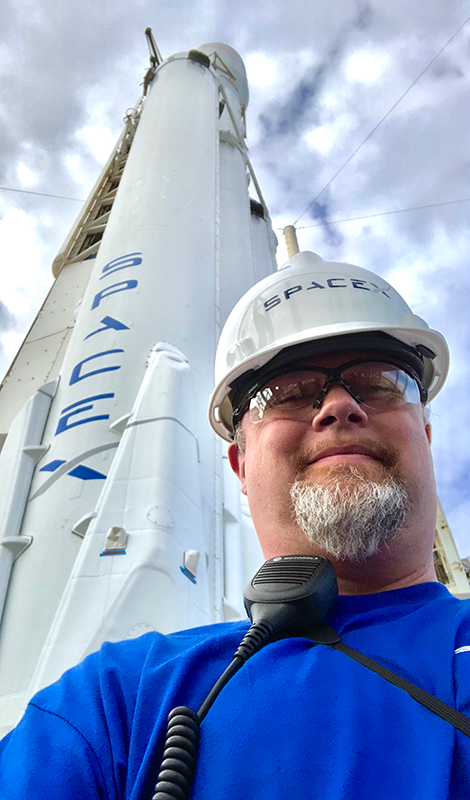 On February 6, 2018, SpaceX launched the Falcon Heavy, the most powerful operational rocket in the world. In the middle of this groundbreaking development was UNC School of the Arts alumnus Randy Rees.
Rees, a 1999 graduate of the School of Design & Production, is an environmental health and safety engineer at SpaceX. Working at the forefront of aerospace engineering might seem like a long way from working behind the scenes at UNCSA. But Rees insists that the skills he uses in his work can be traced back to what he learned during his time in school.
"There are so many parallels between the entertainment world and the world that I work in today," he explained. "There aren't that many industries that really set you up for fixing problems under extraordinarily tight deadlines. Problem solving, work ethic, and knowing how to relate to and work with many, many people—that all came from the School of the Arts."
Life in Space
The science of space exploration isn't limited to getting us safely beyond the stratosphere and back. It also involves careful consideration of how to sustain life once astronauts are up there, amongst the stars.
UNC-Chapel Hill alum Zena Cardman is an expert in ancient microorganisms. She's used this expertise to better understand life on Earth. Billions of years ago, before plants or animals, before the rise of oxygen, single-cell bacteria and archaea were the only Earthlings.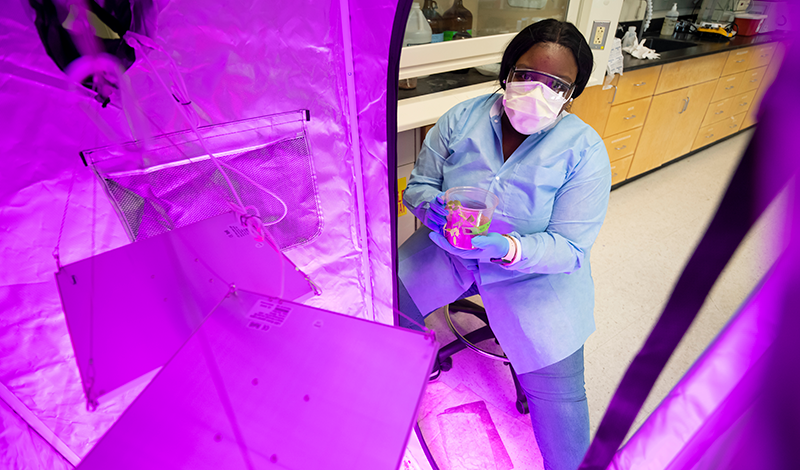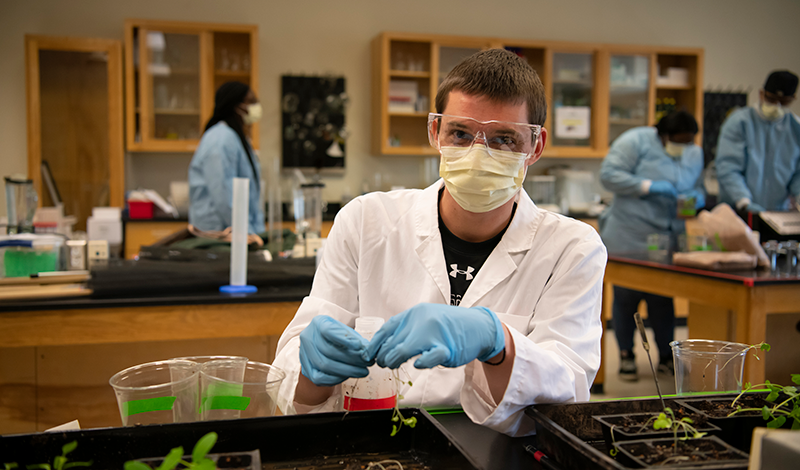 "When we find really ancient metabolisms, they can tell us a lot about what might have been going on in early Earth," Cardman has said.
There's a good chance Cardman could someday parlay this knowledge to help understand life on other planets. In 2017, Cardman was one of 12 people chosen out of more than 18,000 applicants to become a member of NASA's astronaut candidate class. If all goes well, Cardman could be the fourth Tar Heel to set foot in space.
In 2018, Fayetteville State University was one of ten universities to receive a NASA award for technological innovation. A team of faculty and students worked together to design a system for testing water for contaminants.
This system has the potential to enhance how NASA tests potable water for pathogens. This would have a dramatic impact on manned expeditions and future extraterrestrial colonization. Transporting water is one of the significant challenges on any spaceflight. Current and future NASA missions count on the ability to recycle waste into potable water. The Molecular Sequencing and Bio-contaminant Identification Device will allow for the rapid and efficient testing of water for the most common pathogens, ensuring that it is safe to drink. With a simple modification, the system can also test for the presence of extraterrestrial life forms in potable and non-potable water.
Dr. Daryush Ila served as the team's principle investigator, and the students involved were led by chemistry major Lenore Miller and business major Heather S. Vivian. NASA has been so impressed with Miller's work that it offered her two back-to-back internship opportunities.
At Winston-Salem State University, botany assistant professor Rafael Loureiro has been leading efforts to secure an interplanetary food supply. With support from the North Carolina Space Grant New Investigators Program, WSSU has established an astrobotany lab to explore which crops might have the potential to grow in Martian soil. In the spring, Dr. Loureiro took a group of students to NASA's Kennedy Space Center, where they began a collaborative effort with the scientists in the Vegetable Production System's main lab.
This fall, WSSU's Department of Biological Sciences is expected to launch a four-year partnership with NASA that will allow students to conduct research on food production for space exploration and participate in mentorships with NASA scientists. This partnership is unique among HBCUs (historically black colleges and universities).
The North Carolina Space Grant's support of Loureiro's work illustrates the broader efforts taking place across North Carolina's education systems to keep the state at the forefront of aerospace and aviation. The statewide consortium of academic institutions is headquartered at NC State. Every year, the NC Space Grant supports STEM (science, technology, engineering, and math) research and public outreach efforts in support of aerospace and aviation industries.
In addition to supporting faculty and established researchers, the NC Space Grant also supports undergraduate and graduate students. Ten constituent institutions are represented in the 2019-20 class of class of research grant recipients, making it clear that the UNC System is leading the way in efforts to support, train, and equip the nation's aerospace workforce.
Feet on the Ground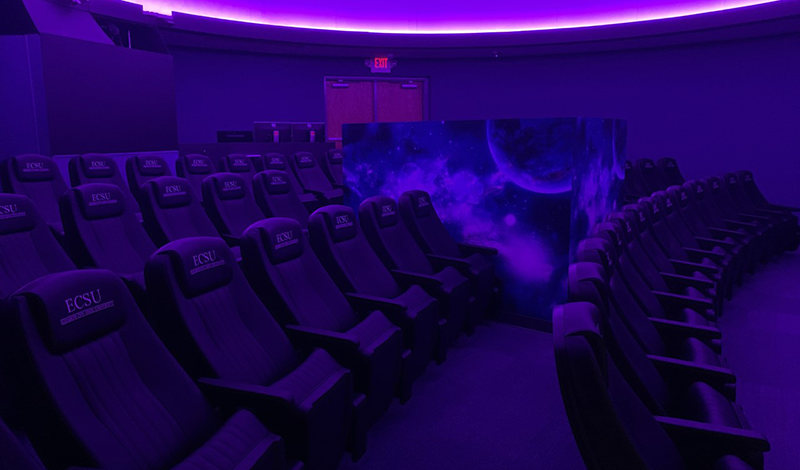 Of course, no venture into space would be possible without larger-than-life ambitions, sparked by the simple gesture of looking up. Any first step begins with feet on the ground, and space exploration wouldn't happen without the dreamers, plotters, and planners planted on terra firma.
Morehead Planetarium, opened in 1949, was the first of its kind in the South. For more than a half a century, the planetarium has educated students of all ages, provoking amazement and curiosity about the heavens.
UNC-Chapel Hill's planetarium is the oldest in the UNC System, but it's not the only one. Further to the east, Elizabeth City State University is home to Khan Planetarium. This state-of-the-art facility has recently been undergoing renovations. When it celebrates a grand reopening in September, Khan Planetarium will be the first planetarium in North Carolina using the cutting edge Digistar 6 digital presentation technology.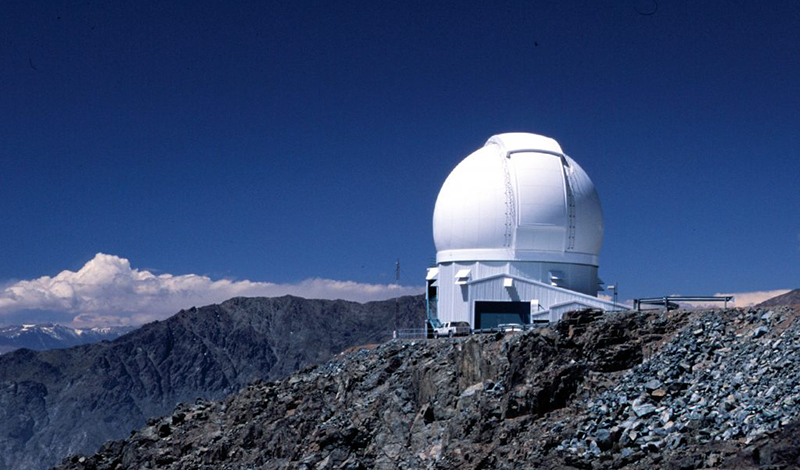 UNC System institutions do much more than disseminate what scientists already know about the Universe. They are making invaluable contributions to this body of knowledge.
In 1973, UNC-Chapel Hill finished construction of the Morehead Observatory—the first astronomical observatory on a college campus. Just over a decade later, UNC-Chapel Hill initiated the Southern Astrophysical Research Telescope (SOAR) project. Sitting at nearly 9,000 feet above sea level, atop Chile's Cerro Pachón mountain, this telescope is almost literally out of this world. Operated by an international partnership between Ministério da Ciência, Tecnologia, Inovações e Comunicações (MCTIC) of the Federal Republic of Brazil, the U.S. National Optical Astronomy Observatory (NOAO), Michigan State University, and UNC-Chapel Hill, SOAR boasts a 4.1-meter aperture that designed to "produce the best quality images of any observatory in its class."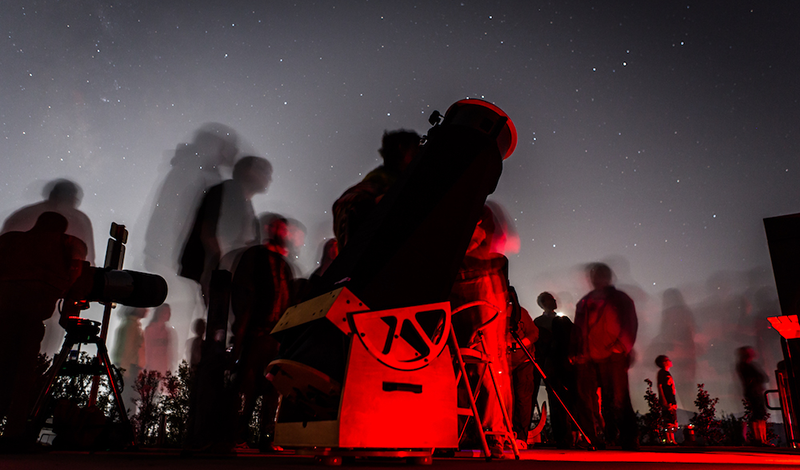 Today, with access to SOAR, other major telescopes all over the world, and the largest university-based nuclear physics lab in the nation, UNC-Chapel Hill's physics and astronomy department is at the forefront of research into black holes, dark matter, supernovae, and the evolution of habitable planets.
UNC Asheville's Lookout Observatory provides western North Carolinians with easy access to the stars and advanced students with valuable research opportunities, working alongside faculty in the university's Department of Physics.
Such Earth-bound efforts matter because they contribute to our understanding of how the Universe works … and they lead student and faculty researchers to transformative accomplishments. Just ask former Lookout Observatory docent Makennah Bristow, who helped discover a planet while she was still an undergraduate at UNC Asheville.
Last year, Bristow was interning at NASA's Goddard Space Flight Center. She and University of Chicago graduate student Adina Feinstein set their sights on K2-288Bb, a planet roughly twice the size of Earth located in the constellation Taurus, 226 lightyears away. Bristow and Feinstein's discovery was particularly noteworthy because K2-288Bb orbits within its star's habitable zone. Water may exist on the planet's surface.
In other words, Bristow's upward gaze might just have spotted a planet that can sustain life!
Terrestrial Benefits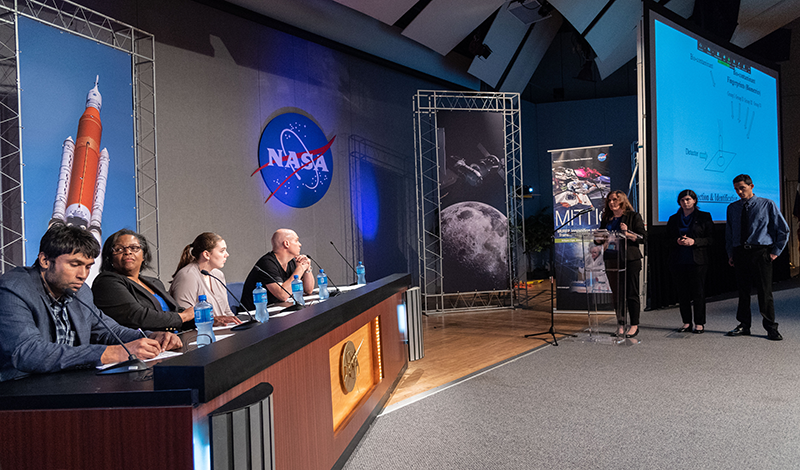 Thanks to the UNC System, the future of space begins right here at home. Crucially, this investment isn't just for the benefit of our astronauts. It generates long term rewards back on Earth as well.
For example, the potential commercial applications of FSU's bio-contaminant identification system are widespread. The ability to detect pathogens in water supply could improve the quality of life for millions, especially in developing countries where access to safe drinking water can be unpredictable. The system's capacity for detecting pathogens in the food supply will also save lives and money. It also has the potential to help healthcare providers identify and contain infectious diseases more rapidly. And, because it can detect pathogens in the forced air supplies used in airplanes and hermetically sealed buildings, this system might even make air travel more comfortable and work environments healthier.
Someday, humans could get to Mars, but the idea of commercial space travel still might seem like far-fetched sci-fi fantasy. That said, aerospace engineering impacts our lives on a daily basis and in very tangible ways. Rocket technology puts communications satellites into orbit, which means that our phones, televisions, and national security all depend on the research and talent coming out of the UNC System.
Closer to home, our institutions' investment in space helps K-12 students get excited about STEM education. To cite one example, the NC Space Grant funds STEM Pre-Service Teacher Education Scholarships to promote science education in K-12 classrooms and to "equip future teachers with NASA content and tools to use in the classroom."
Parks Drake, a student in UNC Charlotte's Cato College of Education, was one of this year's 13 recipients. She and her peers were invited to tour the NASA Langley Research Center as part of the program. Before touring the facility, Drake invited students in her student-teacher classroom to write notes to NASA scientists. She hand-delivered these queries and comments when she visited the research center, and one of her students received a formal response from NASA. This interaction sparked a great deal of enthusiasm in the fourth-grade classroom.
"This meant so much to the students because of the impact it made and the excitement the students felt," said Drake. "Because of this scholarship, I was reminded of why I want to be a teacher and how we as teachers can create special learning opportunities for all students."
Most of the children inspired by this experience won't end up in space suits tethered to the International Space Station. Still, there's a good chance many of them will reimagine their future possibilities and start down the path toward fulfilling careers, all because they've grown more curious about STEM education.
Forging Connections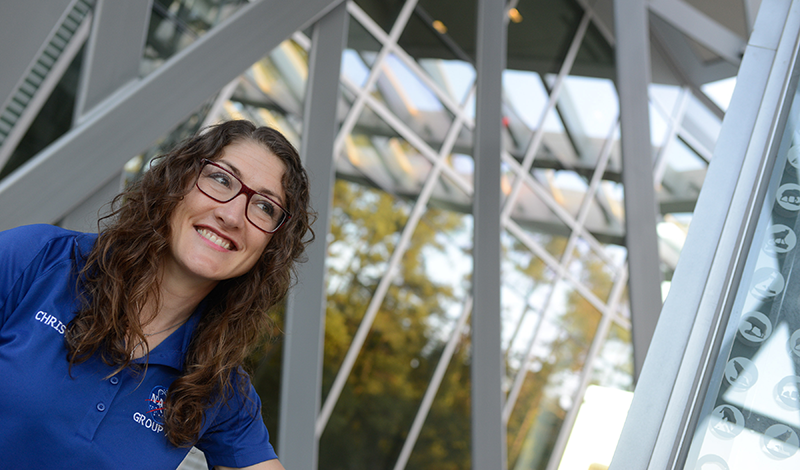 Christina Koch celebrated the 50th anniversary of the Apollo 11 moon landing in space, and she will continue to float amongst the stars until February 6, 2020. At the end of her trek, she will have spent 328 days in space. That's a hefty amount of time without gravity—in fact, it will be the single longest spaceflight by a woman in history.
But, before she returns, Koch plans to beam back down to her alma maters—virtually, anyway. On August 30, Koch will rejoin the Wolfpack and the Unicorns via a video Q & A. In addition to the conversation with Koch, the program will feature moderated discussions with researchers in fields relevant to space exploration and a keynote address by NC State astrophysicist Katie Mack.
The event will be free and open to the public at the Talley Student Union's State Ballroom. Co-hosted by NC State and the North Carolina School of Science and Mathematics, it will be much more than a celebration of a rising star. It will be a poignant reminder of how the UNC System has helped lead the way into space, putting all North Carolinians in closer contact with realms beyond our own.