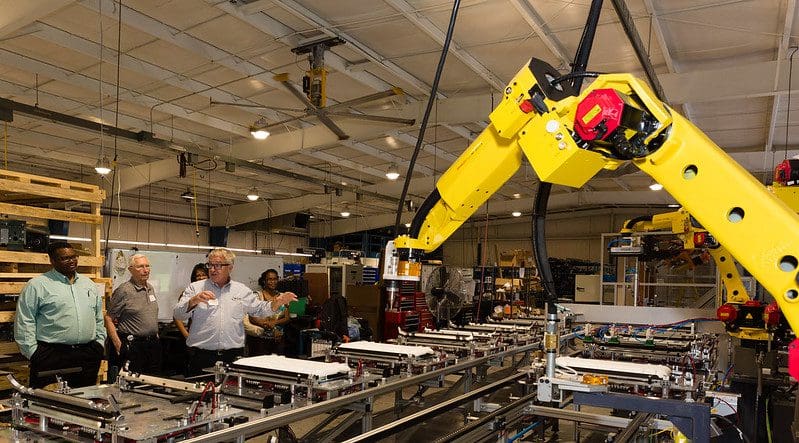 The University of North Carolina at Pembroke campus stands in the heart of one of North Carolina's agricultural centers. Ironically, for many years, only two percent of the produce served in the university's dining services was locally produced. Now, roughly 16 percent is.
That leap represents a significant boon to the local economy, and it's the result of a collaborative effort between UNC Pembroke and NCGrowth, a center housed in UNC-Chapel Hill's Kenan Institute of Private Enterprise. NCGrowth offers applied research and technical assistance to help businesses and communities create jobs and equitable opportunities.
Working together, the institutions have ironed out a variety of logistics to make "buying local" a matter of practice at UNCP.
"It keeps the bills paid," beamed Roderick McMillan, owner of MG3 hydroponic farms in Robeson County.
A few years ago, McMillan was laid off from his work at a local granary. Following his curiosity, McMillan investigated hydroponic growing and eventually invested in his own business. Today he sells roughly 300 pounds of romaine lettuce to the university on a weekly basis.
NCGrowth's collaboration with UNC Pembroke is one of many high-impact initiatives that have helped businesses grow and strengthened communities. This work was vital before COVID-19 struck. Now it's absolutely critical.
UNC System outreach and engagement is playing an increasingly important role helping North Carolinians adapt to a challenging new economic climate. NCGrowth exemplifies how the University's work is keeping entrepreneurs, industries, and communities moving forward through "the Big Pause," so they are primed for rapid acceleration when North Carolina is once again fully open for business.
Harnessing the Collective Power of 17 Institutions
With only seven full time employees, NCGrowth seems, at first glance, like a small operation. But it has a big, big impact. In the fourth quarter of 2019 alone, the center worked with 17 businesses and 75 agencies. This work impacted more than 750 employees. In addition, 4,150 people attended NCGrowth networking and workshop events.
"The way we are able to do the breadth of the work that we do is because we have all these partnerships with UNC System schools and other schools and community colleges. North Carolina has a lot of existing resources to help entrepreneurs and businesses. The big challenge is connecting them and bringing them to bear in communities that, for whatever reason, haven't been able to access them."

NCGrowth Executive Director Mark Little
In fact, the team routinely partners with more than half the institutes in the UNC System.
For example, through its "SmartUp" initiative in Elizabeth City, NCGrowth has partnered with the NC Small Business and Technology Development Center (SBTDC) office at Elizabeth City State University, using funding from a Truest Bank Foundation grant, to help eight area businesses grow employment opportunities throughout the region.
Wetland Plants Inc in Edenton grows native plants used to improve water quality and stabilize shorelines. To help the company expand its production capacity, SmartUp enlisted the expertise of a graduate student at North Carolina State University. The student worked with the company owner and developed a prototype robot to "print" seed, suspended in gel, into growing trays. Now in its final form, this robot has greatly improved the speed and uniformity of seeding, reduced the tedium of this task, and freed staff to focus on more challenging work such as optimizing plant health.
As with the Wetlands Plant Inc project, virtually every NCGrowth effort utilizes the cutting-edge expertise of graduate students, most of whom are hired from constituent institutions. In this way, intellectual muscle from across the UNC System coalesces to make North Carolina stronger.
"Our office of the NC SBTDC here at Elizabeth City State University has had a great partnership with NCGrowth, especially with the SmartUp initiative," said ECSU SBTDC Director Michael Twiddy. "We have partnered with SmartUp to place their graduate-level students with several of our mid-size client companies across our northeastern region, with very specific outcome goals identified. This partnering and engagement with graduate interns has been very successful. Our clients have been overwhelmed with the positive impact the students have had, in some cases helping businesses solve problems once assumed to be unsolvable."
Even a partial list of NCGrowth's accomplishments reveals the scope of its impact.
One company, specializing in the manufacturing of dental supplies, secured a $20 million federal contract as a result of NCGrowth guidance and support. Bertie County has engaged SmartUp to stimulate local outdoor tourism through the Tall Glass of Water project. A lean manufacturing project with a fabric manufacturer will save the company $1 million each year. And, the NCGrowth-led design and implementation of a customized inventory system will save an organic flour mill 100 hours of labor annually.
"Working directly with hardworking business people across the state to help them succeed and grow their companies is incredibly rewarding. One farmer in Eastern North Carolina told me that the energy we brought to the work inspired him to expand his business in three new areas of North Carolina. I'm proud to be a part of a team having such an impact on people in my state."

Elizabeth Basnight, assistant director for Business Programs with NCGrowth
This work doesn't just benefit business ventures, either. Roughly a third of NCGrowth projects serve towns, tribes, and counties in North and South Carolina. One of its ongoing and largest efforts has been focused on helping the town of High Point and surrounding communities diversify a local economy that was once over-dependent on the furniture industry and which is now hyper-focused on the furniture market.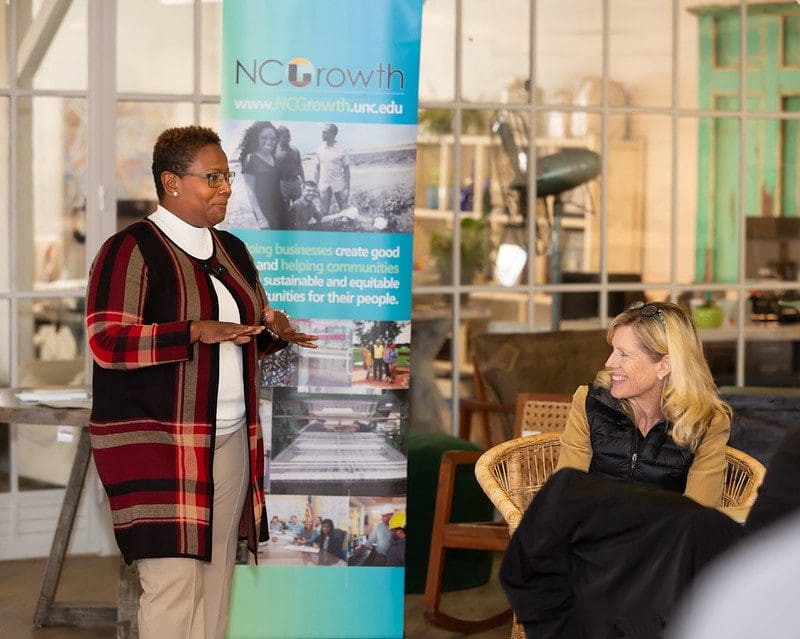 Partnering with Guilford Tech Community College and private companies, NCGrowth is helping the city repurpose and redevelop its existing infrastructure to attract a broader array of industries. This work involves developing design plans for remodels of warehouses and factories, conceptualizing how various industries could utilize those spaces, and drafting a marketing plan to attract tenants, who will bring jobs and revenue to the region.
As part of this project, NCGrowth is also leading workforce development efforts to ensure that surrounding communities aren't excluded from the transformational process. NCGrowth is liaising with GTCC to create opportunities to train area residents so that they too can adapt along with the city.
With dozens of similar ventures unfolding at any given time, NCGrowth's impact reaches virtually every pocket in the state. At a time when the national economic forecast looks rather gloomy, this work is more critical to North Carolina than ever.
Mitigating COVID's Long-term Economic Impact
In the early spring, just as North Carolina was starting to feel the pandemic's impact on our health and economy, a business reached out to NCGrowth staff for help securing small business loans.
In short order, NCGrowth coordinated with the North Carolina Small Business Association to organize a webinar to guide struggling businesses through the process. Eventually, that single webinar grew into an ever-expanding COVID-19 resource page.
In addition to offering fundamental 'how to' information on applying for grants and loans, the site also offers a library of case studies that offer examples of what local governments and businesses are doing to stimulate public interest in supporting locally produced goods and shops.
NCGrowth is finding other innovative ways to support local economies during this time of crisis as well, including exploring how to attract the purchasing power of one of North Carolina's largest untapped customers: the UNC System itself.
The center has begun collaborating with institutions to review university purchasing and identify which items can be made locally. Not only does NCGrowth help institutions seek out local businesses that offer the goods and services they need, the center also helps those businesses navigate complex contract processes.
The initiative's pilot project at UNC Pembroke has become a catalyst for economic development in rural Robeson County, allowing more money to remain in the local economy and helping businesses, such as MG3 Farms, succeed.
NCGrowth hopes to expand this pilot project. Its aim is to strengthen businesses and support North Carolina's entrepreneurs, particularly in our most impacted communities, by encouraging them to become active contributors to the UNC System's vast supply chain.
In addition, following on the heels of its successful "Economic Injury Disaster Loan" webinar in March, NCGrowth has host eight subsequent webinars on various topics, ranging from utilizing local government as a lender to locating the resources and strategies that can help business owners and workers manage stress and anxiety in this turbulent time. These programs have reached more than 1,100 attendees.
More broadly, with 45 unique projects, the spring 2020 cohort of NCGrowth collaborations was the largest ever in the center's history. With the support of a two-year CARES ACT grant, the center will have the capacity to expand its reach even further.
Helping NC Move Forward Through the Big Pause
In March, North Carolina came to a halt. Businesses and communities went quiet as part of a statewide COVID-response strategy. Over the summer, the state cautiously began to open up once again, but our economy has yet to begin operating at full throttle.
The UNC System, North Carolina's mighty engine of opportunity, hasn't shifted into idle during the Big Pause. Faculty, staff, and students have intensified their efforts to help businesses, communities, and the state adapt to the new challenges ahead.