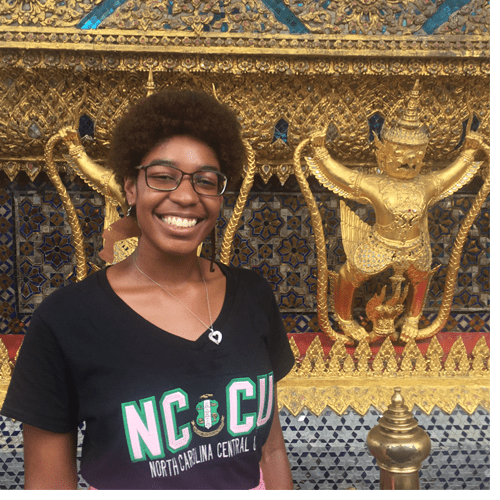 North Carolina Central University (NCCU) junior business major Jameerah Ali has been named as a 2018 HBCU Competitiveness Scholar by the White House Initiative on Historically Black Colleges and Universities (HBCUs), a program that recognizes outstanding student performance in higher education.
Ali is among 63 students selected based on high achievement in academics, campus involvement, entrepreneurial ethos and civic engagement. To be considered for the honor, students must submit their college transcripts, résumés, an essay and letters of recommendation.
"Jameerah is a great example of an Eagle soaring and her selection as an HBCU Competitiveness Scholar is an acknowledgment of her continuous pursuit of excellence in academics and service," said Dr. Ontario Wooden, associate vice chancellor for Innovative, Engaged and Global Education.
Ali participated among other HBCU Competitiveness Scholars in the White House HBCU Week Conference held Sept. 16-18 in Washington, D.C. She was formally presented with the award during the initiative's Excellence in Innovation and Competitiveness Awards ceremony on Sept. 17.
Originally published Sept. 21, 2018.