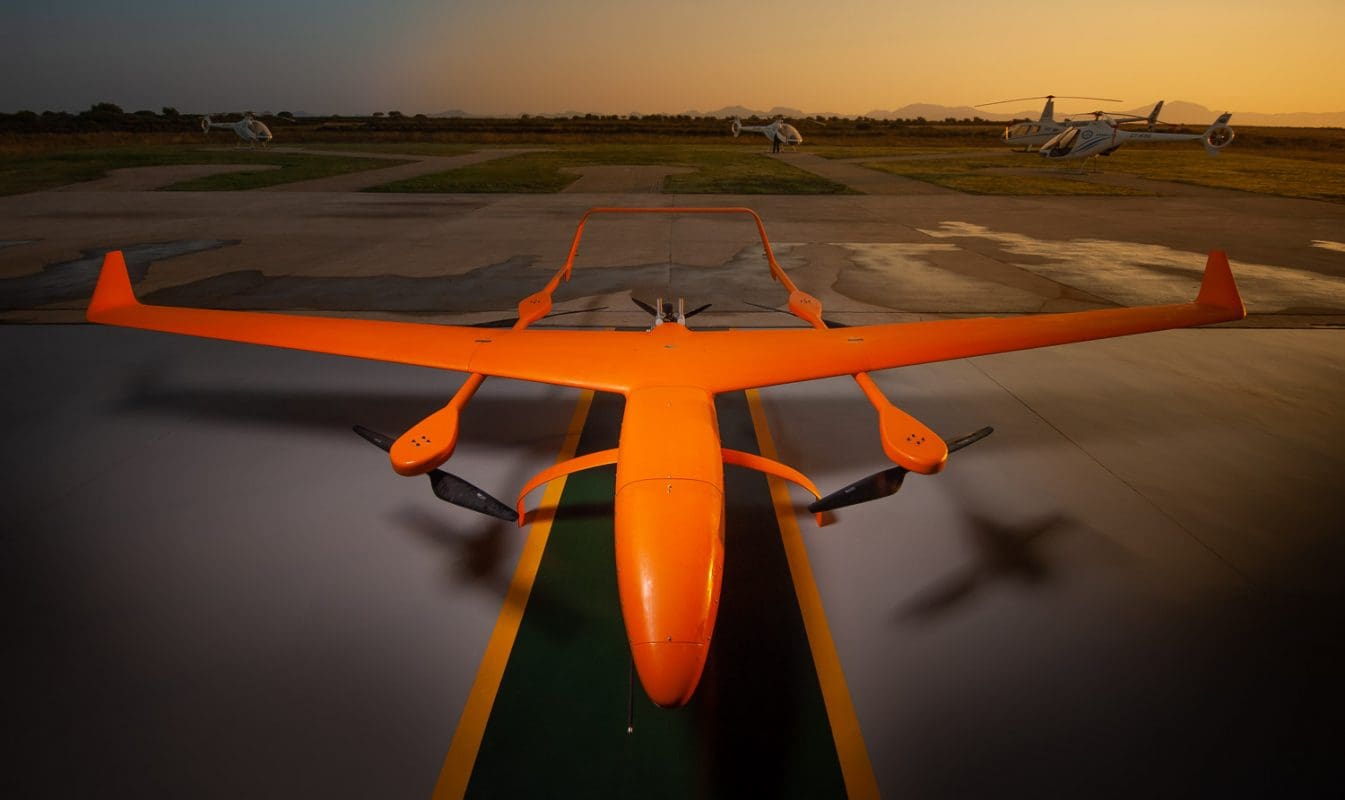 Online shoppers know that the buzz of drones delivering packages straight to doorsteps will one day be commonplace. In the more immediate future, Elizabeth City State University will be using unmanned aerial technology to study the efficacy of delivering something even more precious than paper products and electronics: personal protective equipment (PPE) and medical supplies essential for mitigating the impact of COVID-19.
ECSU is expanding its existing drone fleet to include long-range, high-endurance delivery drones that will be capable of safely transporting essentials to remote areas in the northeastern North Carolina. In addition to transporting PPE, food, and medical supplies, ECSU's delivery drones can also be used to deliver coronavirus test samples to clinics. Someday, they might well carry time-critical supplies such as vaccines, blood, and organs.
The ECSU drone initiative is one of 85 COVID-related research projects, unfolding at 14 UNC System institutions, funded and administered by the North Carolina Policy Collaboratory.
Each project leverages the unique research capacities to be found at the institution conducting the research. Taken as a whole, the large slate of projects reflects how the UNC System's diverse network of talent is leading a statewide, multilateral response to the pandemic.
Our institutions are doing the high-profile work of developing and testing vaccines and treatment protocols. They are also exploring the less visible, but no less critical, issues related to the efficacy of prevention and testing protocols and the pandemic's impact on health disparities and regional economies.
Investing in Game-changing research
The North Carolina Policy Collaboratory, based at UNC-Chapel Hill, has overseen the distribution of $29 million in grant money for COVID-research projects, which represents a portion of a $1.5 billion coronavirus relief package approved by state legislators and signed by Governor Roy Cooper.
The 85 research projects all focus on treatment, community testing, and prevention of COVID-19, with the goal of providing new data and information to help lawmakers and policymakers guide the state's pandemic response.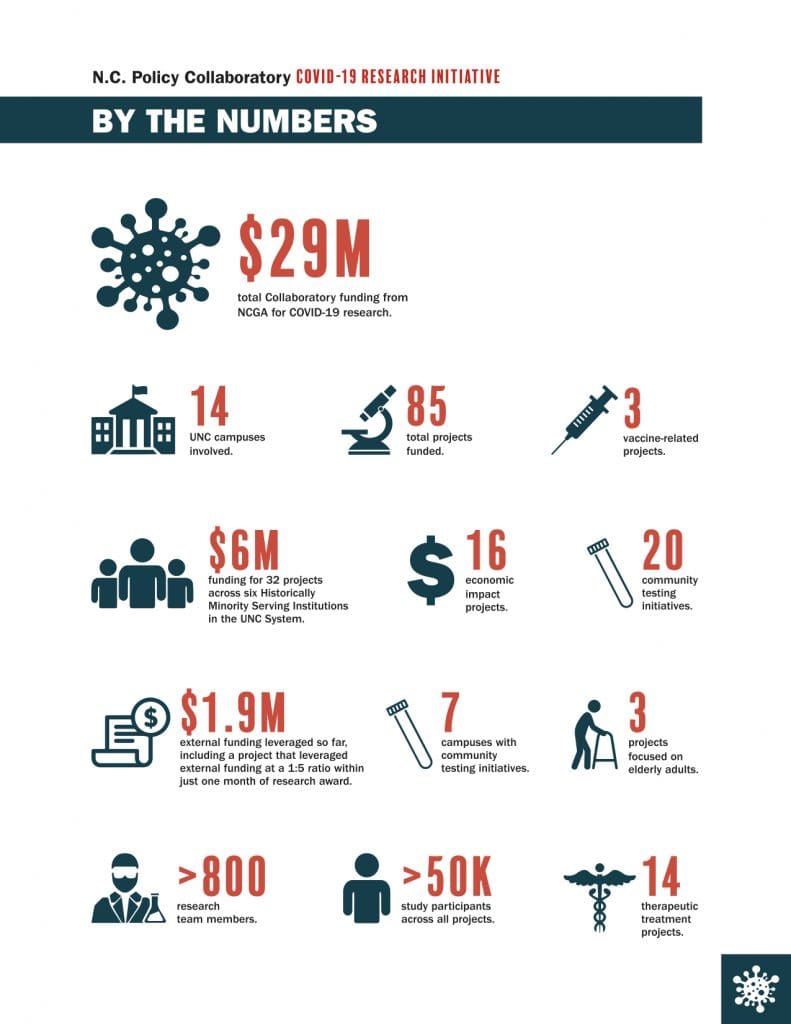 While this initiative is defined by a single, overarching goal, the wide array of projects underway makes it clear that North Carolina is taking a comprehensive approach to problem-solving. The NC Policy Collaboratory's advisory committee, in careful consultation with leaders from across the System, took care to distribute the funds in a way that harnessed the diversity of the UNC System institutions. The allocation of funds will thus ensure that the investment in research has a broad impact across the state.
"The Collaboratory has worked diligently to solicit and assemble a diverse set of strategic research projects from across the UNC System," said Jeffrey Warren, executive director of the NC Policy Collaboratory. "The 85 projects chosen are intended to provide critical data to our state over a short timeframe to address both the economic and public health components of this pandemic within North Carolina and make a positive impact fighting COVID-19 in our state."
Diversifying NC's Community Testing and Prevention Initiatives
Testing for COVID-19 is a vital component in the state's efforts to identify and neutralize hot spots quickly and efficiently. Everyone has seen countless images of concerned individuals with swabs in their nostrils. But a strategic and effective approach to testing and prevention requires much more than taking and processing samples.
For example, North Carolina Central University has created the Advanced Center for COVID-19 Related Disparities (ACCORD) to facilitate nasal swab testing in seven counties (Anson, Cabarrus, Durham, Granville, Halifax, Rowan, Vance, and Warren). At each of the testing sites, health workers will distribute educational materials about COVID-19 and survey participants to gather information about attitudes toward testing and vaccines. These data will help develop more culturally sensitive messaging that will be more effective at encouraging North Carolinians to seek out preventative measures.
UNC System institutions are also evaluating new early-detection techniques that will help identify and contain infections before areas become hot spots.
One multi-institutional and interagency project is testing sewage as an early indicator of the virus in communities. A team of researchers from UNC Charlotte, UNC Wilmington, UNC-Chapel Hill, and NC State University—with technical support from the North Carolina Department of Environmental Quality—is measuring and tracking novel coronavirus pathogens in wastewater across North Carolina.
North Carolina A&T State University is developing an affordable fever-detection system that can be widely deployed across North Carolina's K-12 classrooms.
Fayetteville State University is exploring the potential use of retinal scanning technology to detect infections. If the approach proves successful, smartphone-based retinal and iris scan apps will make a non-invasive, inexpensive testing tool accessible to the healthcare community world-wide.
The Economics of Good Health
The pandemic has painted in sharp relief how public health and local economies are deeply intertwined.
UNC System research is exploring how regional economies, household income, and other factors impact the virus's spread.
For example, UNC Pembroke is developing a model that will enhance understanding of how COVID-19 spreads through rural settings. The research identifies and examines the factors that might contribute to the rapid transmission rates in these areas, including residents' need to travel beyond county boundaries for employment opportunities; strained health care resources; and the lack of industry and infrastructure that reliably support remote employment.
Winston-Salem State University is examining how issues related to disability and race effectively establish barriers to health-care and undermine the effectiveness of public health messaging for those populations most adversely impacted by COVID-19.
Meanwhile, other research projects are studying the pandemic's impact on local economies.
Appalachian State University and Western Carolina University are evaluating how the state's containment measures have impacted the western region's businesses and industry. Similarly, a faculty-led team from UNC Charlotte will be analyzing county-level economic impacts across the entire state. Findings from these studies could help shape public policy designed to support efforts to boost local economies in the wake of the pandemic.
For those interested in learning more about how the research is progressing, the NC Policy Collaboratory has begun spotlighting a different project every week on its website.
The Collective Power of North Carolina's Crown Jewel
The North Carolina General Assembly established the NC Policy Collaboratory in 2016 to help state and local governments put UNC System policy and research expertise to practical use.
In addition to supporting the COVID-19 research, the Collaboratory facilitates and funds other research projects across the state. All are designed to help community leaders make informed decisions as they shape public policy. Most of these projects focus on the effective environmental and economic management of North Carolina's natural resources and the development of new technologies for habitat, environmental, and water quality improvement.
"The Collaboratory is unusual in the national higher education landscape," said Dr. Warren. "There are plenty of examples out there where other state legislatures have turned to universities for individual studies and one-off research projects. But our ongoing model is pretty unique. The Collaboratory embodies how the North Carolina Legislature values UNC System research and recognizes the importance of letting that expertise inform policy decisions."
The Collaboratory also enhances the efficiency of research efforts across the state. By convening faculty and staff from across the System and from North Carolina's private universities and colleges, the Collaboratory helps ensure that researchers aren't duplicating the work taking place at other institutions.In short, the NC Policy Collaboratory exemplifies some of the many ways North Carolinians benefit from the research capacity derived when our universities operate as a System.
In short, the NC Policy Collaboratory exemplifies some of the many ways North Carolinians benefit from the research capacity derived when our universities operate as a System.
Since its inception, the Collaboratory has brought approximately $48 million of additional dollars into the UNC System, mostly through legislative appropriations. This has funded approximately 275 individual research projects. The projects have ranged from a statewide campaign, involving seven institutions, to address water quality issues related to PFAS/GenX, to flood resiliency work in southeastern North Carolina involving UNC-Chapel Hill and NC State. More than half of those projects are still in active research mode.
Individually Remarkable, Collectively Extraordinary Research
UNC-Chapel Hill leads the nation in COVID-related research, generating more cited research than any other university in the United States. Globally, the university's output is second only to the University of Hong Kong. That alone is remarkable.
What's even more extraordinary is the diversity of COVID-related research taking place across the UNC System, in every region of the state. As leaders in the health sciences, social sciences, and the natural sciences, our institutions' groundbreaking research initiatives are finding the innovative solutions that will help shape a comprehensive and effective long-term pandemic response.
The 85 unique research projects funded through these COVID research grants underscore why the state's public universities are so vital to our state: their work reaches every North Carolinian, in all 100 counties.
Read about all of the COVID-related research initiatives on the NC Policy Collaboratory website.