Five-year Goals and Associated Interim Benchmarks
In January 2017, the Board of Governors of the University of North Carolina unanimously approved Higher Expectations, a five-year Strategic Plan for the UNC System. The Plan calls on the UNC System to achieve ambitious goals in access, student success, affordability and efficiency, economic impact and community engagement, and institutional excellence and diversity.
Progress on these goals and metrics will be achieved through the hard work and commitment of institutional leaders, faculty, and staff. In that spirit, University of North Carolina School of the Arts has identified these contributions that University of North Carolina School of the Arts aspires to make to the UNC Strategic Plan over the next five years.
From UNC School of the Arts: The University of North Carolina School of the Arts is a top-ranked performing, visual, and moving image arts conservatory preparing high school, undergraduate, and graduate students for professional careers in the arts. As North Carolina's only university dedicated exclusively to the arts, UNCSA has a responsibility to reach, train, and graduate students who are the most talented and have the greatest artistic potential in our state. Among the most revered in history, the artists we teach shape our world by enriching our culture and feeding our souls. Artists and their creations and services also contribute more than $877.8 billion to the U.S. economy. With the global entertainment industry changing rapidly and constantly, UNCSA is creating the future of the arts by training students from all walks of life to be innovative and entrepreneurial. UNCSA is making substantial progress toward our five-year performance goals, meeting or exceeding the targets for all metrics except two. This progress will guarantee that the university will continue to lead the future of the arts in North Carolina.
---
Prioritize
Rural Enrollments
By fall 2021, UNCSA will enroll 150 rural students, a 7% increase over 2016 levels (10 additional rural students over a base of 140).*
Update: In fall 2020, UNCSA exceeded its goal of 147 rural students with an actual count of 154 rural students. UNCSA is currently exceeding the fall 2021 goal of 150 and is on track to surpass it.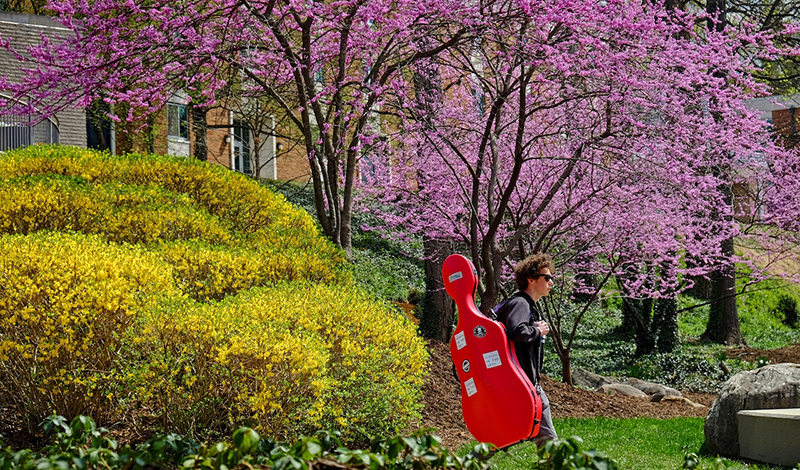 From UNC School of the Arts: UNCSA is North Carolina's only university devoted entirely to training talented students to become professional artists in the fields of dance, design and production, drama, filmmaking, and music. To ensure that every young artist from Cherokee County to Dare County considers the unique opportunities available at the School of the Arts, UNCSA has instituted new admissions and recruitment strategies. Prior to the pandemic, in 2018 and 2019, recruitment travel by Admissions counselors was focused on Tier 1 and Tier 2 communities (rural designations as prescribed by the N.C. Department of Commerce). When the pandemic hit, Admissions had to suspend all travel and move recruitment — including many of the required auditions — online. The school is now offering various engagement opportunities, such as open houses and information sessions, online. This move has added greater accessibility because prospective students are no longer having to bear the cost and inconvenience of traveling to campus or to a major city (such as Chicago or Los Angeles) to audition, which has been the tradition. To support Admissions, Strategic Communications manages robust digital marketing campaigns to reach and inform a more diverse audience of prospective students than ever. During the summer of the pandemic, UNCSA implemented a new brand awareness campaign (Powering Creativity) with hero images from each of the school's five conservatories. The school also utilized video storytelling and deployed technology (Google Optimize, Bannersnack and Canva to name a few) to use assets in new ways. In-person performances, which had been critical to recruitment, were changed to livestream and on-demand events indicative of changes in the arts and entertainment industry. The changes also gave all prospects access to the unique world that is UNCSA. Leads continue to be managed with Technolutions' Slate, a comprehensive admissions management platform. Slate's integrated admissions-specific tools help UNCSA address strategic enrollment goals by providing a small admissions team with accessible, robust and cutting-edge technology.
* Numbers were re-estimated due to technical errors.
Click here to edit the advanced iframe block.
---
Rural Completions
By 2021-22, UNCSA will produce 21 rural graduates, an increase of 31.3% (5 additional rural completions over a base of 16).
Update: For the 2019-20 academic year, UNCSA was on target with 19 rural graduates compared with a goal of 19 and is on track to produce 21 rural graduates in 2021-22.
From UNC School of the Arts: Given the rigorous artistic training that is at the heart of the UNCSA student experience, the need for support services during the pandemic has continued to grow. In order to address this need academically, we actively gather information from our faculty through our Academic Early Warning Report, allowing us to offer just-in-time support to students in need.
Due to COVID-19 restrictions, the Student Advantage Week (SAW) program was suspended after three very successful years of operation. While SAW will again be offered to incoming freshmen in fall 2021, concerns for the health and safety of our community led to a temporary pause of these activities. In its stead, Student Affairs supported a new online cohort program for incoming college freshmen and high schoolers with a similar focus on building and maintaining personal relationships with our students in this unique time of distance. Of the approximately 300 eligible students, 70% participated.
Starting in early July, every incoming student was invited to participate in a weekly group Zoom call — hosted by a current student leader — with 10 other new students in their arts school. In these meet-ups, student leaders created opportunities for students to get to know each other, reviewed information about new COVID-19 safety protocols and changes, and shared information about campus life and the student experience. Cohort meet-ups continued through August, and some groups continued to meet up throughout the semester.
As the cohort program progressed, students were also grouped into regions and arts schools so that students who were out of state, traveling long distances or flying in could be paired with a student leader who could speak to that process. For the in-state students, they were often paired with a student leader and cohort members from their region of the state as well. Student leaders spoke to this being a benefit, especially as COVID-19 information was unfolding and was varied based on whether students were coming from urban or rural areas.
Click here to edit the advanced iframe block.
---
Five-year Graduation Rates
By 2022, UNCSA will improve its five-year graduation rate from any accredited institution to 70.6%. This is an improvement over a base of 67.6% for UNCSA's 2010 cohort.
Update: In 2020, UNCSA improved its five-year graduation rate for the 2015 cohort to 76.3%, well over the 69.3% goal for that period. UNCSA is currently exceeding the 2022 goal of 70.6% and is on track to surpass it.
From UNCSA: Every new undergraduate student at UNCSA has applied directly to one of five majors and has undergone a personalized application process that includes an interview with faculty and either an audition or a portfolio review. This process allows faculty to build a specific cohort of students for study in their discipline. The cohort model builds a shared experience for students, creating strong success norms. Individual development occurs within the construct of a larger group process, where the entire cohort advances together. A specifically tailored Academic Early Warning Report, utilizing a case management software already in use in Student Affairs, allows for timely communication and tracking of any academic concerns.
Click here to edit the advanced iframe block.
---
Achievement Gaps in Undergraduate Degree Efficiency
By 2021-22, UNCSA will reduce by 50% the achievement gap in undergraduate degree efficiency between rural and non-rural students.
Update: For the 2019-20 academic year, UNCSA achieved a 15.7 actual performance over a 15.1 goal for the timeframe, and is on track to increase rural students' undergraduate degree efficiency to 16.6 in 2021-22.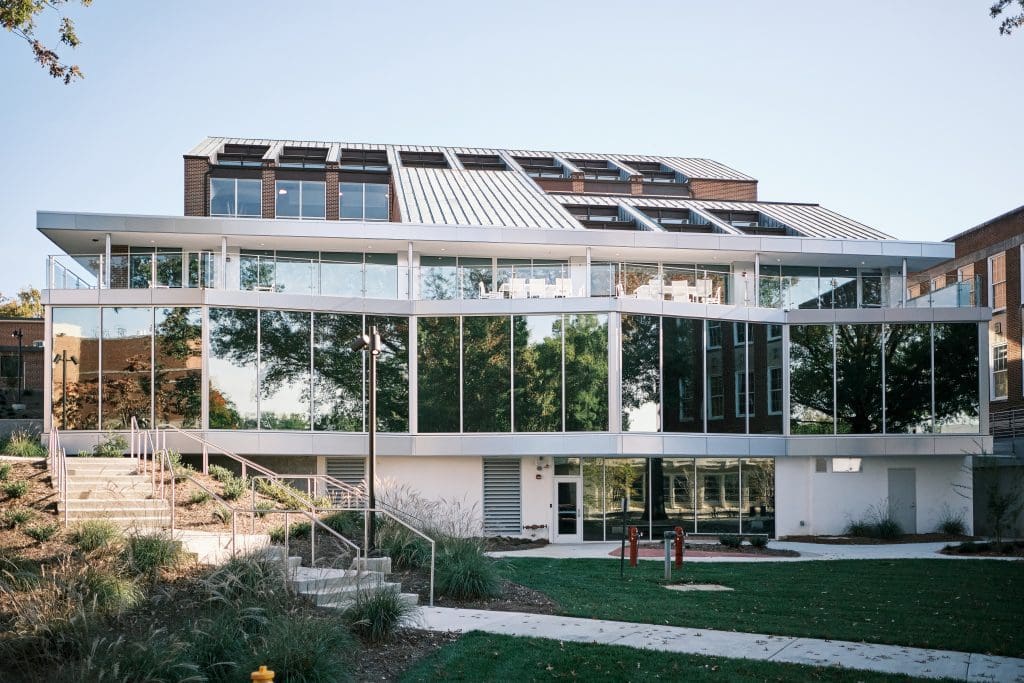 From UNCSA: Emotional well-being is critical to closing achievement gaps in undergraduate degree efficiency among rural students, who may not have had access to adequate mental health care growing up. In 2018, UNCSA received a UNC System Behavioral Health grant for $29,800, which paid for the JED Foundation to create a comprehensive strategic plan for mental health and well-being on our campus, which Student Affairs continues to prioritize. With the onset of the pandemic and the return of students home in the spring semester of 2020, Student Affairs made a goal of calling every single student to check on their well-being — and met that goal. The division also conducted a survey to gauge students' responses to online learning.
During the fall 2020 semester the Division of Student Affairs planned and coordinated activities to promote and encourage students to take breaks and prioritize their wellness. These included three Wellness Wednesdays, outdoor games and exercise, mindfulness programming, and yoga. Student Affairs continues to plan additional activities to promote mental health and well-being during spring 2021.
In addition, the division has created a "male-identifying students of color" group to provide emotional health support as part of the Equity in Mental Health initiative through JED Campus and the Steve Fund. This initiative has been well-received and is helping to build relationships across the five arts schools. Beginning in the spring of 2021, Student Affairs will expand its services to include a new psycho-educational group for female-identifying students of color, to provide education and support on issues related to physical and mental well-being.
Approximately 30 faculty and staff were trained in Mental Health First Aid by three certified Student Affairs instructors prior to the declaration of the pandemic in March 2020, ensuring that they will be ready to assist someone experiencing a mental health or substance-related crisis. Participants in the program learn risk factors and warning signs for mental health and addiction concerns, strategies for how to help, and information about where to find expertise. Mental Health First Aid teaches about recovery and resiliency and is motivated by the core belief that individuals experiencing these challenges can and do get better, and use their strengths to stay well. Now that the certified instructors have since completed the virtual blended training, Student Affairs will begin offering additional classes in the blended format to the UNCSA community during the spring of 2021.
Click here to edit the advanced iframe block.
---
Critical Workforces
By 2021-22, UNCSA will produce 14 critical workforce credentials (14 additional critical workforce credentials over a base of 0).
Update: Achievement of this goal has been postponed due to delays in the establishment of two new programs targeting Critical Workforces, and changes in the industry. For example, in Filmmaking, many of the new technologies are being integrated into existing programs such as cinematography and visual effects.
From UNCSA: The latest figures by the National Endowment for the Arts show that the creative economy contributes $877.8 billion to the U.S. economy. UNCSA is training a highly skilled workforce for a multibillion-dollar global enterprise, which has unbounded potential for wealth and job creation in North Carolina. Supported in part by a $10-million private gift directed toward performance innovation, UNCSA is in the final stages of development for a new two-year M.F.A. concentration in its School of Filmmaking in immersive technologies, focusing on augmented and virtual reality and gaming, and a new three-year M.F.A. concentration in its School of Design and Production in Animatronics, using robotics to bring inanimate creatures/creations to life on stage, film, television and in themed entertainment. In their final year of study at UNCSA, all students build school-supported connections to the profession through interview/audition training, showcases, portfolio reviews, and on-campus job fairs. The School of Dance continues to garner national recognition for its Choreographic Institute, while the A.J. Fletcher Opera Institute in the School of Music launches young opera singers directly into the industry. To support these efforts, UNCSA's comprehensive campaign has surpassed its goal of $18 million for innovation, designed to combine fundamental training with advances in technology and technique. With five months left in the campaign, the total for innovation stands at $23.9 million.
Click here to edit the advanced iframe block.
---
Improve
Low-income Enrollments
By fall 2021, UNCSA will enroll 182 low-income students, a 7.7% increase over 2015 levels (13 additional low-income students over a base of 169).
Update: In fall 2020, UNCSA surpassed the goal of 176 with an actual of 190 and is on track to surpass the low-income enrollment goal of 182 in fall 2021.
To ensure that UNCSA is selecting the best and brightest student artists from North Carolina, regardless of their financial resources, scholarship support was prioritized to make up the largest pillar ($25 million) of the university's current comprehensive campaign, which was publicly launched in 2019. The goal for scholarship support has been exceeded and currently stands at $33.7 million. Institutional scholarships constitute an important segment of financial aid packages. At UNCSA, scholarships can be awarded for artistic merit or demonstrated financial need. In fall 2020, 49% of undergraduate students received institutional scholarships averaging nearly $4,500 each for the school year. During the same time, 82% of undergraduates who had demonstrated need received scholarships and grants.
UNCSA is also bolstering its outreach to disadvantaged areas. Dedicated to serving its neighbors through the power of artistic engagement, the Office of Community Engagement's ArtistCorps program had 37 student members serving in our local community with ongoing arts instruction, integration, and exposure before the pandemic. The prior year, ArtistCorps served 186 resource-challenged pre-K children with daily to twice-weekly instruction; 1,072 elementary students at Title I schools with weekly engagement; and 519 middle and high school students at Title I schools and charter schools with weekly arts services. Since 2015, participants in ArtistCorps have served 60,608 hours in total. While the work is valuable on its own, we also understand that it increases awareness of the opportunities that a college education affords, especially in underserved communities.
Click here to edit the advanced iframe block.
---
Low-income Completions
By 2021-22, UNCSA will produce 43 low-income graduates, an increase of 30.3% (10 additional low-income completions over a base of 33).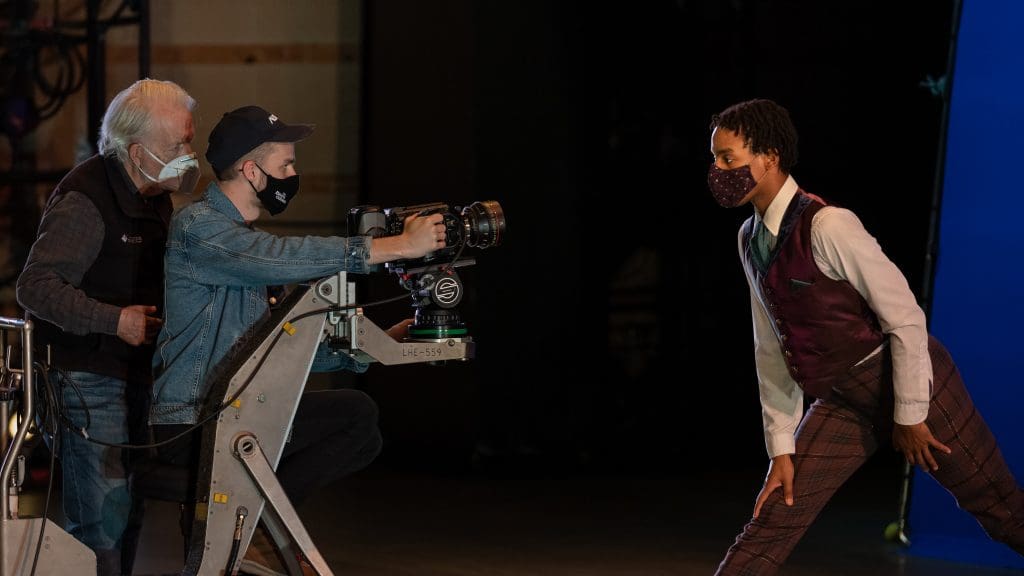 Update: UNCSA produced 56 low-income graduates in 2019-20, well over the goal of 39 for the academic year, and is on track to surpass the goal of 43 in 2021-22.
Known for its high-performing students and top-caliber performances, UNCSA offers a rigorous training program for student-artists who seek to become professional artists. UNCSA has implemented an "early warning program" in each of its five arts schools to engage students who are in danger of failing to make progress in their art or their liberal arts requirements.
UNCSA has also implemented an early intervention program to identify and assist students at risk due to personal issues. Student Affairs typically serves more than 40 students through the Pickle Pantry food bank and is expanding services to students who have meal plans but may be in need of personal hygiene items or snacks. A partnership between Aramark and Auxiliary Services, aided by donated meal credits, has resulted in more than 200 meals for food-insecure students during the academic year. UNCSA's volunteer group, The Associates, has set up monthly food drives for low-income students.
The university has also been assisting several students through its Student Emergency Fund, which is administered by Student Affairs and assists with short-term emergency grants for such basic needs as rent, utilities, car repairs and medical bills. The financial aid director and case management work with these students to develop a long-term plan of sustainable budgeting. With the assistance of donors, the fund has recently been expanded to help students experiencing financial difficulty because of the COVID-19 pandemic.
Click here to edit the advanced iframe block.
---
Undergraduate Degree Efficiency
By 2021-22, UNCSA will improve its undergraduate degree efficiency to 20.0 over a base of 19.1.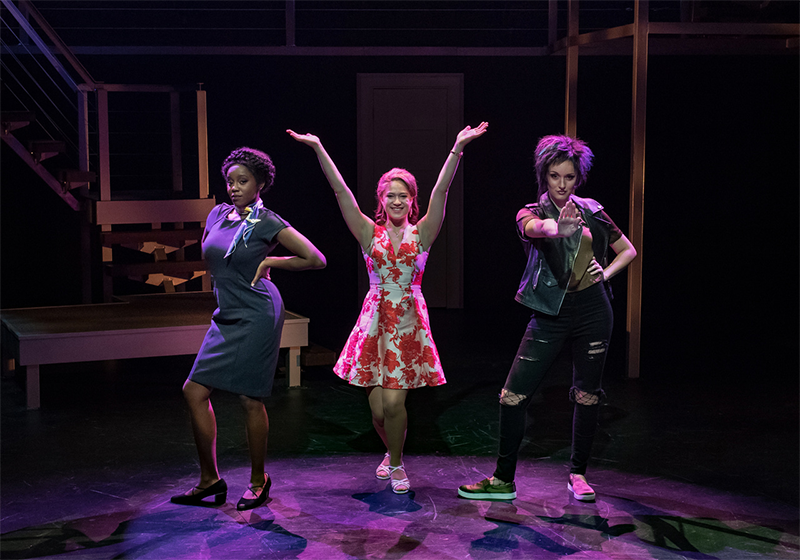 Update: For the 2019-20 academic year, UNCSA improved its undergraduate degree efficiency to 23.9 over a goal of 19.6, and is on track to meet the goal of 20.0 in 2021-22.
From UNC School of the Arts: Due to the structure of UNCSA curriculum, the four-year graduation rate is highly correlated with degree efficiency. Efforts to improve graduation rates are provided in Prioritize: Metric 3.
Click here to edit the advanced iframe block.
---
Sustain
Research Productivity
By 2021-22, UNCSA will receive $151,018 in research and development sponsored program awards and licensing income, an increase of 5% ($7,171 additional over a five year average base of $143,847).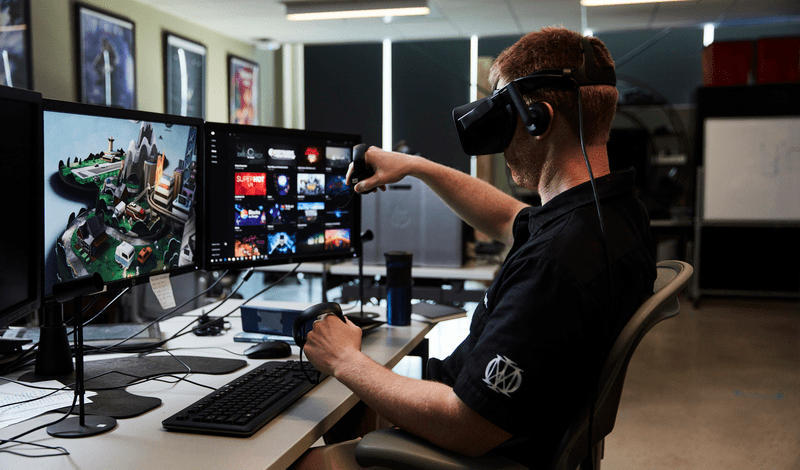 Update: UNCSA received $60,180 in FY 2020, well under the target goal of $143,847. However, UNCSA received $262,000 in 2019, more than the 2018 goal of $143,800 and more than the 2022 goal of $151,000. Fluctuations are to be expected in this area because of the limited number of grants and size of grants available each year.
From UNCSA: Through its highly-ranked schools of Filmmaking and Design & Production, UNCSA has developed partnerships with industry leaders, resulting in guest lectures, internships, and in-kind gifts of hardware for current students. UNCSA is exploring research and development opportunities with these organizations and corporations. Specifically, UNCSA's filmmaking program has launched the Media and Emerging Technology Lab (METL) as part of its foray into immersive technologies, and the program is led by Ryan Schmaltz, who was recruited from successful start-up technology leadership positions on the West Coast. UNCSA's Design & Production conservatory is developing an animatronics program. The potential for building out these programs to supply emerging regional workforce needs is exponential, according to a study by Boston Consulting Group, commissioned by UNCSA to examine the role of emerging technologies in the arts and related research and development opportunities. From medicine to national defense, industries are in search of creative content, and UNCSA graduates can provide this content through the perfect marriage of art and engineering.
Click here to edit the advanced iframe block.
---
* The UNCSA results for several metrics are subject to substantial year-to-year variation reflecting the relatively small size of the UNCSA student population (about 1,300). Modest headcount variations often result in relatively large percentage changes, contributing to fluctuations.