Five-year Goals and Associated Interim Benchmarks
In January 2017, the Board of Governors of the University of North Carolina unanimously approved Higher Expectations, a five-year Strategic Plan for the UNC System. The Plan calls on the UNC System to achieve ambitious goals in access, student success, affordability and efficiency, economic impact and community engagement, and institutional excellence and diversity.
Progress on these goals and metrics will be achieved through the hard work and commitment of institutional leaders, faculty, and staff. In that spirit, University of North Carolina at Chapel Hill has identified these contributions that University of North Carolina at Chapel Hill aspires to make to the UNC Strategic Plan over the next five years.
---
Prioritize
Rural Enrollments
By fall 2021, UNC-Chapel Hill will enroll 4,140 rural students, a 5.0% increase over 2016 levels (198 additional rural students over a base of 3,942).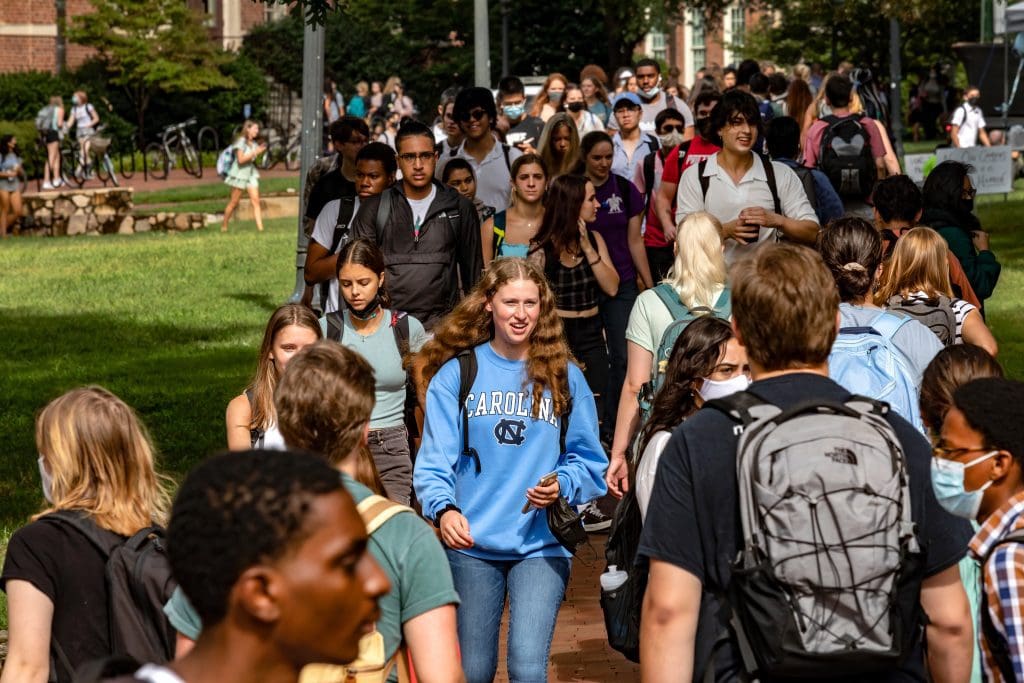 From UNC-Chapel Hill: In 2021, 36% of incoming first-year and transfer undergraduates from North Carolina were from rural counties, and the university is committed to increasing that number even as total undergraduate residential enrollment remains steady. That commitment aligns with other initiatives to increase college access for rural North Carolinians. The Carolina College Advising Corps places recent Chapel Hill graduates as admissions and financial-aid advisers in underserved high schools to reinforce the advantages of a college education and guide prospective students through the admissions process. In 2020-2021, 57 advisers served nearly 15,000 graduating seniors at 78 high schools in 32 counties across the state. Eighty percent of those high schools were in rural locations.The Carolina Student Transfer Excellence Program (C-STEP) partners with 14 N.C. community colleges – most in rural counties – to ensure the university meets the needs of talented transfer students before they arrive. To date, 85% of C-STEP students have graduated.
---
Low-income Completions
By 2021-22, UNC-Chapel Hill will produce 1,223 low-income graduates, an increase of 14.4% (155 additional low-income completions over a base of 1,078).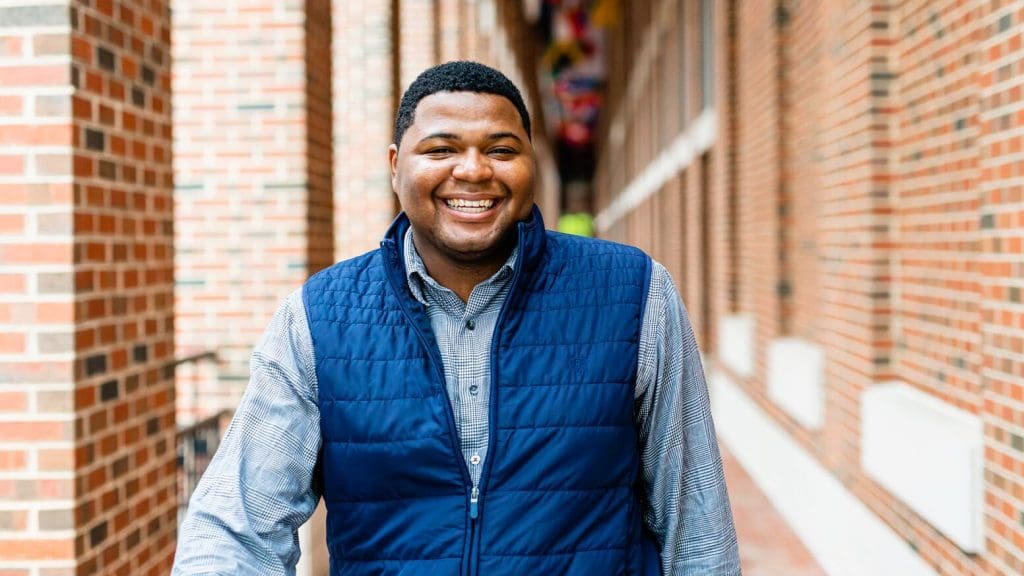 From UNC-Chapel Hill: UNC-Chapel Hill's approach to increasing low-income completions draws from holistic admissions practices; individualized academic and personal support; and financial aid that meets full demonstrated need. (Only one other public university meets 100 percent of students' full need.) In 2004, the Carolina Covenant launched as a ground-breaking program for academically qualified low-income students that provides a debt-free path to graduation through grants, scholarships and work-study jobs. Partnering with student success services on campus, the Covenant offers mentoring, academic and personal support services to guide students to on-time graduation. Support includes pipeline programs such as the Undergraduate Rural Pathway Medicine Project that serves high-performing, low-income students pursuing health careers by working in rural communities. Covenant Scholars excel and prepare to make a positive impact after graduation. Tyrell Carter, a first-generation college graduate who was homeless at age 5, aims to make it easier to launch a business as an already accomplished entrepreneur.
---
Five-year Graduation Rates
By 2022, UNC-Chapel Hill will improve its five-year graduation rate from any accredited institution to 94.0%. This is an improvement over a base of 91.7% for UNC-CH's 2010 cohort.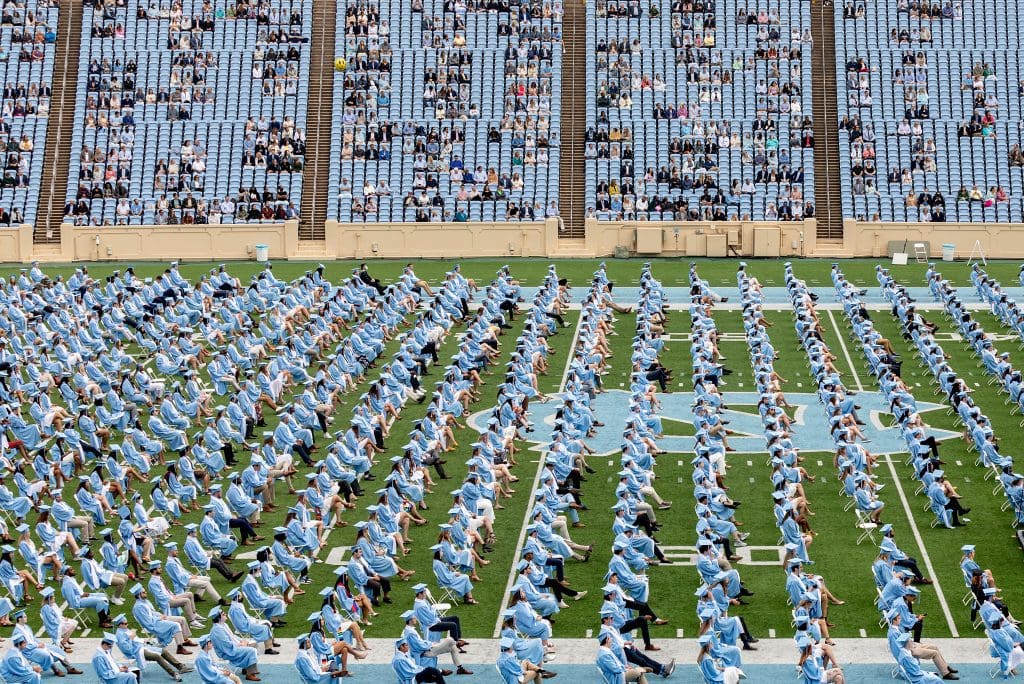 From UNC-Chapel Hill: Although UNC-Chapel Hill's graduation rates remain among the nation's highest, leadership is committed to further strengthening already excellent support services to help prepare students to solve today's challenges. As part of Carolina Next: Innovations for Public Good, the campus strategic plan, the university works to significantly improve support services available to students. The strategic plan's top initiative, Build Our Community Together, focuses on bringing the campus to a place where all students, faculty, and staff can flourish. Priorities include effective student recruitment, enrollment, retention, and graduation. Under the plan's second initiative, Strengthen Student Success, the campus has developed a more systematic approach to holistic academic advising using a case load model. This approach, in concert with requirements of the new IDEAs in Action general education curriculum, allows advisors and faculty to offer student-centered instruction, communication, and collaboration throughout the curriculum and foster a closer tie to student academic performance.
---
Critical Workforces
By 2021-22, UNC-Chapel Hill will produce 3,769 critical workforce credentials, an increase of 11.9% (400 additional critical workforce credentials over a base of 3,369).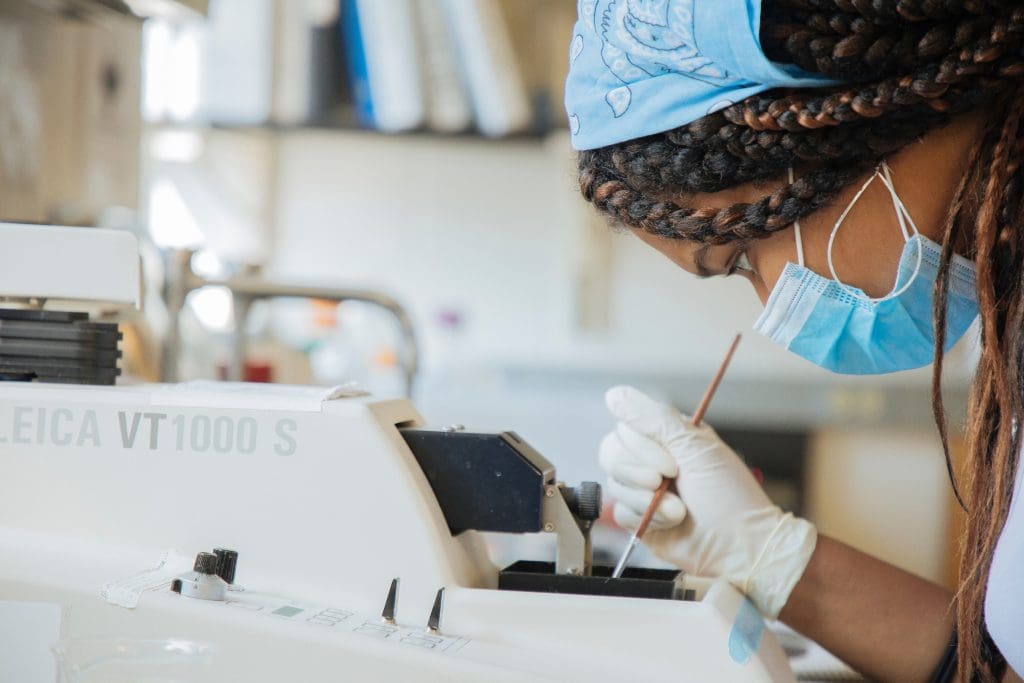 From UNC-Chapel Hill: UNC-Chapel Hill prepares a diverse student body to become creators, innovators, and leaders as one of the UNC System's largest contributors to the talent pool of future professionals. Graduates from degree programs in health sciences, STEM fields, and education help meet North Carolina's workforce needs. Initiatives in Carolina Next: Innovations for Public Good include integrating career preparation into students' experiences while extending career development to alumni. The Quality Enhancement Plan, "Learning By Connecting, Doing, Making," improves learning across disciplines – including the sciences, social sciences, arts, and humanities – by engaging more students in hands-on, faculty-guided research and discovery. Since 2013, the Chancellor's Science Scholars program has trained 241 undergraduates, with over 80% pursuing STEM graduate programs or landing STEM jobs. The university also awards highly valued graduate and professional credentials in STEM, health sciences, and education and is expanding degree and certificate offerings in the rapidly growing field of data science.
Note: UNC-Chapel Hill's increase in STEM credentials in 2020-21 was partly due to their MBA and psychology programs changing CIP codes to more accurately reflect the content of the degrees. This change moved these programs into STEM designated CIP codes. UNC-Chapel Hill would have exceeded their 2020-21 goal without these additional STEM credentials.
---
Research Productivity
By 2021-22, UNC-Chapel Hill will receive $905,349,456 in research and development sponsored program awards and licensing income, an increase of 7.4% ($62,700,000 additional over a base of $842,649,456).
From UNC-Chapel Hill: UNC-Chapel Hill ranks as the 13th largest U.S. research university in volume and annual expenditures and 10th for federal funding. Campus research quadrupled over the past 23-plus years and exceeds $1.15 billion in annual activity.Strengths include biomedical, pharmaceutical and health sciences, computer and data science, social sciences, and physical and mathematical sciences. Current topics range from curing, treating, and managing diseases such as Covid-19to tapping interdisciplinary convergent science to create new technologies and industries for North Carolina and the world. Supporting key themes in Carolina Next: Innovations for Public Good, UNC-Chapel Hill research has spun out 272 North Carolina businesses that today provide jobs for over 9,500 state residents and generate annual revenues of $13.9 billion. In addition, research on campus in 2021 supported 10,420 North Carolina employees, $385 million in salaries and $96 million in purchases at thousands of Tar Heel businesses in 89 counties.
---
Improve
Low-income Enrollments
By fall 2021, UNC-Chapel Hill will enroll 3,508 low-income students, a 4.2% increase over 2015 levels (140 additional low-income students over a base of 3,368).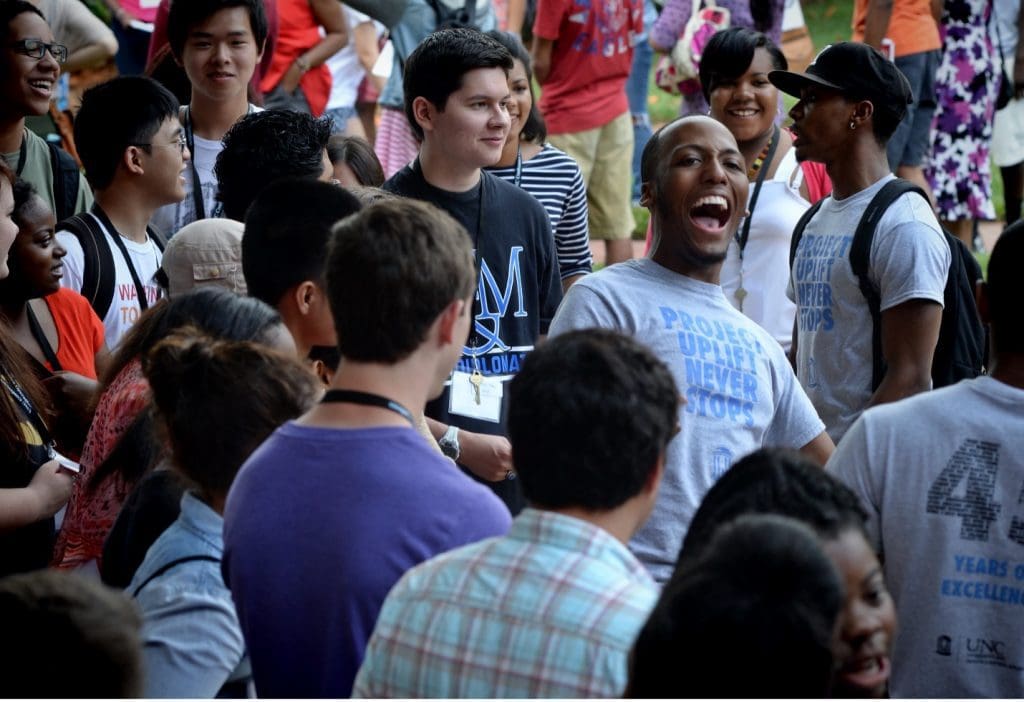 From UNC-Chapel Hill: The Carolina College Advising Corps serves North Carolina's low-income public high school students, helping with admission, financial aid, and scholarship applications. A commitment to meet the full 100% demonstrated financial need of admitted students is critical to enrolling more low-income students. The Carolina Covenant plays a vital role by offering academically qualified low-income students a debt-free path to graduation, as well as providing a supportive community and academic services. Partnerships with 14 community colleges through the Carolina Student Transfer Excellence Program (C-STEP) help community college students from financially challenged families transfer to and graduate from UNC-Chapel Hill. C-STEP works with the Eastern Band of Cherokee Indians and Southwestern Community College, expanding the program to the most economically distressed counties in southwestern North Carolina. Thanks to support from the North Carolina GlaxoSmithKline Foundation, C-STEP now offers more opportunities for low-income, North Carolina students interested in STEM fields.
---
Rural Completions
By 2021-22, UNC-Chapel Hill will produce 1,108 rural graduates, an increase of 9.4% (95 additional rural completions over a base of 1,013).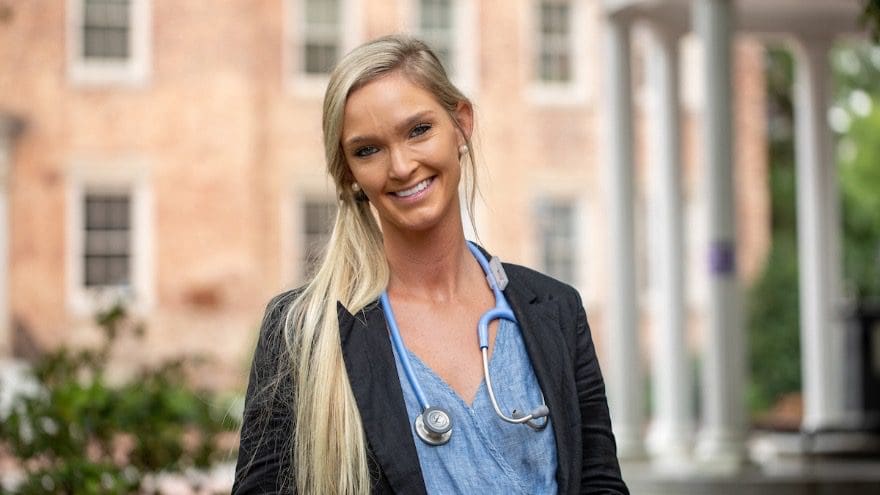 From UNC-Chapel Hill: UNC-Chapel Hill is committed to enrolling and graduating more rural North Carolinians, using holistic admissions practices that evaluate each student deliberately and thoughtfully; individualized academic and personal support; and financial aid that meets students' full demonstrated need. Programs such as Project Uplift, Carolina Covenant, Carolina College Advising Corps and the Carolina Student Transfer Excellence Program (C-STEP) encourage students to prepare for the academic rigor of a research university and then enroll, succeed, and graduate on time. State-of-the-art classroom teaching and high-impact educational opportunities for students offered both on campus and virtually in STEM and other areas prepare students for success in their majors and timely degree completion. Carolina Covenant Scholar Whitney Noble made her way to the School of Nursing through hard work and a little help from C-STEP. The first-generation college student has felt a calling to help people through health care since her grandfather was diagnosed with pancreatic cancer.
---
Achievement Gaps in Undergraduate Degree Efficiency
By 2021-22, UNC-Chapel Hill will reduce by 50% the achievement gap in undergraduate degree efficiency between male students and female students.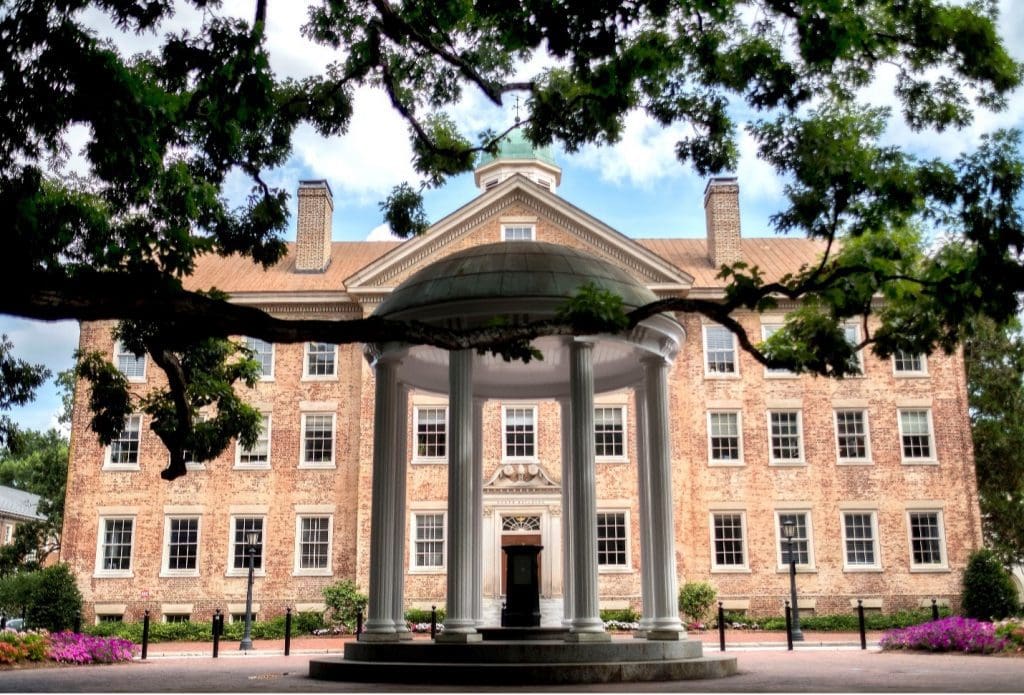 From UNC-Chapel Hill: Since the Carolina Covenant started in 2004, the program has enrolled over 10,000 scholars and contributed to dramatically improved graduation rates among lowest-income students, especially for black and African-American men. Support programs assist students from traditionally underrepresented backgrounds during all aspects of college life. A $250,000 grant from the Strada Education Network supports a new initiative to address disparities in summer funding and career development experiences for Covenant Scholars. Connecting Carolina Covenant Scholars helps students pursue and secure competitive careers in the post-pandemic economy and aligns with key objectives of Carolina Next: Innovations for Public Good. Student-success professionals support all students by encouraging them to identify individual strengths and take advantage of resources designed to help them succeed on campus and prepare for success after graduation. Faculty members also have developed innovations in classroom teaching approaches that have improved performance results over time.
---
Sustain
Undergraduate Degree Efficiency
By 2021-22, UNC-Chapel Hill will improve its undergraduate degree efficiency to 25.7 over a base of 24.6.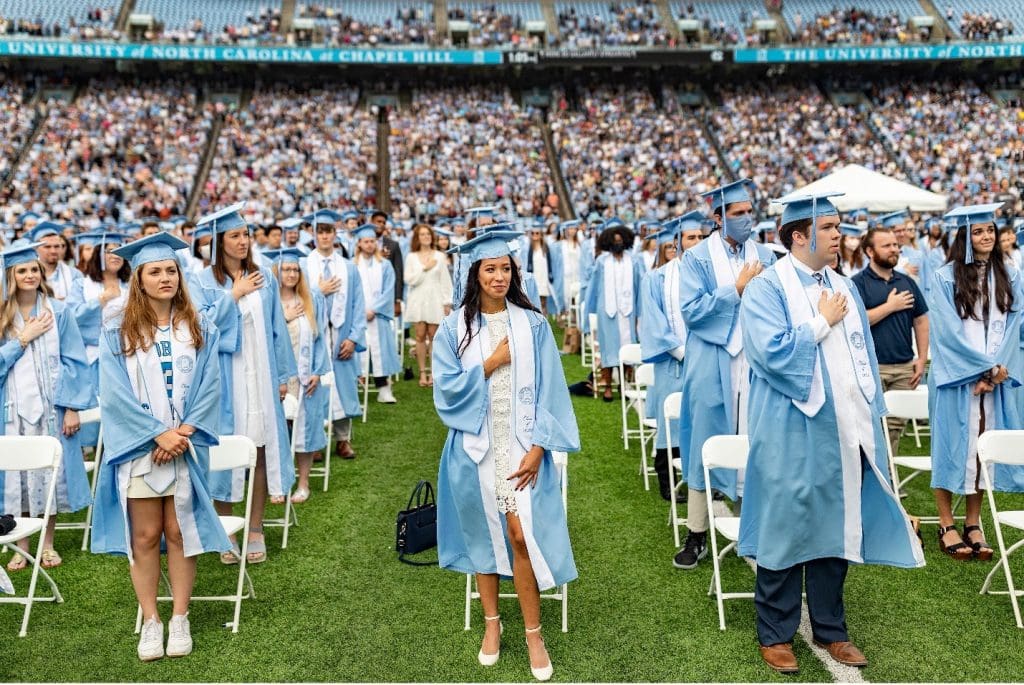 From UNC-Chapel Hill: Through need-blind, holistic admissions and generous financial-aid practices, UNC-Chapel Hill strongly encourages students to complete their degrees efficiently, reducing expenses to themselves, their families and state taxpayers. One measure of this efficiency is UNC-Chapel Hill's stellar graduation rates, which are among the nation's highest. Among first-year students enrolling in 2017, 85.3% graduated in four years. Another indication of degree efficiency is the university's recent expansion of grants available to students enrolling in Summer School, which serves those currently enrolled and seeking degrees, as well as incoming students who have been accepted to the university. Carolina's commitment to affordability is reflected in its financial aid packages and low rates of student indebtedness. Fewer than two in five undergraduates graduate with any student debt. Of those who do borrow, they leave Chapel Hill with 32% lower average debt than the national average for four-year institutions.

---