Five-year Goals and Associated Interim Benchmarks
In January 2017, the Board of Governors of the University of North Carolina unanimously approved Higher Expectations, a five-year Strategic Plan for the UNC System. The Plan calls on the UNC System to achieve ambitious goals in access, student success, affordability and efficiency, economic impact and community engagement, and institutional excellence and diversity.
Progress on these goals and metrics will be achieved through the hard work and commitment of institutional leaders, faculty, and staff. In that spirit, University of North Carolina Wilmington has identified these contributions that University of North Carolina Wilmington aspires to make to the UNC Strategic Plan over the next five years.
From UNC Wilmington: The University of North Carolina Wilmington emphasizes academic excellence, scholarly research, and programs that prepare students for the careers of today and those that will exist in the future. UNCW faculty balance dedication to teaching with research that has regional, national and international impact. With a focus on the nine goals below, UNCW is committed to helping students achieve academic success and complete their degrees while building critical workforce skills. Additionally, the university, elevated to a doctoral-level university with high research activity by the Carnegie Classification of Institutions of Higher Education, will continue to increase faculty, staff and student research productivity.
---
Prioritize
Low-income Enrollments
By fall 2021, UNCW will enroll 3,576 low-income students, a 7.5% increase over 2015 levels (248 additional low-income students over a base of 3,328).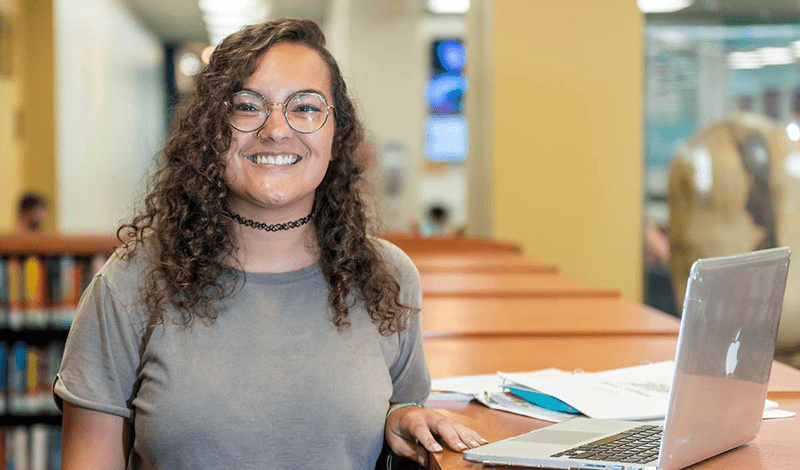 From UNC Wilmington: UNCW surpassed its 2021 performance goal in fall 2019 as a result of numerous efforts to make higher education more accessible to students from all backgrounds. The university introduces the possibility of college education through youth programs and K-12 school partnerships. The Office of Admissions actively recruits students from lower-income backgrounds, and the Office of Scholarships and Financial Aid offers programs specifically to assist them. Additionally, UNCW has increased outreach to students in rural high schools, Pell Grant recipients, and first-generation college students regarding financial aid resources and other support services available to them. The story of Alynna Summit '19, '21M illustrates how UNCW programs support student success: "Coming from a family with a single mom who could barely make ends meet, it was stressed that I had to continue my education to make a better life for myself," she said. "I worked very hard in high school, met with my guidance counselor every week to help me apply to colleges since my mom didn't know how to, and was able to obtain the scholarships needed to pay for college."
Click here to edit the advanced iframe block.
---
Rural Enrollments
By fall 2021, UNCW will enroll 4,220 rural students, a 5.3% increase over 2016 levels (212 additional rural students over a base of 4,008).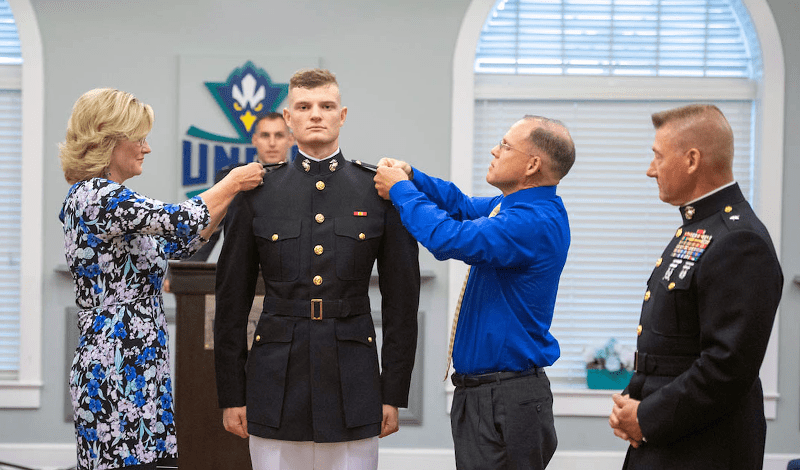 From UNC Wilmington: Although UNCW attracts students from around the globe, the rural regions of eastern North Carolina are an important source of students. Recruiting students from rural areas continues to be an area of strength for UNCW, and the university remains committed to increasing opportunities for students from rural areas. As of January 2021, UNCW had entered into Pathways to Excellence agreements with 34 community colleges, providing a clear path for prospective transfer students. In 2021, UNCW Admissions plans to host virtual application workshop events for transfer students from NC community colleges. Over the past year, due to constraints caused by the global pandemic, Admissions shifted its events to virtual environments. Staff attended more than 1,000 programs and student meetings and hosted the university's first-ever, three-day online open house for more than 1,000 participants. Additionally, Seahawk RISE, coordinated by UNCW's University College, helps first-year students from rural areas by providing an assigned advisor, peer mentors and a range of campus resources.
Click here to edit the advanced iframe block.
---
Achievement Gaps in Undergraduate Degree Efficiency
By 2021-22, UNCW will reduce by 50% the achievement gap in undergraduate degree efficiency between low income and non-low income students.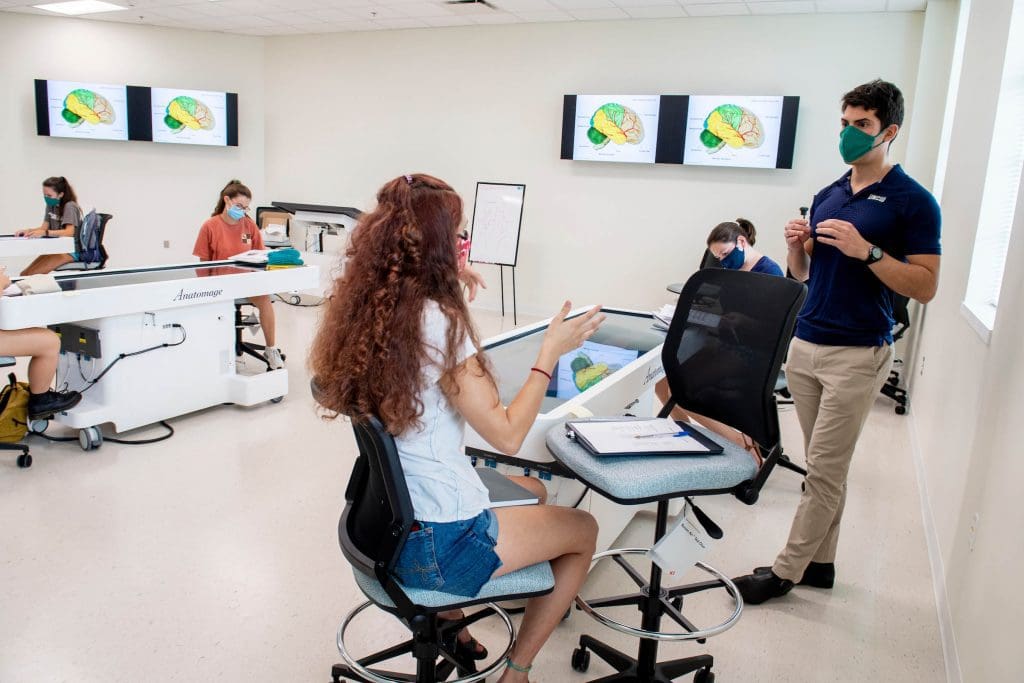 From UNC Wilmington: UNCW's commitment to narrowing the achievement gap is a high priority, and the university offers many retention and student-support initiatives that inherently enhance this effort. The university's programs focus on the needs of first-generation college students, low-income and rural students and others whose personal circumstances may present a barrier to degree completion. For example, the Seahawk LEADS mentoring program and Seahawk Success degree-completion programs inspire and support students focused on reaching their educational goals.
Click here to edit the advanced iframe block.
---
Research Productivity
By 2021-22, UNCW will receive $19,320,362 in research and development sponsored program awards and licensing income, an increase of 134% ($11,063,797 additional over a base of $8,256,565).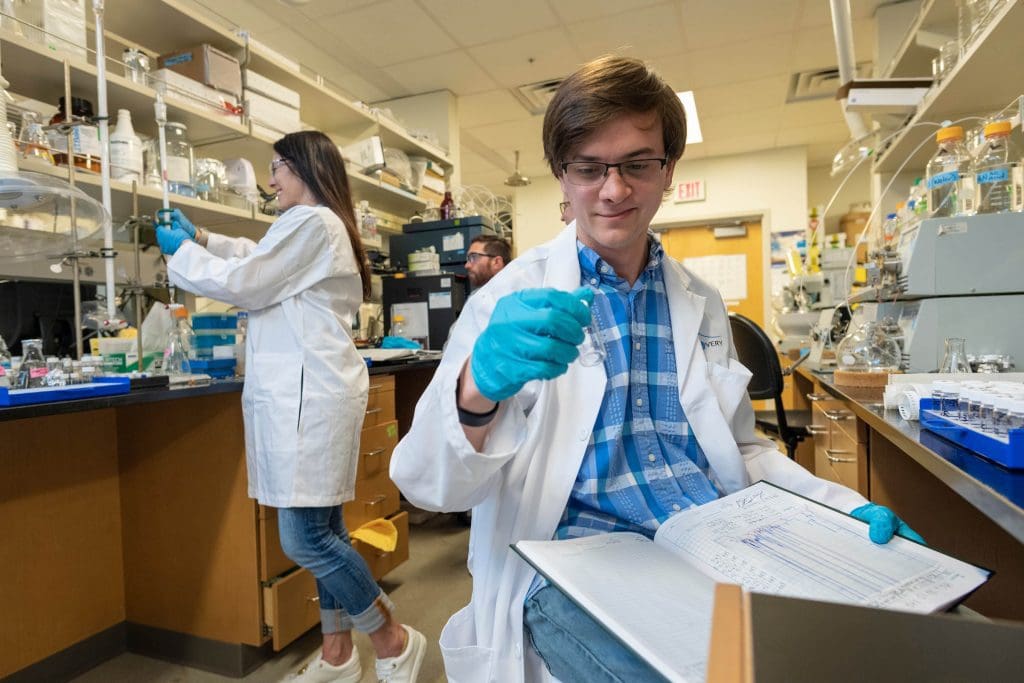 From UNC Wilmington: Despite challenging circumstances caused by the global pandemic in 2020, the university continues to enhance its research endeavors as a doctoral university with high research activity. In fiscal year 2020, the university received $8,081,181 in research grants and licensing income. Overall research productivity is climbing steadily following the detrimental effects of 2018's Hurricane Florence, which decimated Dobo Hall, the university's primary science building; at the time of its destruction, it was supporting 30-50% of UNCW's sponsored research. After a $50 million renovation, the reinvented building can now meet the demands of rapidly changing research expectations in the biological, chemical and environmental sciences. Overall, recent notable research accomplishments include: receipt of $2.4M in funding from the U.S. Department of Justice to house the National Drug Court Resource Center at UNCW; 29+ projects related to COVID-19 research, including a project focused on sampling sewage for SARS-CoV-2 prevalence in New Hanover County to identify potential areas of outbreak; coastal engineering research sponsored by the National Science Foundation; the UNCW Coral REEF lab's successful effort to induce coral spawning in captivity, a first for an N.C. lab; a study of chronic feeding disorders among infants and young toddlers, and a philanthropic gift to support the General Psychotherapy and Assessment Clinic, which offers affordable psychological services to the local community while providing clinical opportunities for doctoral student clinicians. Martin Posey, professor of biology and marine biology, received the Governor James E. Holshouser Jr. Award for Excellence in Public Service from the UNC Board of Governors. Two Honors students were named Hollings Scholars; a student earned a National Science Foundation Graduate Research Fellowship; a doctoral student received the National Estuarine Research Reserve System's Margaret A. Davidson Graduate Fellowship; and Mark England, a postdoctoral research fellow, published findings that laid the groundwork for incorporating the impact of Antarctic icebergs into global climate models. The university excels at engaging students with high-quality research endeavors, positively impacting both the students' education and university research initiatives. UNCW is also proud to promote and engage in scholars' research by and about diverse communities; diversity, equity and inclusion; race and anti-racism – a critical way that our research activities are working to address some of the core concerns of our time.

Click here to edit the advanced iframe block.
---
Critical Workforces
By 2021-22, UNCW will produce 2,125 critical workforce credentials, an increase of 34.2% (542 additional critical workforce credentials over a base of 1,583).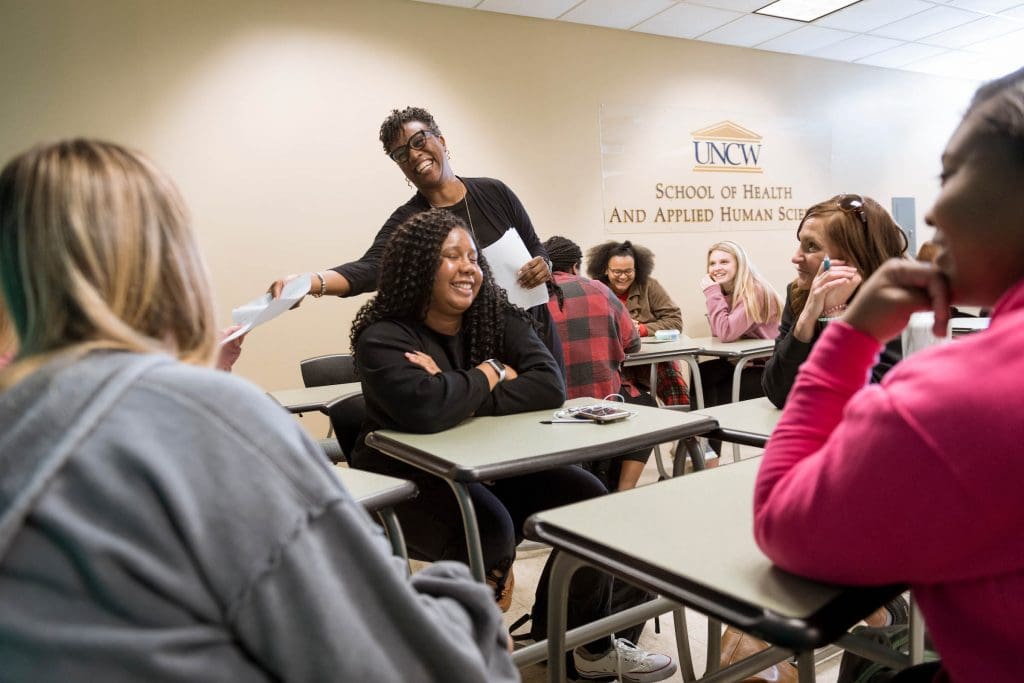 From UNC Wilmington: UNCW exceeded its 2021-22 goal in 2019-20, and the university remains committed to preparing students for high-demand career fields by enhancing current programs and establishing new degree programs. With a $10 million gift commitment (UNCW's largest to date), the Cameron School of Business established the David S. Congdon School of Supply Chain, Business Analytics and Information Systems. The university has added high-demand programs in Cyber Defense Education, Coastal Engineering and Master of Healthcare Administration, among others. Veterans Hall opened in 2020 to house CHHS and chemistry and biochemistry programs, as well as the Office of Military Affairs. Additional programs with strong local employment potential include data science, athletic training, clinical research, education, chemistry, and pharmaceutical sciences.
Click here to edit the advanced iframe block.
---
Improve
From UNC Wilmington: Through its Vision Statement, UNCW emphasizes excellence in everything it does, and continued improvement and progress are keys to meeting that high standard. UNCW is ranked 95th and is one of only three UNC System schools among the Top 100 Public National Universities for 2021, according to the list of "Best Colleges 2021" from U.S. News & World Report. This is the second year that UNCW has made the publication's Top 100 list of national public universities. The university is focused on improving three areas linked to successful and timely degree completion: low-income completions, rural completions and five-year graduation rates. UNCW will continue to develop programs to help students see their college plan through to graduation.
---
Low-income Completions
By 2021-22, UNCW will produce 1,406 low-income graduates, an increase of 26.7% (296 additional low-income completions over a base of 1,110).
From UNC Wilmington: The university continues to focus on supporting low-income students as they pursue their educational goals. University College, which helps first-year students transition to UNCW, and the dean of Undergraduate Studies play key roles in retention and completions. The Office of Institutional Diversity and Inclusion also offers programs designed for students who may be first-generation college students. Centers such as Centro Hispano and the Upperman African American Cultural Center help students engage with the university community and support their academic goals. Financial aid – including Pell Grants and SOAR scholarships – and work-study programs help offset the cost of higher education. The university enlisted a group of student leaders to help students stay abreast of application timelines to maximize financial aid. The Seahawk LEADS (Leadership, Empowerment, Academic Development and Success) program pairs first-year students with a faculty or staff mentor. Studies show that students with mentors are more likely to graduate. Isabella Galletto '20 would agree. With the help of a faculty mentor in the Department of Film Studies, she had the opportunity to gain firsthand experience in the film industry as a development intern at Voltage Pictures in Los Angeles during the summer of 2019. When Galletto wasn't making films, she was contributing to the Seahawk community, serving as a MI CASA mentor, president of Seahawk Admissions Network for Diversity and a resident assistant, among other leadership roles. "Without the resources offered and the amazing mentors, friends and memories I made at our center, I would be graduating as a different person," she said. "To my Latinx and POC communities, I want to encourage those entering college that anything is possible. Don't be afraid to take up space. Find your support system, love yourself and never doubt your place in the world. We can offer so much and lift each other up in the process as future leaders, engineers, creators and icons will come from our communities! Sí se puede!"
Click here to edit the advanced iframe block.
---
Rural Completions
By 2021-22, UNCW will produce 1,080 rural graduates, an increase of 15.8% (147 additional rural completions over a base of 933).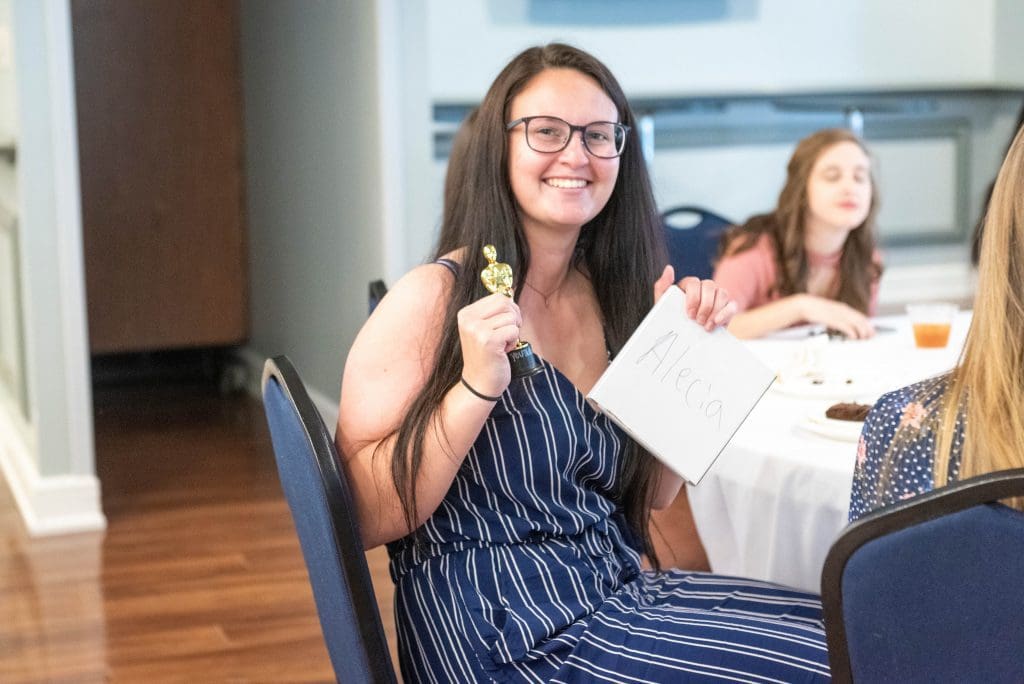 From UNC Wilmington: UNCW has surpassed its 2021-22 goal, in part due to programs designed to help students from rural communities transition to a university setting. With several large military bases within 100 miles, UNCW has been recognized for extending educational opportunities to active-duty service members, veterans and military families, and its Office of Military Affairs provides resources and services to military-affiliated students. Distance learning also makes it easier for people to complete their degrees, especially working adults, who may not live within convenient driving distance of a university campus.
Click here to edit the advanced iframe block.
---
Five-year Graduation Rates
By 2022, UNCW will improve its five-year graduation rate from any accredited institution to 81.6%. This is an improvement over a base of 78.4% for UNCW's 2010 cohort.
From UNC Wilmington: UNCW's five-year graduation rate is among the highest in the UNC System. The university's strategic focus is to provide an affordable, high-quality education that prepares students to compete in a global workforce. UNCW is a student-centered campus with a strong emphasis on teaching and mentoring. University College supports students as they explore undergraduate curriculum and career paths, prepare to declare an appropriate major and succeed in their transition to UNCW. This empowers students to make informed academic choices that position them for success. With funding from the UNC System, UNCW has enhanced services to reduce the number of "stop-outs" (students who leave without graduating). Key among these efforts is Seahawk Success, which encourages former students to return to complete their degrees. The university's student-centered mindset permeates the campus and defines the UNCW experience. Just before the start of his sophomore year at UNCW, a diving accident left Ryley Hopper '20 paralyzed from the chest down, forcing him to delay his original graduation plans. After a yearlong absence for recovery and rehabilitation, he returned to finish his degree – determined to succeed. "I have a long list of memories here at UNCW," said Hopper, who graduated with a degree in finance. "But the endless times my brothers carried me up multiple flights of stairs in my wheelchair so that I could be with everyone is priceless."

Click here to edit the advanced iframe block.
---
Sustain
From UNC Wilmington: UNCW's Strategic Plan emphasizes attracting, retaining and graduating students to ensure their success as they enter the workforce or continue their education. As undergraduate degree efficiency increases, it also serves as a measure of how well the university is preparing students for success. Although UNCW's undergraduate degree efficiency was already excellent, the university will sustain and increase this metric.
---
Undergraduate Degree Efficiency
By 2021-22, UNCW will maintain its undergraduate degree efficiency at its current level of 26.1.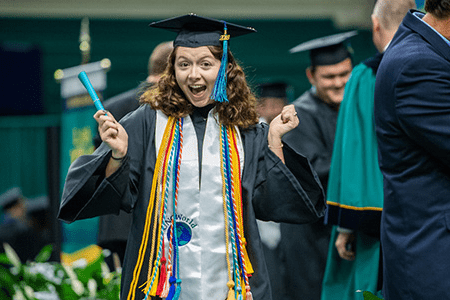 From UNC Wilmington: Among UNC System institutions, UNCW has a very strong undergraduate degree efficiency performance, and has surpassed its 2021-22 goal. Successes in initiatives named in the previous performance metrics that center on retention of students, graduation rates, and degree completion will continue to raise the university's undergraduate degree efficiency. The development of programs in high-demand fields like coastal engineering, health care, pharmaceutical sciences, and cybersecurity, as well as expanded online options, are examples of current and planned programs that will enable UNCW to maintain or increase its undergraduate degree efficiency. Relationships with regional businesses, nonprofits and government agencies enhance student internship opportunities. Students who can see how their classroom learning applies in the workforce are more likely to remain focused on their academic goals, including on-time completion of degree programs. UNCW also encourages students to use the courses and resources available to them to enhance their career opportunities. Keandre Yeoman '20, a first-generation college graduate from Leland, NC, said earning a biology degree "means everything… To bring this excitement and joy, not only to myself but also my family and friends, is an emotion that can never be fully described in words."
Click here to edit the advanced iframe block.