Five-year Goals and Associated Interim Benchmarks
In January 2017, the Board of Governors of the University of North Carolina unanimously approved Higher Expectations, a five-year Strategic Plan for the UNC System. The Plan calls on the UNC System to achieve ambitious goals in access, student success, affordability and efficiency, economic impact and community engagement, and institutional excellence and diversity.
Progress on these goals and metrics will be achieved through the hard work and commitment of institutional leaders, faculty, and staff. In that spirit, University of North Carolina at Asheville has identified these contributions that University of North Carolina at Asheville aspires to make to the UNC Strategic Plan over the next five years.
Prioritize
Rural Enrollments
By fall 2021, UNCA will enroll 861 rural students, a 10.4% increase over 2016 levels (81 additional rural students over a base of 780).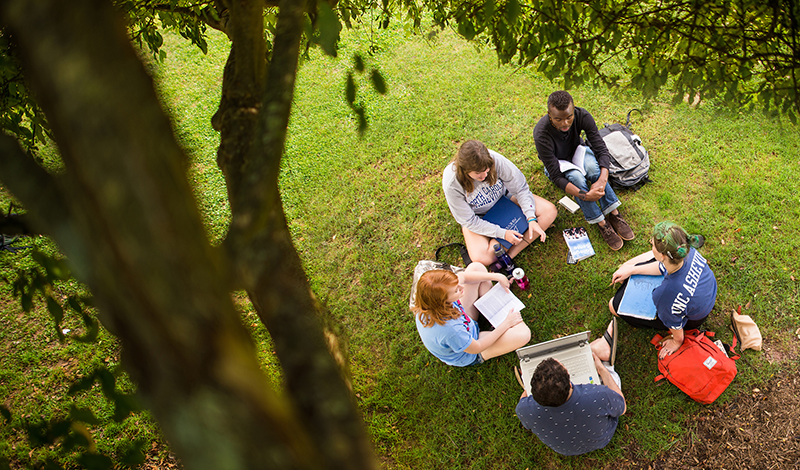 From UNC Asheville: UNC Asheville increased over 100 rural enrollments from 2015 to 2018, with programs such as the Summer Opportunity for Academic Readiness and Jump Start supporting students' transition to college. Since 2019, UNC Asheville has worked to shape a class of incoming students prepared to thrive inside and outside of the classroom. This intentional effort has resulted in several consecutive years of smaller, more selective incoming cohorts, accompanied by a decrease in rural enrollments as part of the overall decrease. However, recruitment of rural applicants continued to be a priority in Fall 2021, with completed applications from rural North Carolina rising to 1,180, the most in our history, and acceptance rising to 85% of completed applicants compared to 82% of non-rural NC residents.
---
Rural Completions
By 2021-22, UNCA will produce 187 rural graduates, an increase of 19.9% (31 additional rural completions over a base of 156).
From UNC Asheville: UNC Asheville approached this goal, with 177 rural graduates this year, including those graduates who transferred and completed their degree elsewhere. This is one of the highest number of completions in the last decade; however, this success in completion rates impacts enrollment numbers and contributes to the decrease in rural enrollments (above). As students complete their degree, sometimes doing so more efficiently by taking courses in Maymester or summer, the number of incoming students must increase at a faster pace to make up the difference.
---
Undergraduate Degree Efficiency
By 2021-22, UNCA will improve its undergraduate degree efficiency to 23.4 over a base of 22.2.
From UNC Asheville: UNC Asheville has been on track to attain this goal, exceeding the metric until 2019. That year, the proportion of first-time, first-year students increased proportionally, by nearly 4%, followed by a marginal drop in 2020. As the proportion of this student population increases, so does the time to degree completion, compared to a larger proportion of transfer students, who have some degree requirements already met.
---
Achievement Gaps in Undergraduate Degree Efficiency
By 2021-22, UNCA will reduce by 50% the achievement gaps in undergraduate degree efficiency between underrepresented minority and non-underrepresented minority students and between rural and non-rural students.
From UNC Asheville: UNC Asheville is on track to close the achievement gap in undergraduate degree efficiency among rural students and students from under-represented groups by half or more in the next five years — the goal set forth in the UNC System Strategic Plan. Programs such as the First-to-Finish summer accelerator provide select students with financial aid to enroll in specific summer courses that will propel them toward a four-year graduation goal.
UNC Asheville has already exceeded its goal in undergraduate degree efficiency of under-represented minority students.
---
Critical Workforces
By 2021-22, UNCA will produce 370 critical workforce credentials, an increase of 22.5% (68 additional critical workforce credentials over a base of 302).
From UNC Asheville: UNC Asheville continues to track toward this goal, with an emphasis on the number of credentials it awards in the health sciences, STEM disciplines, and K-12 teacher education programs over the next five years. In each of the last three years, nearly 40 percent of all students who graduated from the university received a credential in these fields.
In addition, the new UNC Asheville-UNC Gillings Master of Public Health (MPH) Program with the Mountain Area Health Education Center (MAHEC) specifically focuses on preparing students for careers in the health sciences sector with an emphasis on health disparities and rural public health to meet the regional and statewide critical needs in these areas.
---
Improve
Low-income Enrollments
By fall 2021, UNCA will enroll 1,328 low-income students, a 6.8% increase over 2015 levels (85 additional low-income students over a base of 1,243).
From UNC Asheville: Low-income enrollments remain relatively stable with the intentional shift toward two consecutive years of smaller, more selective incoming cohorts. While the total number of low-income students enrolled decreased, the proportion of low-income students in the cohort is stable (32.8% compared to 32.5%).
---
Low-income Completions
By 2021-22, UNCA will produce 406 low-income graduates, an increase of 15.0% (53 additional low-income completions over a base of 353).
From UNC Asheville: Enrollment of low-income students remained essentially constant from 2017 to 2018. However, the proportion of these students within the entire student body increased. UNC System-funded programs to support this goal provide tuition-free summer classes in UNC Asheville's core curriculum to get students back on track to graduation. An inaugural program in 2017 enabled 19 students, from a cohort of 23, to graduate on time in 2018. This pilot program was formally adopted in 2018-19 as First to Finish. The 2019-20 summer program aims to help 100 students a year accelerate their path to graduation. These programs support students at any point toward degree completion, with the results often demonstrated one or two years later. Additional summer bridge programming is underway to specifically support first-year students in the lead up to their first semester.
---
Five-year Graduation Rates
By 2022, UNCA will improve its five-year graduation rate from any accredited institution to 71.7%. This is an improvement over a base of 69.1% for UNCA's 2010 cohort.
From UNC Asheville: UNC Asheville met and exceeded this goal in 2020, by both graduating students and preparing them to graduate elsewhere, with 72.8% of the entering Fall 2015 class graduating from any university within five years. This metric slipped a bit in 2021, with 69.7% doing so, still above the base of 69.1%.
---
Sustain
Research Productivity
By 2021-22, UNCA will receive $2,721,060 in in research and development sponsored program awards and licensing income, an increase of 5.0% ($129,574 additional over a base of $2,591,486).
From UNC Asheville: UNC Asheville has consistently exceeded this goal in recent years. The University's robust undergraduate research program, founded as a national model over 30 years ago, emphasizes its liberal arts and sciences approach to teaching and research. In recent years, faculty have secured multi-million-dollar national grants that support public health through new antibiotic research (National Institutes of Health), as well as atmospheric and computer science scholars (National Science Foundation), chemistry and biology scholars (N.C. GlaxoSmithKline Foundation), public humanities and the arts (Mellon Foundation), and creative entrepreneurship and STEAM education (Windgate Foundation). As each grant comes with its own time limits, the research productivity number varies from year to year, averaging toward the goal.